Our Summer 2017 Inspiration Board
Summer is, without a doubt, our favorite season at Draper James. Yes, the sun down south can be unbearably hot, but it's nothing an ice-cold glass of sweet tea won't fix. Not to mention a forecast that always calls for warm weather means we get to let all thoughts of layering fall by the wayside and embrace outfit no-brainers like sundresses, shorts, and skirts.
Then there's all the fun to be had this time of year: Our Draper James Summer 2017 collection was inspired by the wholesome moments that make up summer's best memories—picnics by the lake, barbeques and clambakes, trips to the amusement park, backyard croquet, and popcorn-fueled nights watching a double feature at the drive-in. We've put our own twist on flirty silhouettes and classic fabrics like seersucker, gingham, and floral prints. The result is a collection that's as unforgettable as this summer is sure to be.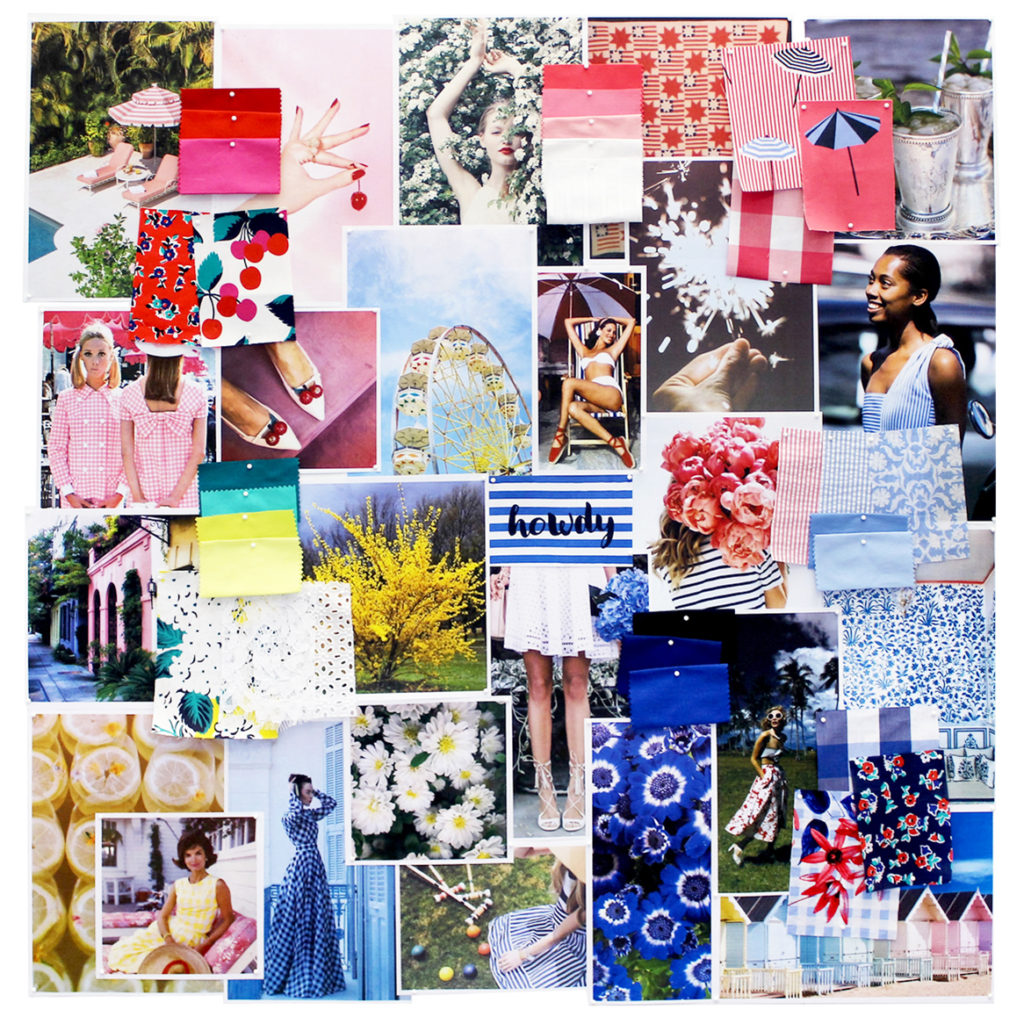 From Derby Day to Labor Day, summer provides endless opportunities to dress up and celebrate. Here are a few of our favorites:
Derby Day: Around here at Draper James, summer kicks off on May 6th at Churchill Downs. So "Hold Your Horses" for our statement tee, oversize sun hat, and shoulder bag—a trio that makes an adorable (and Insta-ready) ensemble with any of our printed swing-y skirts or dressy shorts and the requisite mint julep.
Mother's Day: Make your mama proud by showing up for Mother's Day brunch in a sweet and smart dress. Our crisp pink seersucker shirtdress features unexpected lace details; our blue gingham dress is embellished with one-of-a-kind embroidery; our knit dress has a fun fluted bottom and retro-chic hydrangea print—and those are just a few of the dresses we have in store, most with a fit-and-flare shape and midi length that's at once stylish and always appropriate. (We've also got loads of flattering tops and accessories like a basket bag, straw tote, and envelope bag that are ideal for Mother's Day gifting.)
Cherry Cobbler Day: Have we mentioned we love a good holiday? Even a faux holiday—especially one that involves food? We ate chocolate hazelnut hand pies on Pi Day and inhaled Carrot Cake Whoopie Pies on National Carrot Cake Day. And we'll be chowing down on Cherry Cobbler on National Cherry Cobbler Day on May 17th (look for a recipe right here on the Love, Reese blog). The fact that we can pair our dessert with a cherry print dress, top, apron, tote bag, and a whole host of other items for the closet and tabletop is just, well, the cherry on top.
Memorial Day: Memorial Day is meant to be spent by the water—poolside, seaside, or at the beach. Where we are, we'll be wearing our cute floral cover-up and packing our "Cool It Y'all" cooler tote with picnic essentials like deviled eggs, fried chicken, watermelon slices, and a pitcher of lemonade. We'll also be made in the shade with a tote and envelope bag embossed with festive beach umbrellas.
Grads and Dads: Reese loves the tradition of wearing white to a graduation celebration, and we've got loads for her to pick from—including a scallop denim skirt, intricate lace dresses, and several ruffle-adorned tops. When it comes to Dad's Day, we've got a plethora of pretty dresses, or for a more casual get-together, our feminine and fun tees pair stylishly with our skirts and shorts.
July 4th: We'll be flying our fashion flag for this peak-of-summer holiday: We've got American flag handbags (complete with magnolias as the stars!) and an American flag leather pin that adds a patriotic touch to clothing or accessories. You should also stay tuned for our July 4th capsule collection—the fireworks-inspired print is one of Reese's all-time favorites.
Labor Day: We'll romp into the last days of summer in carefree one-pieces that are as easy as they are chic. And if temps begin to dip, we'll transition into cooler weather by mixing some of our all-weather denim (in skinny and crop-flare styles) with off-the-shoulder and sleeveless tops or shortsleeve sweaters and sweatshirts.
Happy summer, y'all!
Save