Happy National Taco Day! [RECIPE]
Today isn't just your average Taco Tuesday. It's National Taco Day, y'all! And who better to celebrate this genius holiday with than Marcela Valladolid?
Born in San Diego, Chef Marcela spent years in Tijuana, first working at her aunt's cooking school and later as a caterer and cooking teacher. Known for making authentic Mexican cooking accessible and fun, the spirited chef is now co-host of "The Kitchen" on The Food Network. She has two cookbooks and two children–and will have one more of each within a year! Casa Marcela: Recipes and Food Stories of My Life in the Californias is available for pre-order now; and Marcela is expecting a baby girl this winter.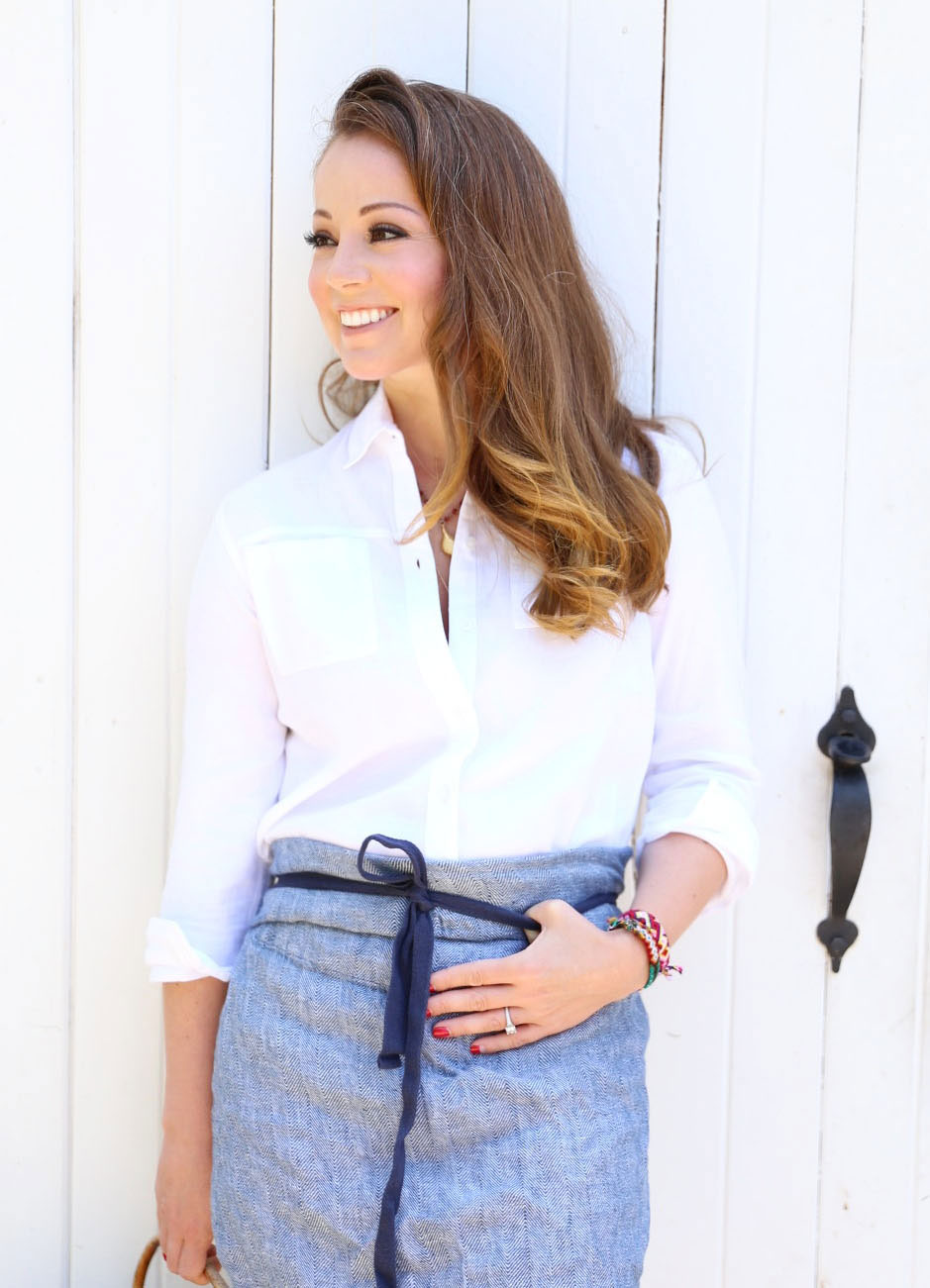 "I love any opportunity I have to talk about the true, delectable, sophisticated and beautiful cuisine of Mexico," says Marcela, who shared her recipe for Mexican street food staple Tacos de Adobada with us below.
"Tacos de Adobada are rarely made at home, but they're a staple at every taco stand across Mexico," says Marcela. "They're just too good on the street to even attempt! But when there's no taco cart at the corner (ahhh!), this very traditional Mexican recipe can be easily made at home. I love that it feeds a crowd. I just put out the cooked marinated meat, the traditional toppings, and warm tortillas (and beer for the adults and agua fresca for the kids) and let everyone build their own tacos."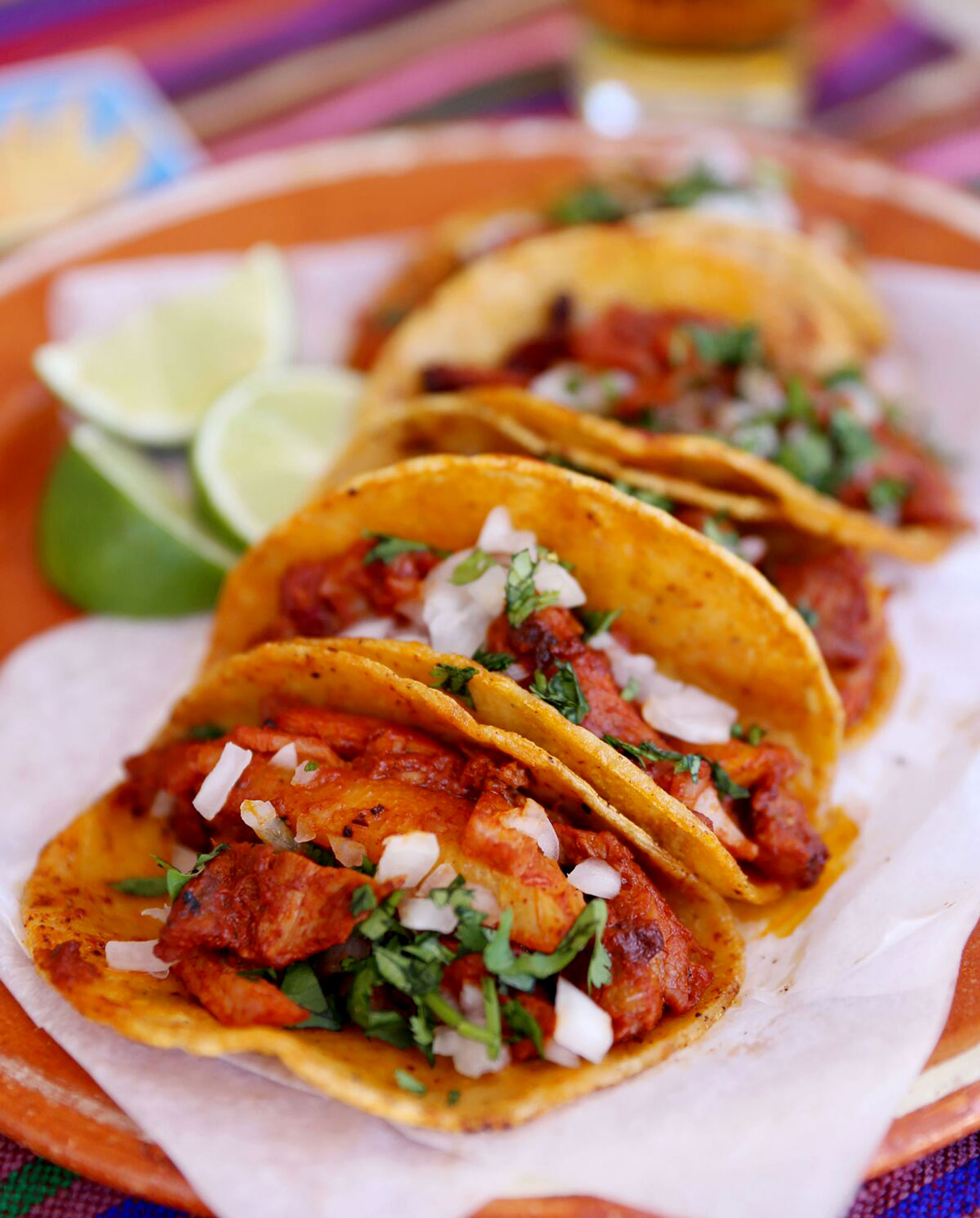 "National Taco Day sounds fab," says Chef Marcela, who shared her recipe for these Tacos de Adobada with us. "Only it's terribly ironic that Mexico doesn't have this holiday, even though it's the birthplace of the taco. (Well, actually, maybe every day is taco day in Mexico.)"
Tacos de Adobada
2 guajillo chiles, hydrated
2 ancho chiles, hydrated
2 garlic cloves
1/2 bar achiote paste
1/4 cup white vinegar
1/2 cup orange juice
2 pounds boneless pork shoulder, sliced into 1/4 inch slices
10 slices bacon
4 tablespoons canola oil
1 cup white onion, finely chopped
1 cup cilantro, finely chopped
6 limes, cut into quarters
1 fresh pineapple, cut into thin slices
Salt, season at every step
Pepper, season at every step
Small corn tortillas
Directions
Preheat oven to 375 degrees F.
In a blender combine chiles, garlic cloves, vinegar, juice, and a pinch of salt and pepper. Blend until all ingredients are combined;  consistency should be paste-like. Set aside.
Place a slice of meat between two sheets of plastic wrap. Using a meat mallet (or rolling pin), gently flatten meat until it is very thin. Continue to do this for remaining meat.
Grab a baking pan and spread with oil. This will help your meat to not stick to baking pan. Start by putting a couple of slices of meat on pan. Season with salt and pepper. Spread adobo paste on meat until fully covered, add about 3 slices of bacon, top with slices of pineapple and repeat. Repeat this process until you create a stack of meat. Let meat marinade for 2 hours in the refrigerator. When meat is done marinating, drizzle oil on top and cook for about 35-50 minutes.
When the adobada is ready, transfer to a cutting board and thinly slice the stack of meat. Do not discard the oil left on the baking pan. The leftover oil will be used to heat the tortillas. Once your meat is sliced, grab a tortilla and smear leftover oil from pan on both sides. Warm tortillas at medium heat on a pan. Serve tacos with onion, cilantro, lime, and your choice of fresh salsa.
Save
Save
Save
Save
Save