Tailgate Tastes: Bethcakes' Whiskey Bacon Brownies and Chocolate & Salted Caramel Potato Chips
When we're craving ridiculously yummy, over-the-top deliciousness, our go-to has become Beth Branch of Bethcakes. The Birmingham-based blogger's lemon bar recipe has remained our most popular post since the spring, and it's no wonder: Beth has a knack for developing recipes that both look and taste to die for.
So when it came time to launch our Draper James Tailgate Tabletop Collection, we had to see what the University of Alabama grad would come up with to serve with it. Her response: two sweet-and-salty snacks we can't get enough of.
Click here to get printable cards for Beth's recipes for Whiskey Bacon Brownies and Chocolate & Salted Caramel Potato Chips, and read on for more.
What makes your Whiskey Bacon Brownies and Chocolate & Salted Caramel Potato Chips perfect for a tailgate?
These recipes are perfect for tailgating because they combine sweet and salty in the best way possible! Chocolate-dipped potato chips have been all the rage recently, as has bacon in desserts, so why not serve them up at your tailgates this football season?
Any rules of thumb you can share regarding planning a tailgate menu?
A killer tailgating menu always includes snacks, in case you need to munch on something when games get stressful. A fun cocktail is always necessary to get the party going. Main courses in the South usually involve grilled burgers and dogs or barbecue. Then, if you're at my house, plenty of sweets for celebrating a victory!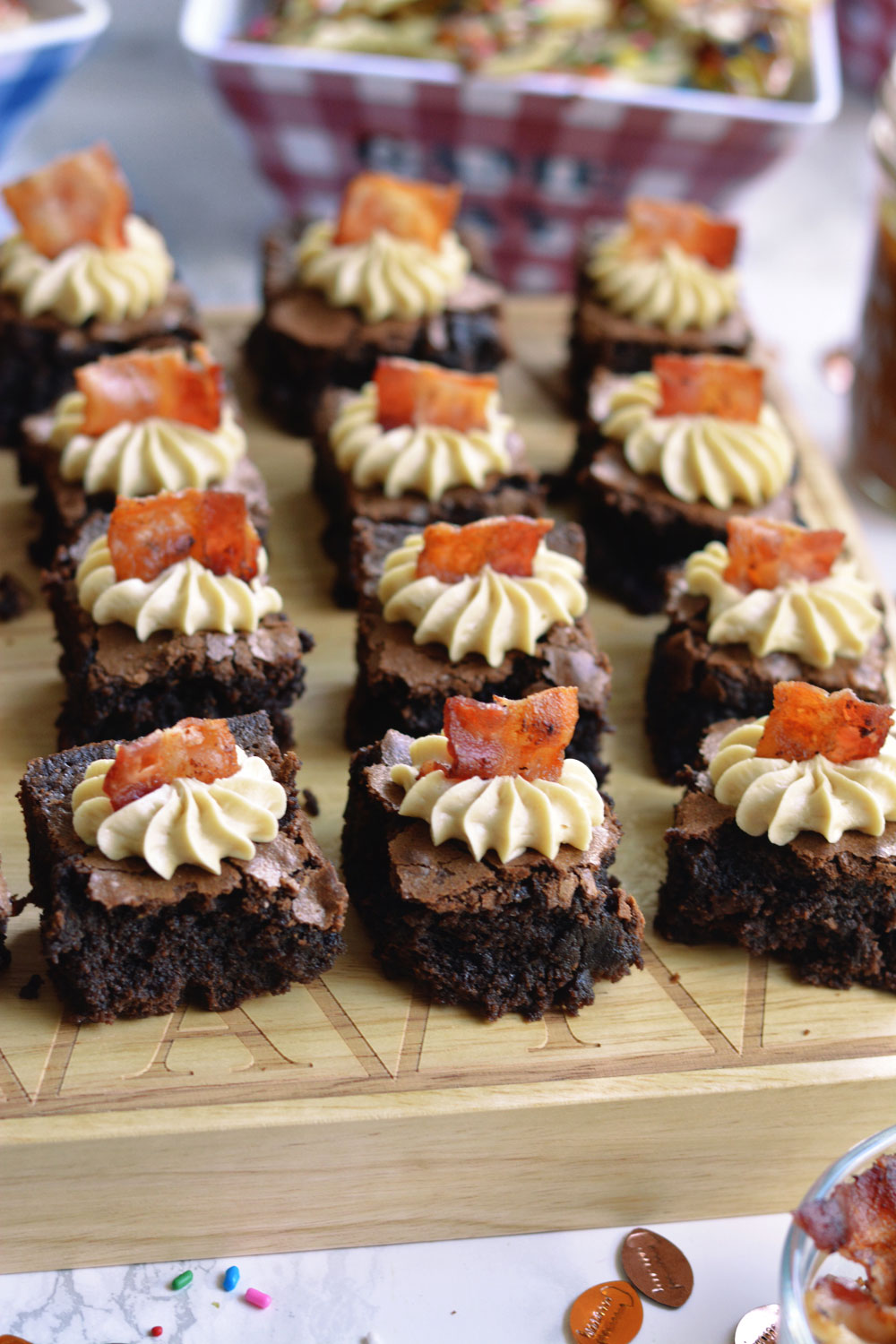 Recipe for Whiskey Bacon Brownies
Ingredients
½ cup butter
1 cup mini chocolate chips, divided
1 ¼ cup sugar
¼ cup cocoa powder
⅓ cup whiskey (of your choice)
2 large eggs
1 teaspoon vanilla
Pinch of cinnamon
¾ cup flour
4 slices cooked bacon, chopped
Directions
Preheat oven to 350°F. Line a 9×9-inch baking dish with foil and mist with cooking spray. Place butter in a microwave-safe bowl and microwave in 30-second intervals until melted. Transfer melted butter and ½ cup chocolate chips to a medium-sized bowl and whisk until the chocolate melts completely. Next, whisk in sugar, cocoa powder, whiskey, cinnamon, and vanilla. Add eggs and whisk until incorporated. Carefully whisk in flour, making sure to mix until just combined. Fold ½ cup chocolate chips and chopped bacon into brownie batter. (Reserve remaining 4 slices of bacon for garnish.) Pour batter into the prepared pan and bake for 35 to 40 minutes, or until a toothpick inserted into the center comes out clean. Let brownies cool completely before cutting into squares and topping with frosting (recipe below).
Caramel Frosting for Whiskey Bacon Brownies

Ingredients
¾ stick butter, softened
¼ cup caramel sauce
½ teaspoon vanilla
1 ½ cup powdered sugar
4 slices of bacon, cut into pieces
Directions
Cream butter on medium speed with an electric mixer. Add caramel and mix until smooth. Add vanilla and powdered sugar; mix until combined. After cutting cooled brownies into squares, pipe or dollop frosting onto each brownie. Garnish each with a small piece of bacon.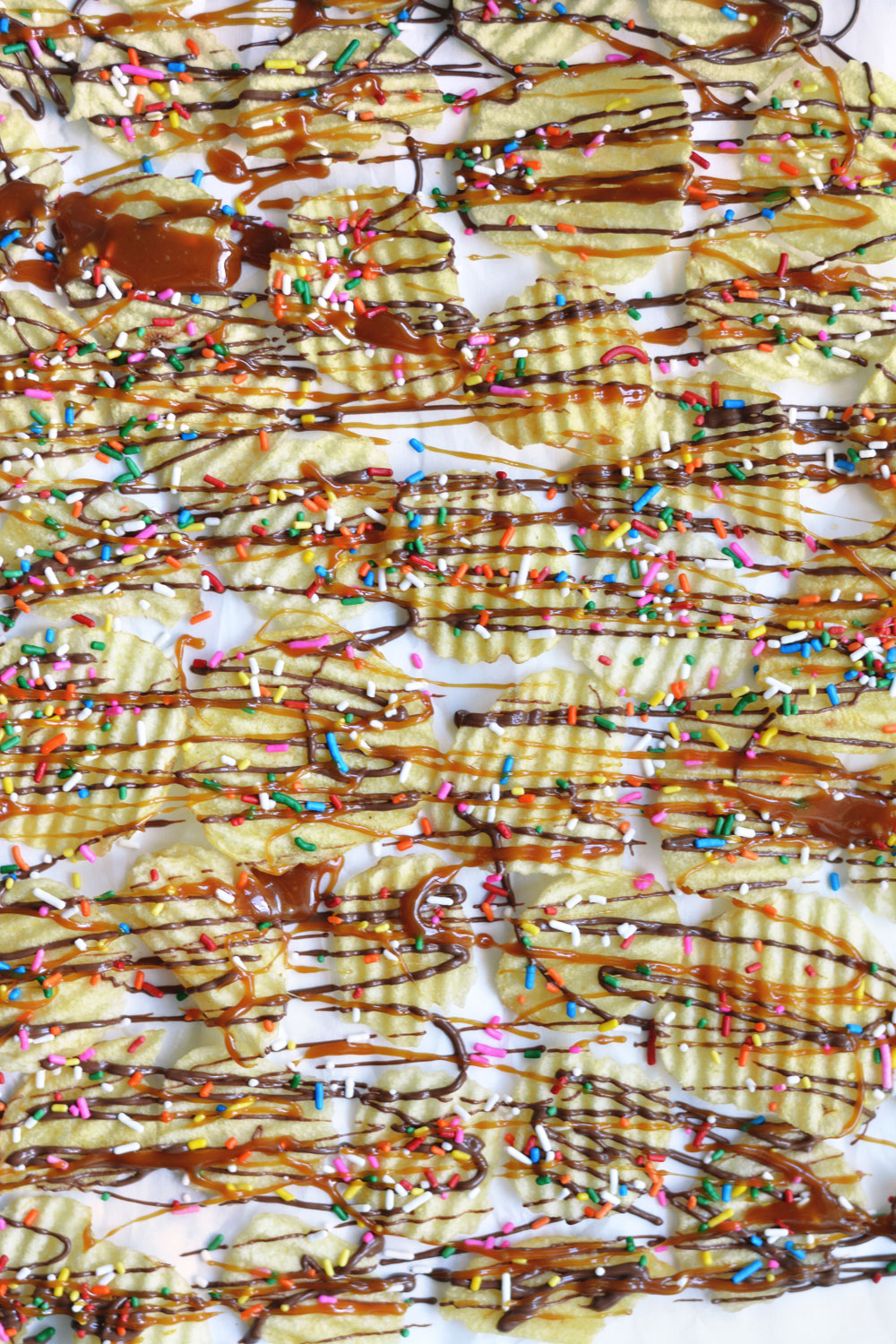 Recipe for Chocolate & Salted Caramel Potato Chips

Ingredients
1 cup milk chocolate chips
1 cup salted caramel sauce (recipe follows, or use store-bought)
1 bag wavy potato chips
Sprinkles (in team colors)
Directions
Melt chocolate chips according to package directions. Spread half of chips (discarding broken pieces, if desired) on parchment paper. Drizzle with melted chocolate; sprinkle with sprinkles. Drizzle with cooled caramel sauce (recipe below). Let chocolate and caramel harden before transferring chips to chip bowls.
Salted Caramel Sauce for Chocolate and Salted Caramel Potato Chips

Ingredients
1 cup granulated sugar
8 tablespoon butter, cold and diced
⅓ cup heavy cream
1 teaspoon vanilla
½ teaspoon salt
Directions
In a saucepan over medium-high heat, cook sugar, stirring occasionally, until sugar begins to melt on the bottom. Stir slowly but continuously until sugar has formed hard crumbs and clumps. Let sugar continue to cook, without stirring, until it begins to melt again and turn an amber color. Stir occasionally, until completely melted. Add half of butter, stirring continuously and quickly, until butter melts. (Caramel sauce with bubble up and sizzle, but just keep stirring!) Repeat with second half of butter. While stirring, slowly pour cream into caramel sauce; stir until completely incorporated. Remove from heat and stir in vanilla and salt. Let caramel sauce cool completely before using. (Store in a covered jar or container at room temperature if not using immediately.)
Click here to find printable recipe cards
Save
Save
Save
Save