September 13, 2016 • BOOKS, PEOPLE
DJ Reads: Beautiful by Mark D. Sikes
Los Angeles-based interior designer Mark D. Sikes is known for pitch-perfect rooms that nod to tradition, yet retain a breezy, glamorous vibe. Mark decorated Reese's own home in Nashville and our flagship shop there, too. And while he was doing the same for our newly opened Dallas boutique (more on that on our Love, Reese blog soon!), he was also at work on his brand new book.
Congrats on Beautiful! Tell us about it in 50 words or less.
It's about what inspires my design work and about the things I rely on over and over again to create BEAUTIFUL rooms and homes.
What are you most excited about?
I'm excited to create a book that is laid out in stories, themes, and colors I love. There are mood boards introducing each chapter that show inspiration drawn from iconic people, art, inspiring rooms, chic destinations, glorious gardens. . .  It's how my mind works and how I see design.
You spent your childhood in the Midwest and the South. How did each region influence your style?
In the Midwest, where my family lives, I learned about what a home means. My time in the South gave me a better understanding and love of tradition, entertaining, gardening, and hospitality.
If you had to pick three favorite rooms/images in the book, what would they be and why?
I would pick the mood board in the beginning of the book because it truly defines my style and what I love. The image on the cover is probably my favorite image; it's welcoming and inviting, and it really depicts California style—the connection of indoor outdoor living. I also love the library [pictured below]. It's probably my favorite room I've ever designed—the walls are mahogany and every piece of furniture is slipcovered in china blue linen.
What elements will we never find in a Mark Sikes room? Conversely, what will almost always be there?
I'm not a fan of matching furniture, like a dining room set or a bedroom suite. . . I like to mix things. I'm a fan of natural fiber rugs, striped dhurries, blue-and-white, wood boxes, slipper chairs, pedestals, abstract art, chinoiserie, beautiful fabrics. . .  As you will see from the book, most of my rooms have these elements somehow intertwined.
First design memory?
My mom's Vogue and House & Garden magazines.
What are you just desperate to try in an upcoming space?
I'm in love with a Schumacher fabric called Lotus Garden. Dying to use this somewhere immediately.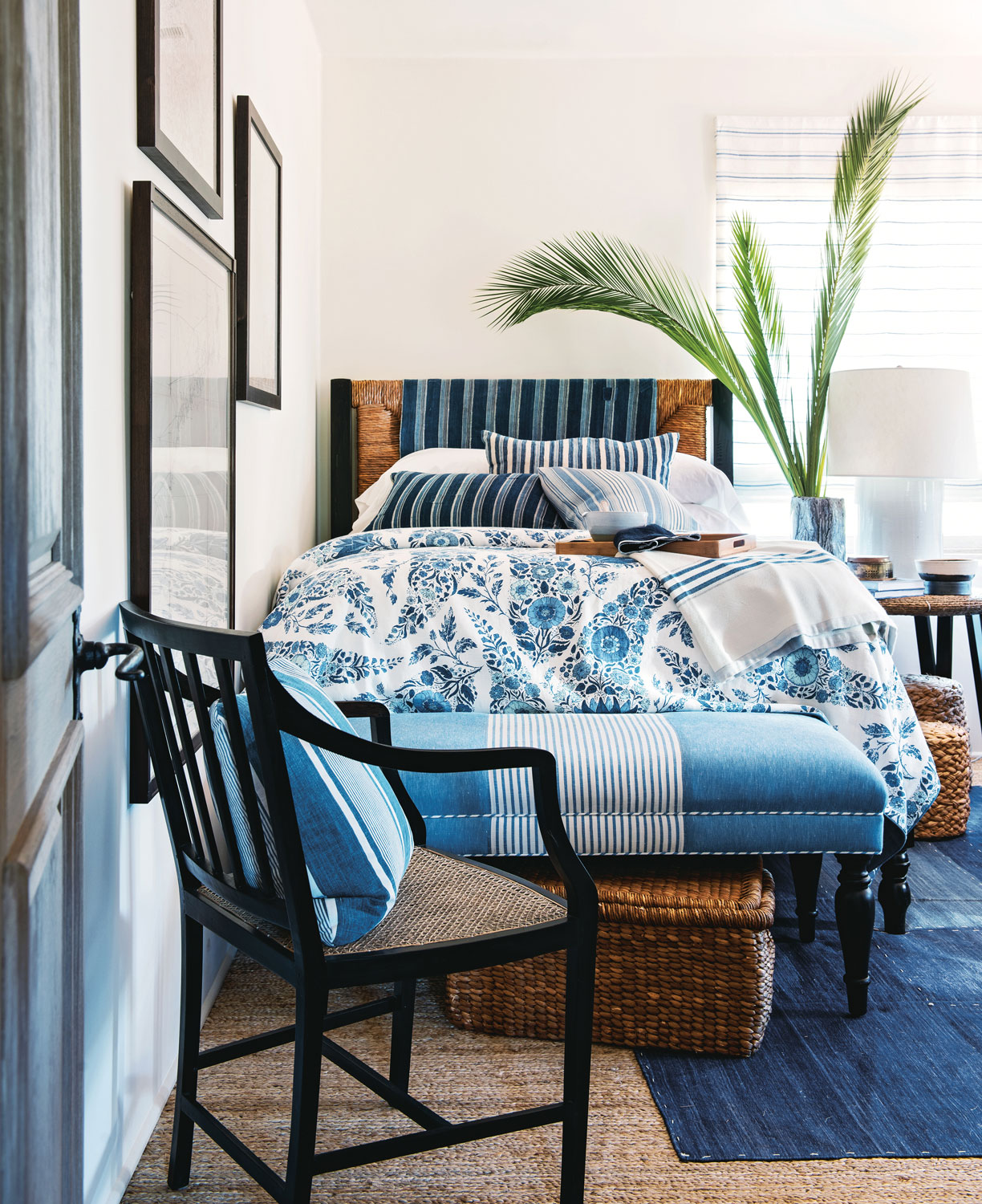 Save
Save
Save
Save
Save