Summer Concert Series: Kelleigh Bannen
We fell in love with native Nashvillian and singer Kelleigh Bannen the first time we heard her hit song "Famous," so when we heard she was releasing a new EP this summer–we could hardly wait to give it a listen! Better yet, we asked her to perform at our Nashville store as part of our Summer Concert Series. Click here to see the performance, check out her new "Landlocked" video and EP here, and read on for more from Kelleigh!
What do you love about living in Nashville?
I love the "welcome" of Nashville. I grew up here. My parents were transplants from Michigan and when they first moved they always commented, "People only honk their car horn to say 'hello,' not to say 'move it!'" I believe that for the most part that spirit of Nashville, that openness and sense of welcome is unchanged.
Can you share a few favorite local spots?
The Hermitage Hotel, where I spent the first night of my honeymoon.
The Donut Den, where my family would get chocolate glazed donuts every Sunday!
Avo…Love the food. Love the avocado margaritas, and love that it's kind of a symbol for the renewal that's happening along Charlotte Ave.
What's the most exciting thing going on in "Southern" music right now?
I think the soul revival that's emerged over the last couple of years is a really beautiful piece of what's happening in Southern music. I also think we're seeing the reach of the Nashville writing community as it's showing up in some of the lyrical trends in other genres–which is really exciting. I see Nashville's fingerprints on the larger music scene.
How did you choose your concert outfits? What drew you to the Draper James pieces you wore?
Wow, I just fell for that romper immediately. On the hanger even. I love a playful twist—a wink if you will—in music and in life, so I loved the playfulness of that stripe and the incredible bling at the collar. Also, I love that it's so easy. Literally one thing to throw on, and you're completely pulled together.
What was your highlight of the Draper James Summer Concert?
Honestly, just getting to perform for so many folks from my hometown community was a major highlight. And the INCREDIBLY beautiful surroundings.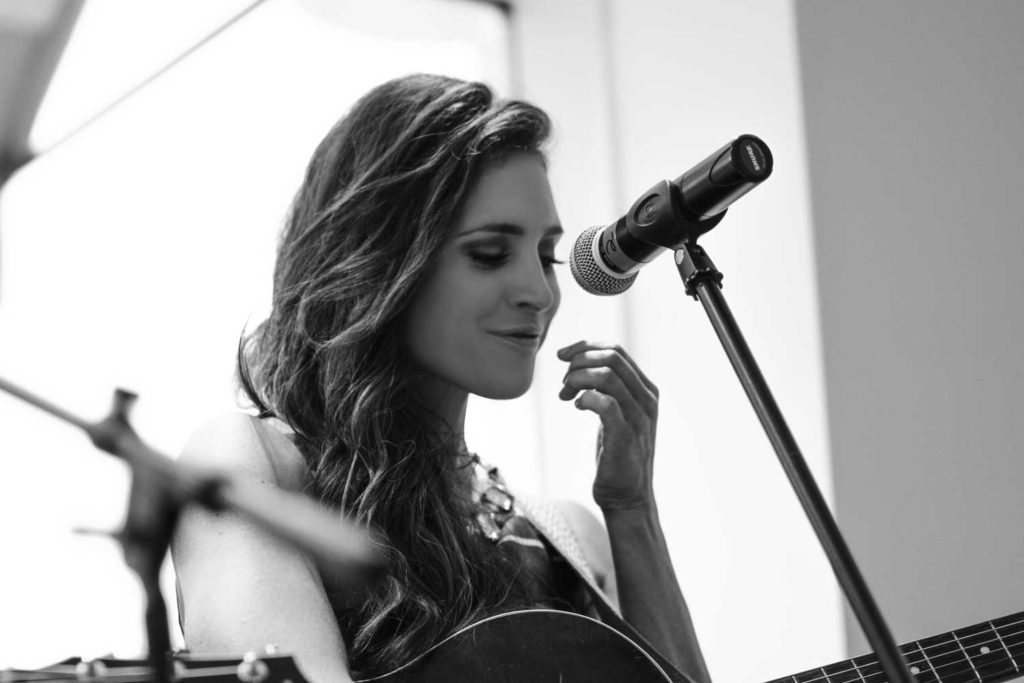 You have so many exciting things going on professionally! If you had to pick, what are you most excited about right now?
You know, to be honest, I'm always dreaming of the next project. The response to the EP has really made me feel like I can take some risks with my next move, so we're starting to plan for new music. And also the podcast, which will come out in just a few weeks. I love being able to share stories, and I'm really excited to share more of my own story and journey, and look at what it really means to have a career as a woman in country music.