Style School: Waiting on Martha Wears Our Acklen Shirtdress
Mandy Kellogg Rye launched Waiting on Martha as an ode to her favorite hostess-slash-magnate (as in, the only "Martha" who needs only to be referred to by her first name), but her venture quickly turned into something all its own. With a blog, an e-shop, and a design and styling firm under her purview, Mandy can now lay claim to a thriving lifestyle enterprise with its own unique aesthetic—one that's colorful and contemporary with just the right amount of quirkiness to keep things real.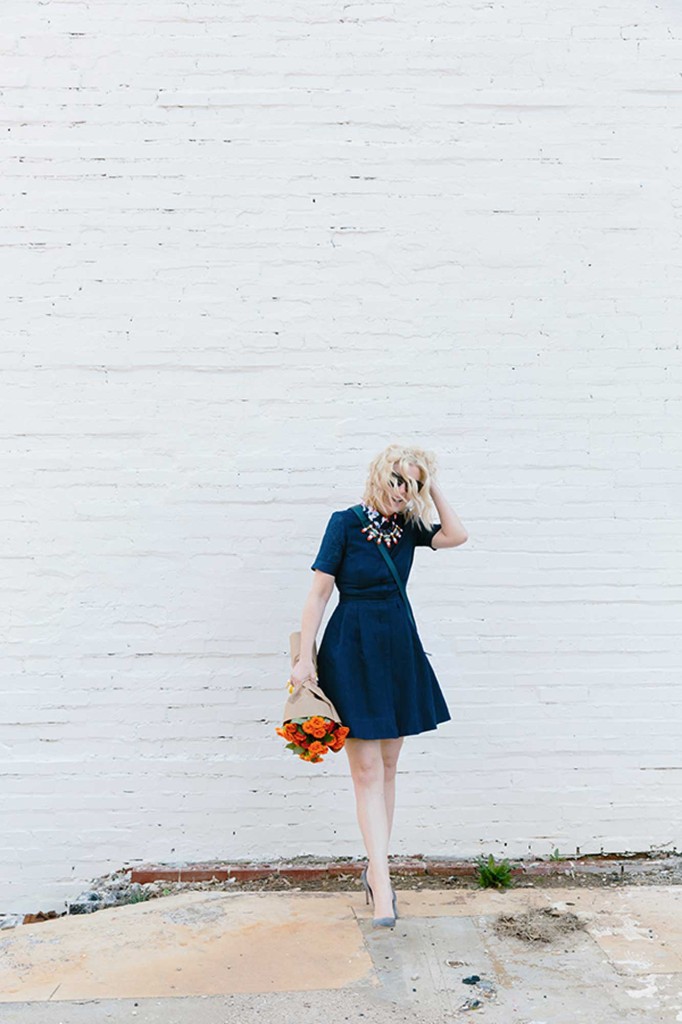 Mandy moved from Chicago to Atlanta in 2011, but she certainly warmed up quickly to Southern style, particularly what she describes as the "pride and sentimentality" felt towards pieces like pearls, cowboy boots, and family heirlooms.
"I'm a bit of a tomboy with a love of timeless staples," she says of her personal style. "Yet when I do indulge my feminine side, I swing for the fences." Which exactly what she's done here.
Mandy was drawn to our Acklen Shirtdress thanks to its classic silhouette. "I love a shirtdress, especially one with pockets," she says. "And I love that Acklen can be worn in numerous ways—with heels and some fancy jewels for a night on the town or paired with sandals and a denim jacked for a comfortable easy vibe."
When styling the dress for these photos, she added a fun, bright jeweled necklace to bring out the floral collar (a totally unexpected styling idea that totally works) and wore her favorite grey suede pumps to balance the look. Our Leather Circle Bag was an easy and chic addition for toting around town.
As for the flowers, box of cupcakes, and coffee in the pics? "The photos were shot on a Friday, as I was running around preparing for the weekend ahead," she says. "And flowers and sweet treats are always part of my weekend!" Sounds like a plan.