September 1, 2015 • PEOPLE
Please Meet: Hanna Seabrook
We know a Draper James Girl when we see one, and Hanna Seabrook is one through and through. Originally from Charleston, South Carolina, Hanna now lives in Louisville, Kentucky where she runs her graphic design firm, Gadabout Creative.
You may also know her blog of the same name, Gadabout, in which she displays her excellent taste and passion for good design.
Hanna seemed destined to be connected to Draper James from the beginning. She first met Reese in Paris several years ago. Coincidentally, both women were traveling on their honeymoons and staying at the same hotel.
Southerners have a way of finding each other even when far from home! The two couples met for a drink and have been friends ever since.
So when it came time to design stationery for Draper James, Reese knew just whom to call. Hanna's graphic sensibility and her knowledge of all things Southern made her the perfect partner.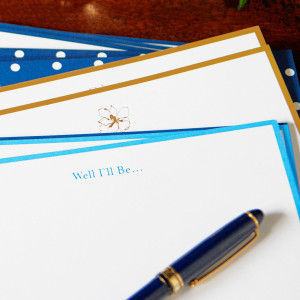 Just a few of the pretty and witty note card designs that Hanna Seabrook designed for Draper James (above).
To find out more about Hanna, read her answers to our Draper James Seven—seven questions that define a Southern style maker.
1.What is your favorite Southern city?
Charleston!
2. Favorite Southern restaurant?
Chez Nous in Charleston.
3. Favorite Southern tradition?
Our need to make a fuss over the smallest occasions. We will use anything as an excuse to entertain and be social.
4. Sweet tea or unsweetened?
A little of both.
5. Cowboy boots or heels?
Heels!
6. How do you describe Southern style?
Like most Southerners, I desire to live comfortably in dress and decor.
What belonged to my family feels sacred and unabashedly stylish. Living down South makes you appreciate the past—it's everywhere.
7. Describe your style.
Clean, classic, neutral.