A Garden Party (and Lemon Cake with Lavender Frosting Recipe) with Katie Jacobs
Not that you need a reason to throw a garden party in the summer, but we have one.
Our newest summer arrivals are here!
To celebrate, Draper James pal and Nashville ambassador Katie Jacobs got together with Abigail McGinnis from Abigail T. Calligraphy and Melissa Haithcock from A Happy Healthy Heart to host a back-porch summer garden party full of flowers, food, and plenty of laughter.
They all donned pieces from our summer collection and accessorized with hats, sunglasses, and even a Basket Bag or two.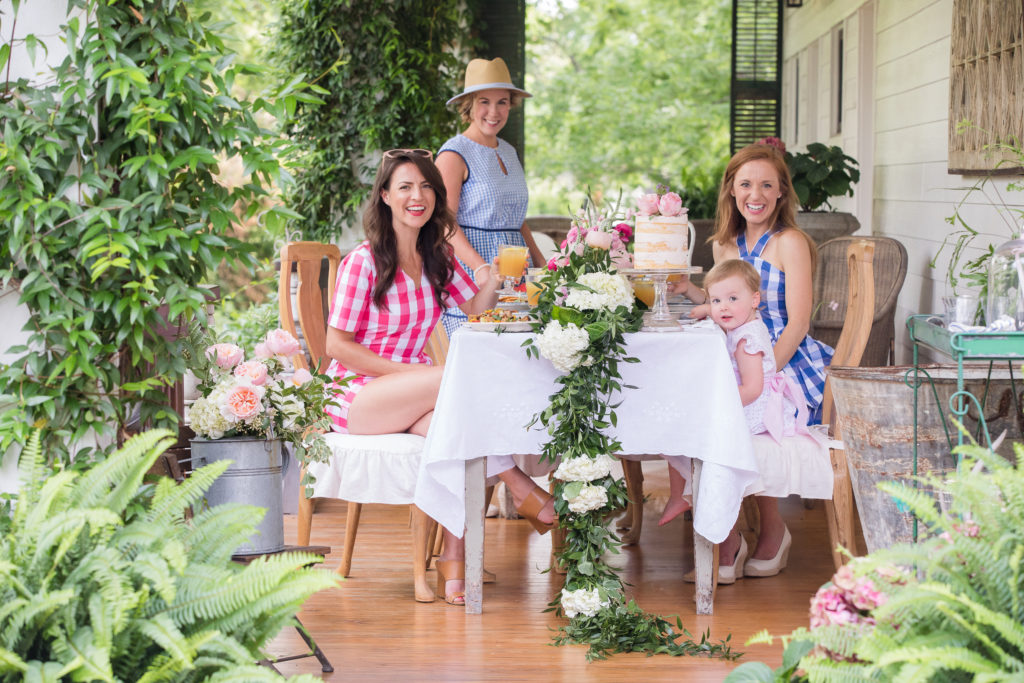 Katie's party tablescapes and recipes are always as pretty as they come, so we weren't surprised this garden party was accessorized with the freshest blooms.
When describing the setup, she told us,
"Peonies, garden roses, and hydrangeas from Flower Muse were arranged in a long garden-like centerpiece down the center of the table cascading down both sides. Flowers in white, soft pink, and bright coral added the perfect summertime feminine flair. Bottles of elderflower sparkling lemonade were chilled in a wheelbarrow full of ice and lunch was served on antique blue and white china."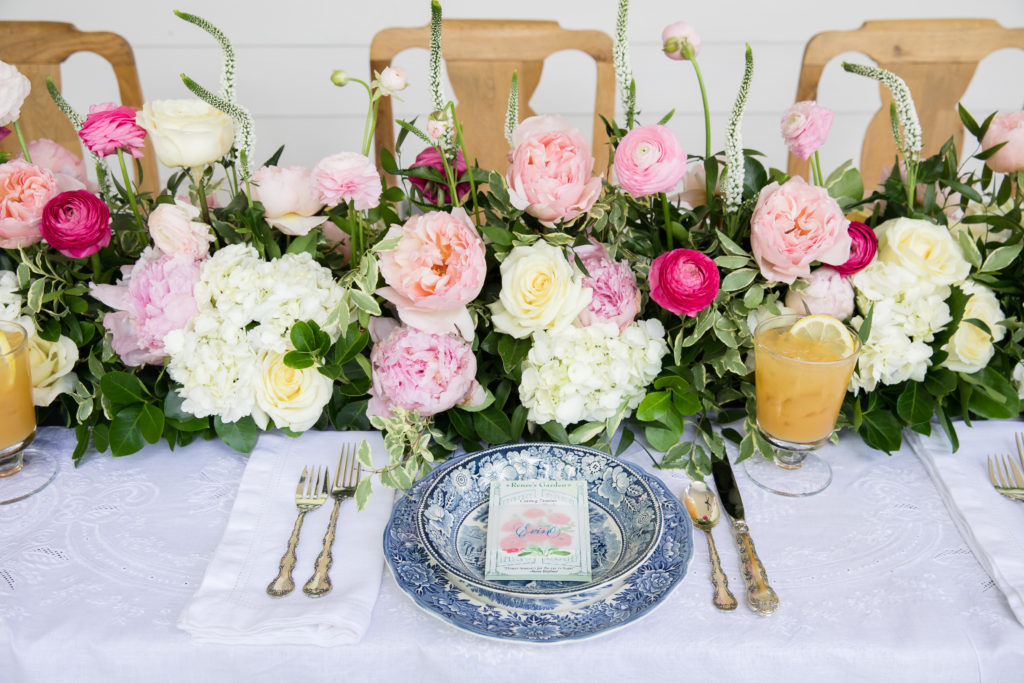 Abigail created the place cards on seed packets that also served as favors while Melissa made the most delicious watermelon mint dish alongside a Panzanella salad.
Everyone sipped on the Picnic's fruit tea and gushed over Katie's lemon lavender cake (recipe below).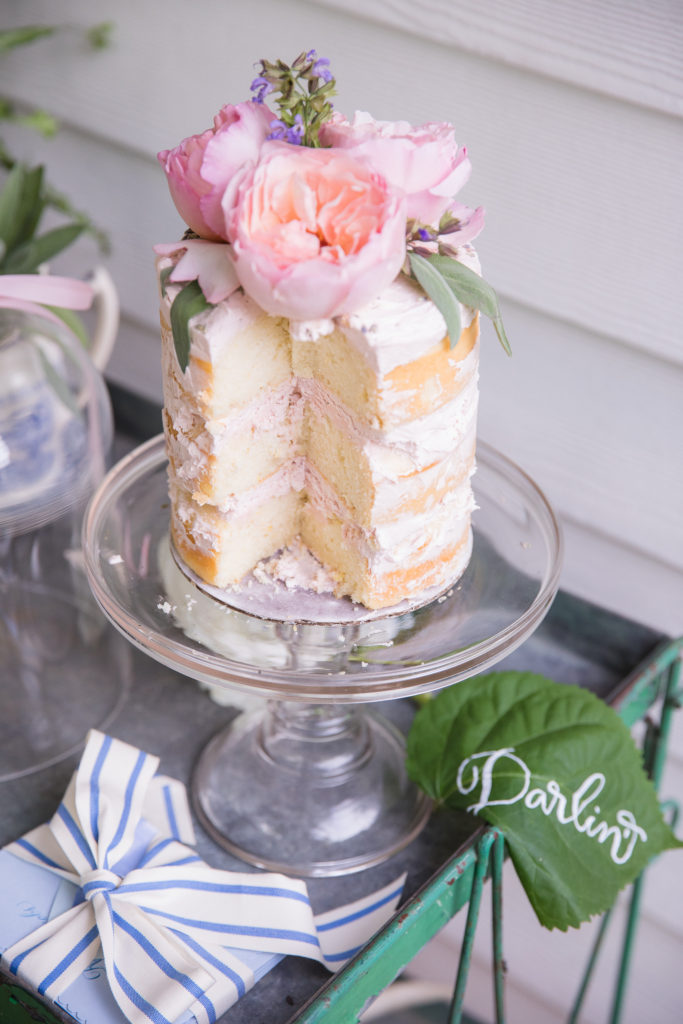 The Parton Check Mary Beth Halter Dress flawlessly complemented Katie's tablescape, as well as her iconic Southern style.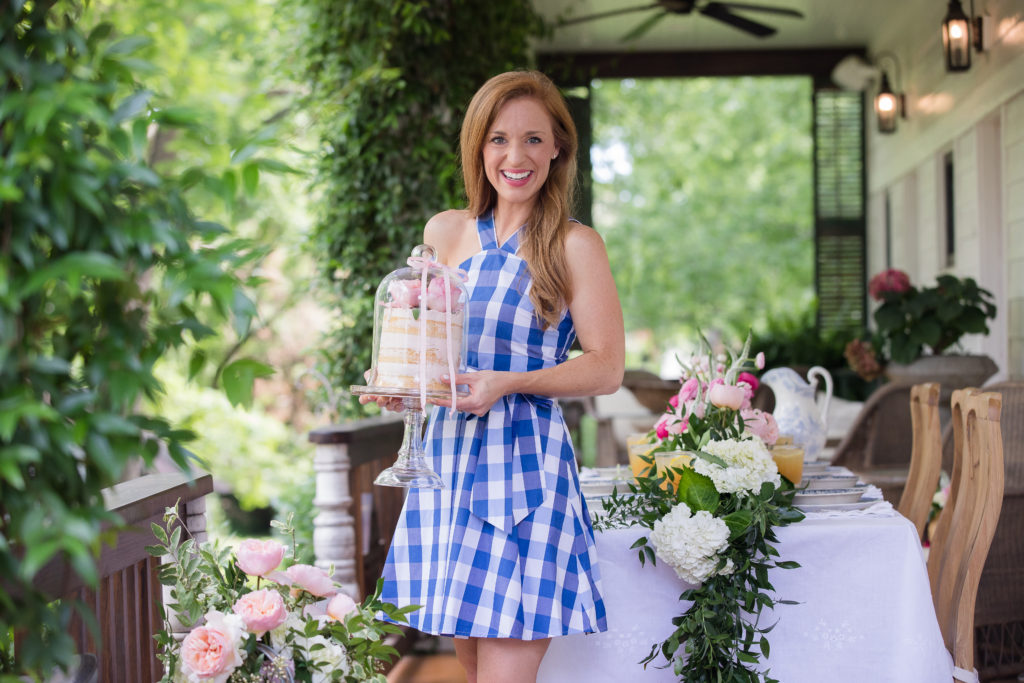 Melissa, who previously shared an amazing Watermelon Lemonade recipe with us, styled the Parton Check Melrose Romper, the perfect look for a summer day (or night).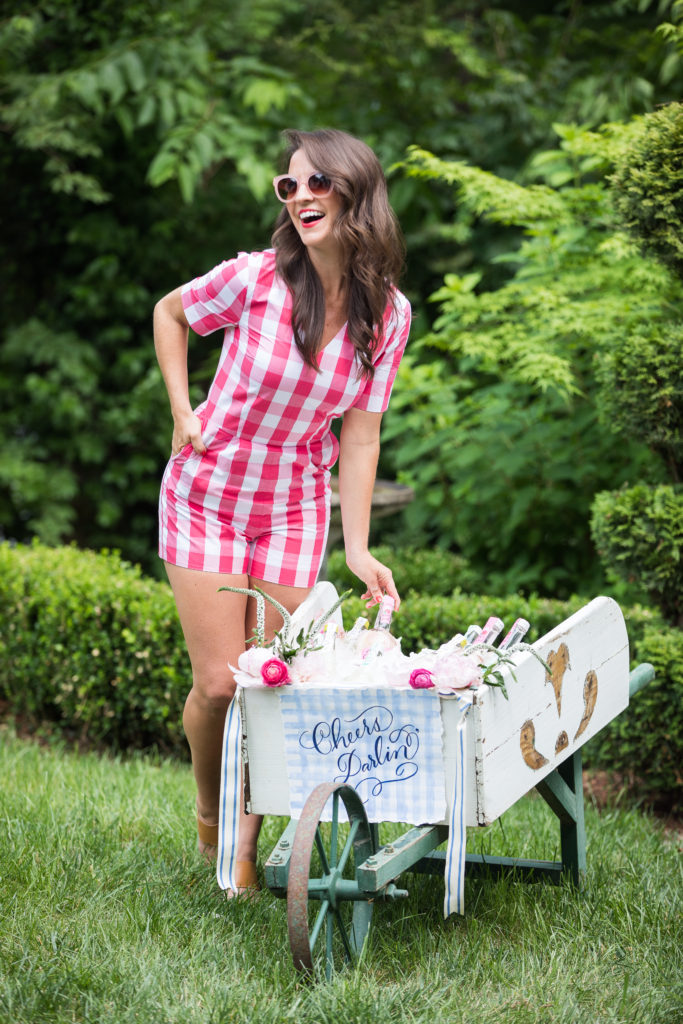 Abigail modeled the Freddie Fedora with the Sarabeth Gingham Dress, a #DraperJamesBlue statement if we've ever seen one.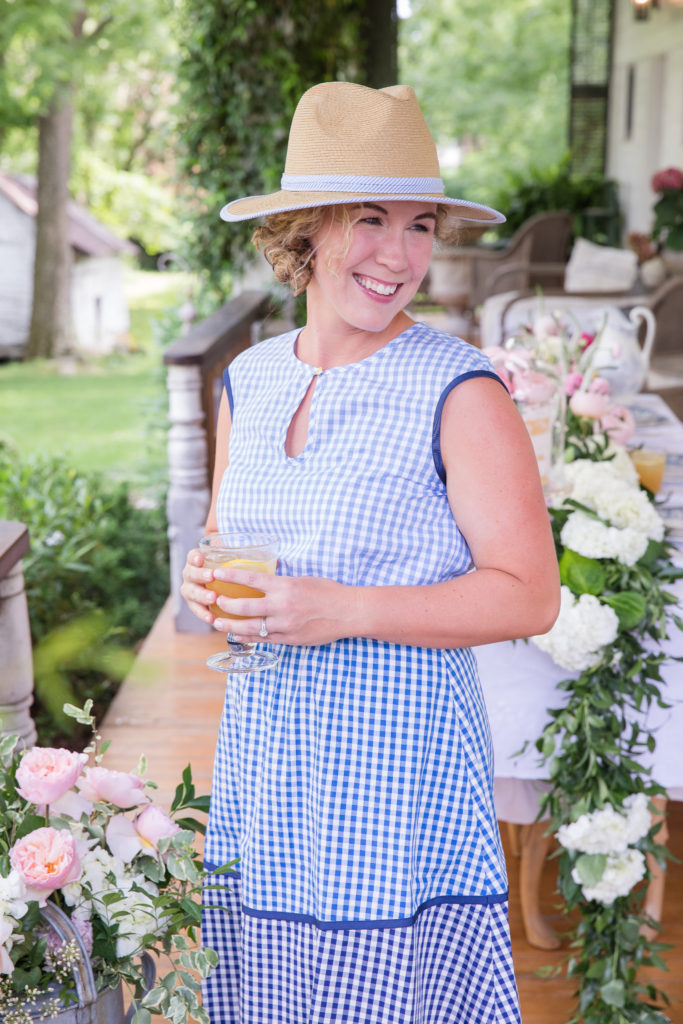 While all the ladies looked amazing in their new Draper James looks, someone else truly stole the show at this garden party: Katie's daughter, Emmaline.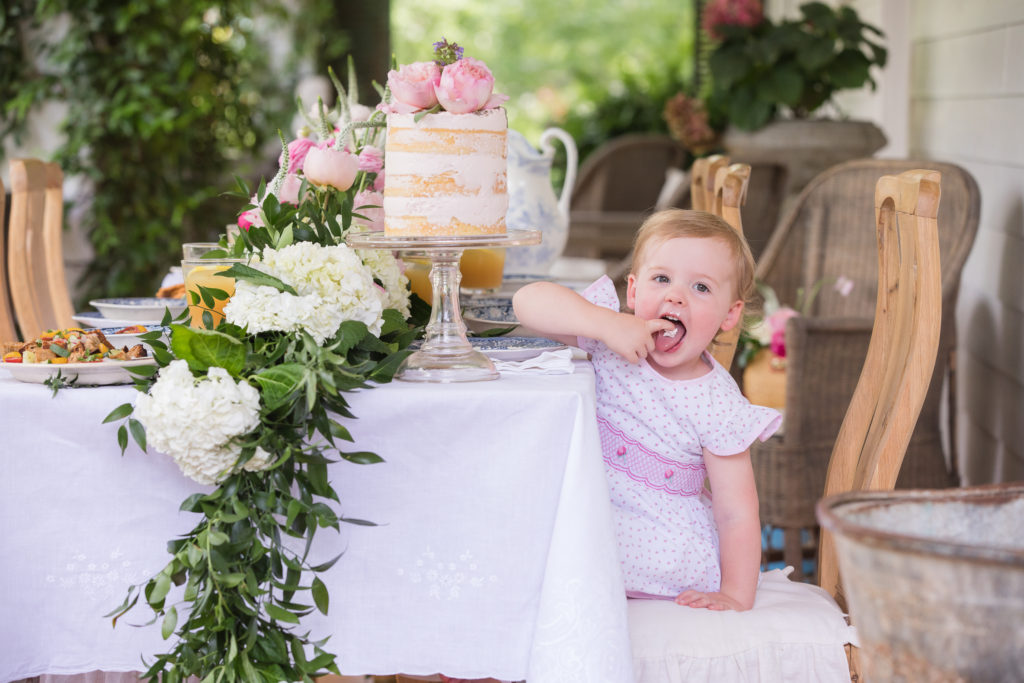 Keep reading for more from Katie Jacobs' Draper James Garden Party, as well as her Lemon Cake with Lavender Frosting recipe.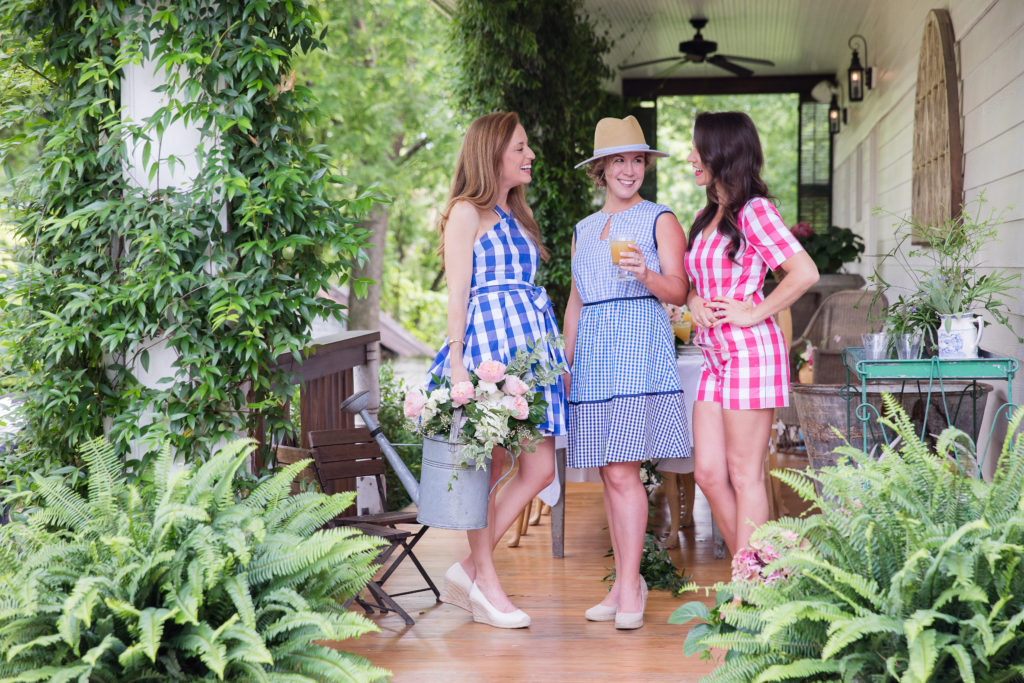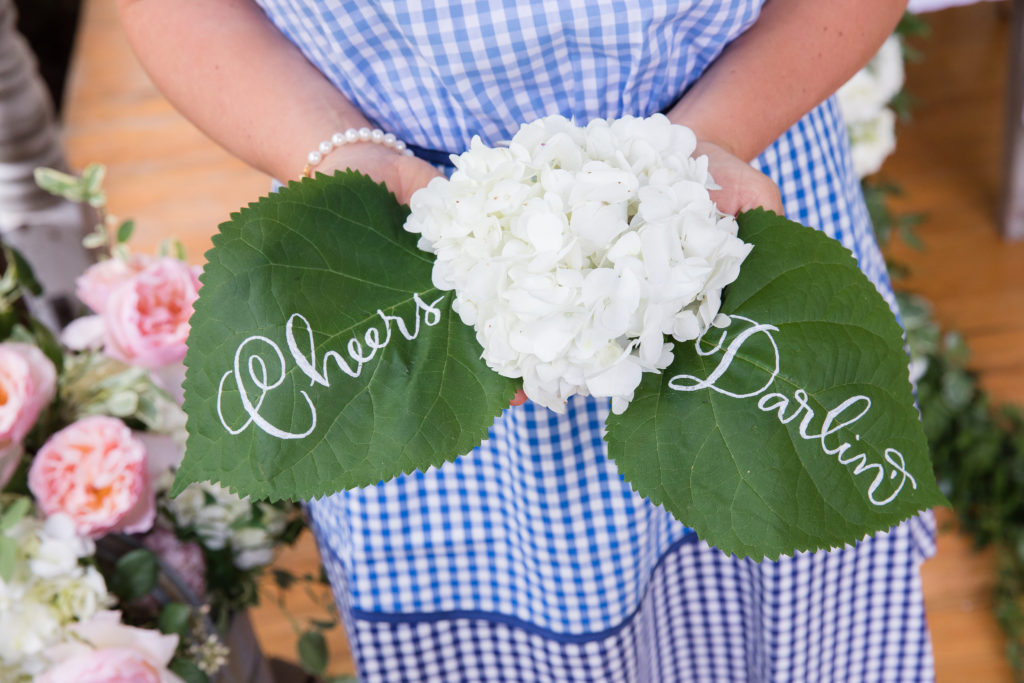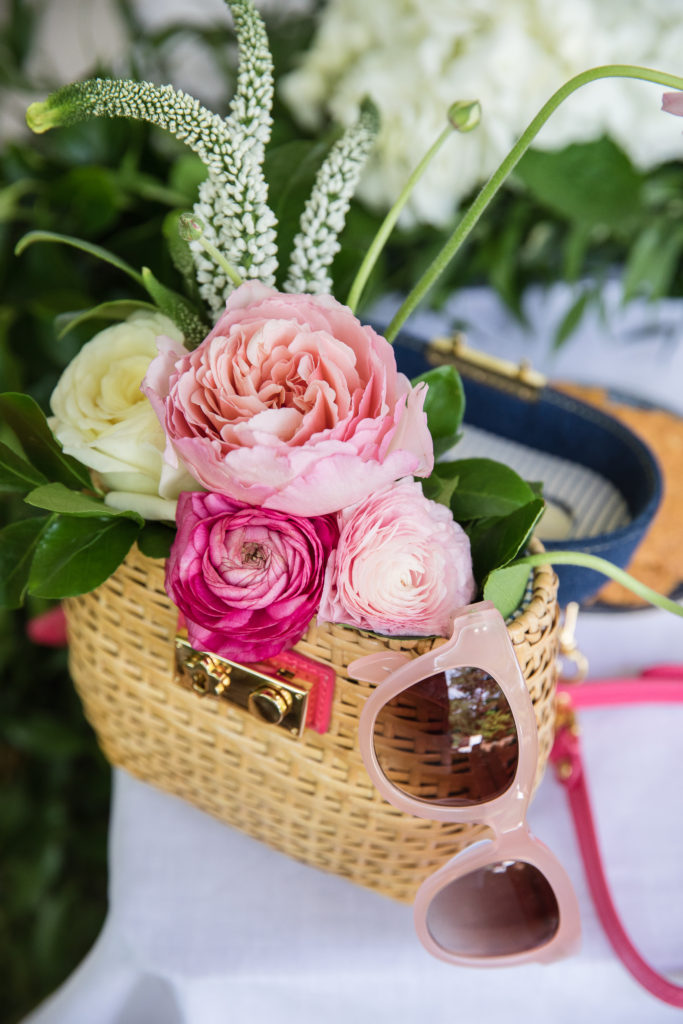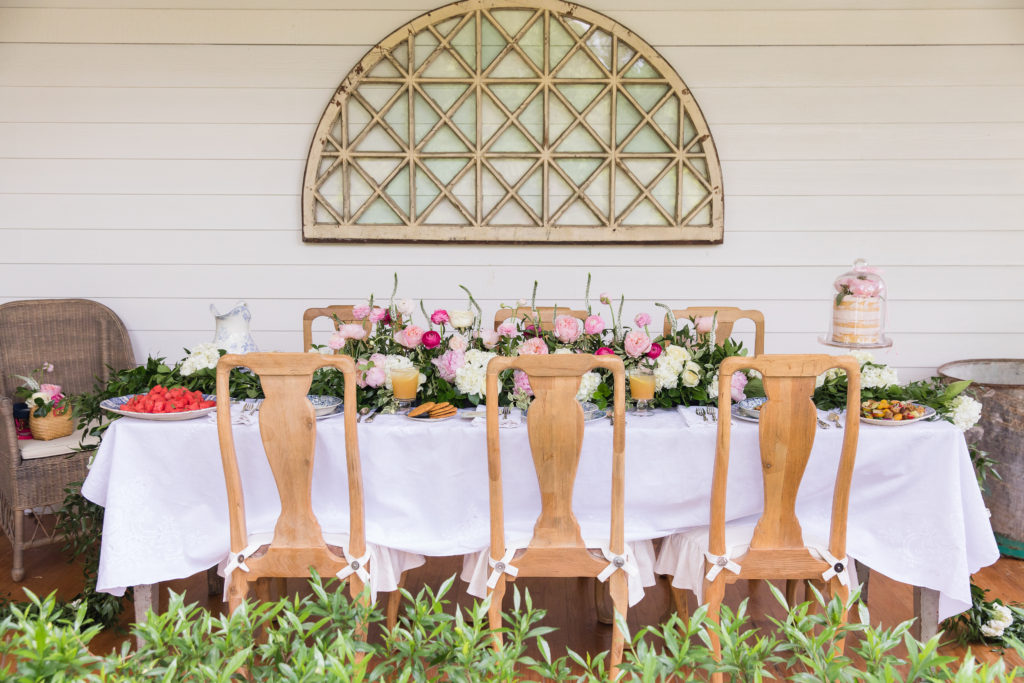 Lemon Cake with Lavender Frosting Recipe
Makes one three-tier six-inch cake
Ingredients for the Lemon Cake:
3 cups cake flour, sifted
2 teaspoons baking powder
1/2 teaspoon salt
6 lemons, zest freshly grated
1 cup unsalted butter, room temperature
2 cups sugar
2 large eggs
4 large egg whites
2 teaspoon vanilla extract
1 teaspoon almond extract
1 cup milk
1/2 cup freshly squeezed lemon juice
Ingredients for the Lavender Frosting:
3 sticks unsalted butter, softened and cut into cubes
3-1/2 cups confectioners' sugar, sifted
3 Tablespoons whipping cream
1 Tablespoon dried culinary lavender
1 teaspoon vanilla extract
a pinch of salt
violet gel food color
Directions
Preheat oven to 350 degrees. Butter and flour 3 6-inch cake pans.
In a small bowl, whisk together the flour, baking powder, and salt. Zest the lemons and set the zest aside.
In the bowl of your electric mixer, beat the butter until creamy. Add in the sugar and beat on medium speed, scraping down the sides if needed and increasing it to high speed for 2 to 3 minutes, until the sugar and butter is fluffy. Beat in each egg and white until incorporated, then add the vanilla, almond extract, and lemon zest until combined. Beating on low speed, add in half of the dry ingredients until combined, then add in the milk and lemon juice. Add in the remaining dry ingredients and beat until combined.
Distribute cake batter evenly between the three prepared cake pans. Bake for 30-35 minutes, until a toothpick or cake tester inserted in the center comes out clean.
Remove from the oven and allow to cool for about 10 minutes; remove from the pan and cool completely before frosting.
To make the frosting, in a small bowl, stir the dried lavender into the whipping cream. Cover with plastic wrap overnight (or for at least several hours).
In the bowl of an electric mixer fitted with the paddle attachment, whip butter for 8 minutes on medium speed until butter becomes very pale and creamy. Strain the lavender cream and add to butter, along with all remaining ingredients and mix on low speed for 1 minute, then on medium speed for 6 minutes. Frosting will be very light, creamy, and fluffy. Add a few drops of violet gel color and mix until blended.
To assemble cake, place layer on serving platter. Using an offset spatula, spread top of layer with 1/2 inch of frosting. Top with trimmed layer and repeat frosting until all three layers are stacked.
Top cake with fresh lavender and flowers.
Photography by Evin Photography @evinphotography
Styling by Katie Jacobs @katiejacobsnashville
Flowers provided by Flower Muse @flowermuse