Carrie Morey of Callie's Biscuits Shares Her Recipe for Cinnamon Biscuits
Have y'all heard? September is National Biscuit Month.
To celebrate, we went to the queen of biscuitry herself: Carrie Morey of Callie's Biscuits.
Anyone who searches for a biscuit in the South is bound to come across Callie's; there are two locations in Charleston and one in Atlanta. Plus, you can order her flaky delicacies online if you aren't in either city.
But there's much more to Carrie and her biscuit empire than flour and butter, and we were so excited to sit down with the inspirational entrepreneur to talk about her style (she loves shirtdresses as much as we do!), her career, and giving back to the community.
Carrie even shared the recipe for her famous Cinnamon Biscuits, a must-try in September (and any month of the year).
Hear more from her—and grab the recipe—below.
Tell us about yourself.
Born and raised in Charleston, South Carolina, I spent a lot of my youth watching, listening, and learning in the kitchens of my grandmothers and mother. Maybe it's only natural that it was in one of those kitchens where I was inspired to start Callie's Charleston Biscuits using my mother's country ham biscuit recipe.
My oldest, Caroline, was only a year old when I began this endeavor, and from the start, the goal was to build a business that could succeed alongside motherhood. I now have three girls, and fourteen years later, I consider it a huge success that all of us are thriving. I followed my passion, and I am able be home with my girls when they get out of school every day—now that to me is a measure of success!
What's the best piece of life advice you've ever received?
"Don't waste a minute"- my 10-year-old daughter, Sarah Morey.
What's your favorite part of your work day?
Hands down my morning meeting! It's amazing what starting the day off with a quick 30-minute meeting can do for a company.
I'm big on delegating, but to be successful at it, good communication is vital. Each morning I assemble my team leaders and we share ideas, we brainstorm, we troubleshoot, we build game plans.
I dream big (and so do they), and these meetings collect and connect the dots. It takes a village, and these people are part of what makes the Callie's brands successful!
What do you do to give back to your community?
Mentorship is so important, so I put a lot of time in energy into helping folks who need direction and/or connecting them with the right people. I have been fortunate to find amazing sounding boards for my business over the years, so there is nothing more fulfilling than helping someone else get his/her dream off the ground.
We are so fortunate to have such a devoted fan base so we love to put it to use for a good cause. This month, we're partnering with Packed Party on a confetti sprinkle biscuit to raise awareness for The Birthday Party Project. The Birthday Party Project hosts monthly birthday parties at homeless and transitional living facilities across the country to make sure every child has a joyous and magical birthday celebration.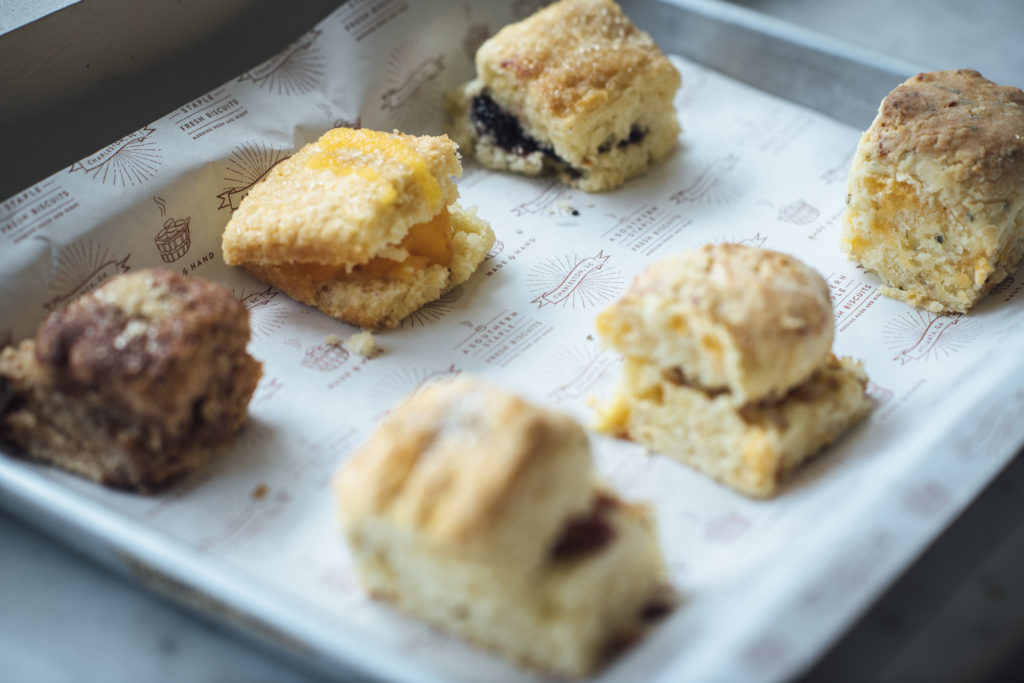 How would you describe your everyday style? 
My style is simple and comfortable. I love a good dress; it is always my go-to. Easy to move around a kitchen, but also appropriate for meetings out of the kitchen.
A dress somehow makes me feel a little more put together even when I am not!
What's the one thing you can't live without?
Family and cooking.  Even better cooking with my family!
What's your biggest challenge when it comes to dressing for your vocation? How do you overcome this? 
Well, it's definitely a challenge for me, as most things get a generous dusting of flour even if I'm not baking that day! Like most entrepreneurs, you never really know what each day holds in store.  I may need to greet customers or hop on the line at Callie's Hot Little Biscuit, so a dress with fun closed toe comfortable shoes is always best for me.  The dress needs to be above the knee but not fussy—this shirt dress is exactly what my daily work uniform needs to be!
Reese, can you make 10-15 different colors/patterns for me please?
What's your favorite thing about living in the South?
So many Southern traditions have family at their core. I love that such rich stories are centered around heirloom recipes and that the tales and the dishes seem to be so thoughtfully passed from generation to generation.
It's always been family first for me, and the South celebrates this in a very genuine way.
Do you have a favorite "Southernism"?
Yes Ma'am 😉  It's "butter your biscuits."
Callie's Hot Little Biscuits Cinnamon Biscuits Recipe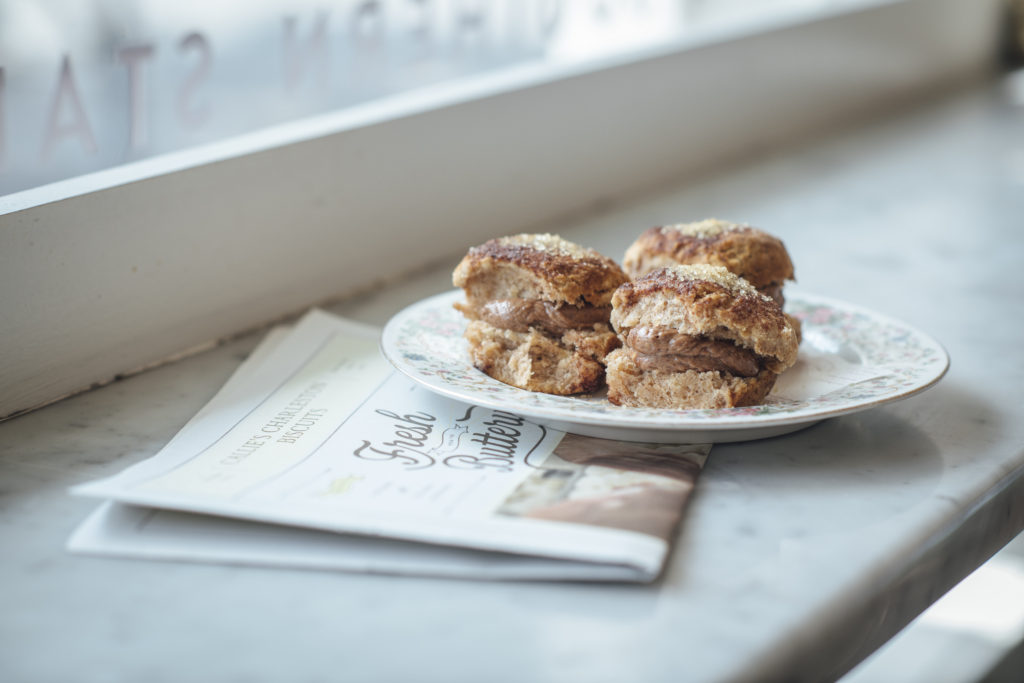 Ingredients 
2 cups White Lily self-rising flour, plus more for dusting work surface
4 tablespoons unsalted butter, room temperature
1/4 cup cream cheese, room temperature, cut into cubes
3/4 cup low-fat buttermilk
1 tablespoon unsalted butter, melted
Turbinado sugar, for sprinkling
Callie's Hot Little Biscuit Cinnamon Butter (see recipe below)
Directions
Preheat oven to 400 degrees.
In a large bowl, combine flour and room temperature butter. Use your fingers to break up the butter. The result should resemble grated Parmesan.
Add cream cheese and mix it into the flour with your hands, leaving a few larger pieces. Add buttermilk and mix until dough is sticky and wet, but not sloppy. All flour should be incorporated.
Move the dough to a lightly floured work surface, being sure to remove all dough from bowl. Dust the top of the dough with flour.
Roll out dough to 2-inches thick. Cut dough into 2-inch circles. Arrange circles on a lightly greased cookie sheet.
Brush with melted butter, and sprinkle with Turbinado sugar.
Bake 12 minutes or until biscuits tops are golden brown. Remove to a wire rack and allow to cool slightly. Split biscuits in half and spread with cinnamon butter. Serve immediately.
Callie's Hot Little Biscuit Cinnamon Butter
Makes: 2/3 cup
Ingredients
8 tablespoons unsalted butter, room temperature
1 1/2 tablespoons granulated sugar
1 tablespoon light brown sugar
1 teaspoon ground cinnamon
Directions
In a medium bowl, stir together butter, granulated sugar, brown sugar, and cinnamon. Transfer to a small dish and cover.
Refrigerate until needed. Or roll into a log and wrap in plastic wrap, then freeze.
Photos by @thejustinchan