May 29, 2018 • RECIPE
Hello, Sugar: Going for Grace's Lemon Raspberry Bundt Cake Recipe
It's been a while since we've had a cake recipe on the Love, Reese blog, so we figured it was time to introduce y'all to Going for Grace's Lemon Raspberry Bundt Cake.
You may have seen notice this fabulous cake in Lauren's al fresco dinner party post. It's certainly a showstopper, and we knew we had to have a bite ourselves.
After describing her recipe as "heavenly," Lauren shared all the details one needs to know when making this bundt cake—the ingredients, the directions, and even a tip on two to ensure you get the perfect final product.
Hear from the Southern baker and blogger herself—who's wearing the Summer Floral Love Circle Dress—and get the recipe for her Lemon Raspberry Bundt Cake below.
Tell us about this recipe.
A bundt cake is a tried and true Southern cake. I can't even begin to tell you the number of bundt cakes that show up at church potlucks!
I wanted to freshen this one up with some warm weather favorites: lemon and raspberry. The light lemon cake is topped with an easy raspberry glaze and piles of raspberries.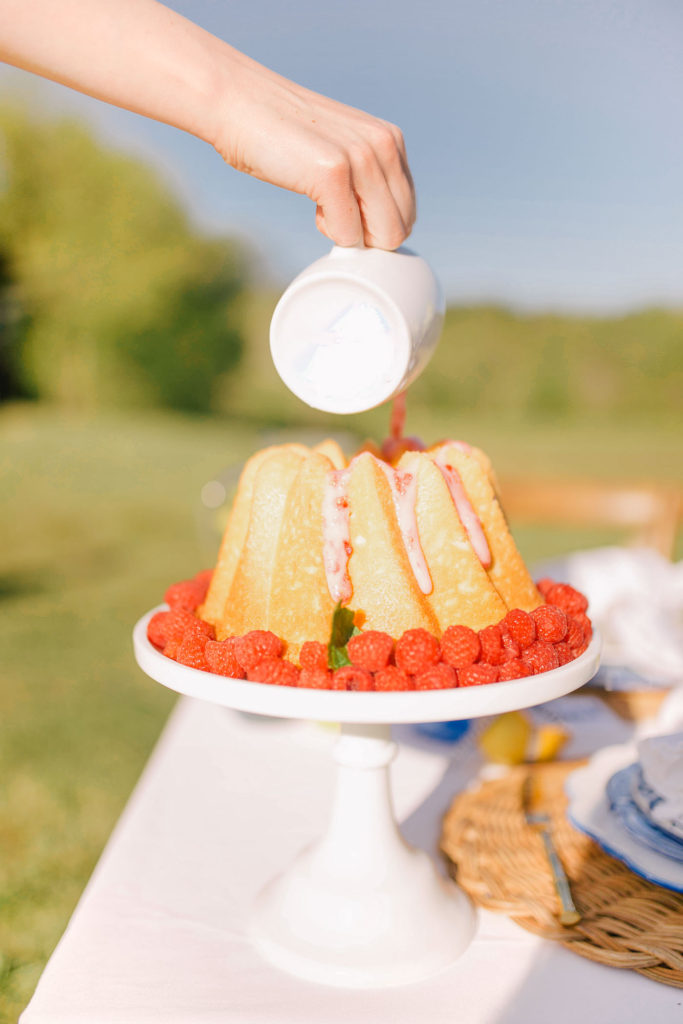 In your opinion, what's the biggest mistake someone could make when baking this treat?
The biggest mistake that could be made is not greasing your bundt pan well enough. There is nothing more disheartening than your cake not inverting properly!
To assure you get the prettiest of bundt cakes, be sure you do the following: Spray every area in your bundt pan with a nonstick baking spray (preferably one with flour); once baked, let the cake cool in the pan on a wire rack for about 20 minutes; once cooled, place a plate or serving platter on top of the pan, flip over, and tap on the bottom of the pan to release the cake.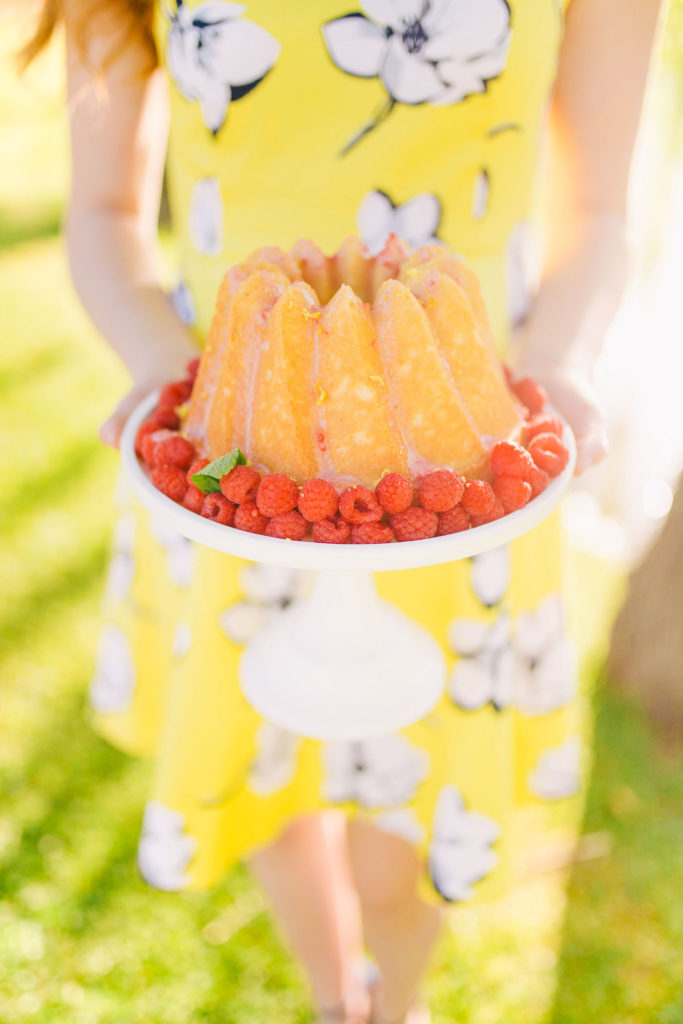 Why is this the perfect recipe for the summertime?
This recipe is perfect for summertime because it is such an easy cake to throw together. You can make it one to two days ahead of time, freeze it, and then let it thaw the day that you want to serve it.
It's also a cake that is best served cold! The freshness really shines through when chilled.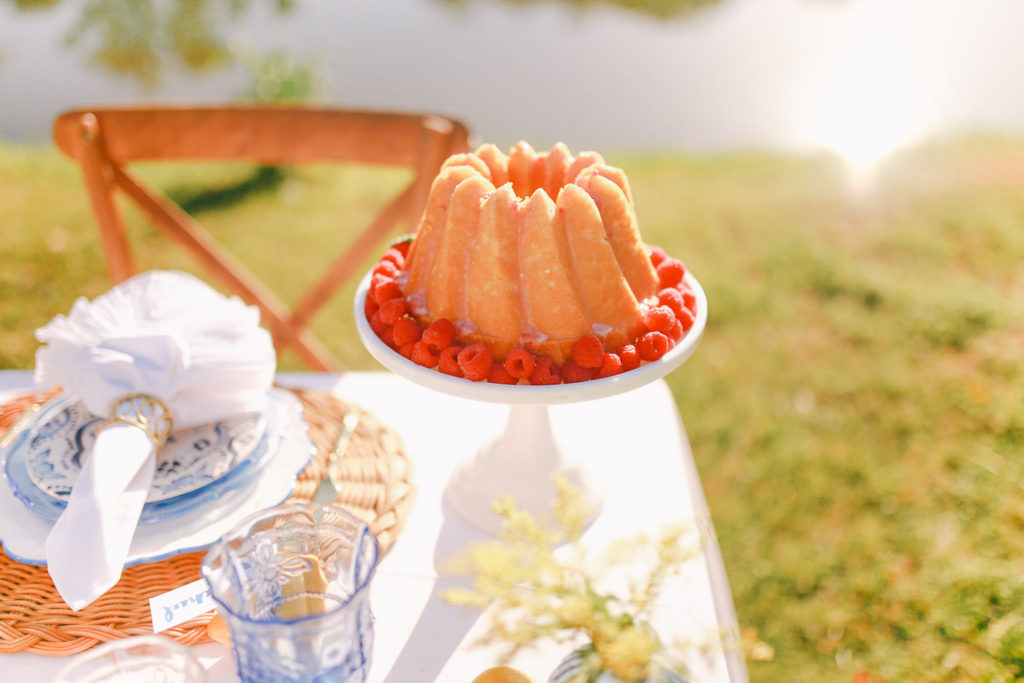 Recipe for Lemon Bundt Cake
1 1/2 cups or 3 sticks unsalted butter, room temperature
3 cups sugar
6 large eggs, room temperature
3 cups all-purpose flour
1/2 teaspoon salt
1/4 teaspoon baking soda
1 cup sour cream
1 teaspoon almond extract
2 teaspoons lemon extract
2 teaspoons lemon zest
Directions
Preheat oven to 325 degrees.
Spray bundt pan with nonstick cooking spray and set aside.
In the bowl of an electric stand up mixer, beat the butter until it's creamy.
Add sugar beating at medium speed until mixture is light and fluffy—about 5 minutes.
Add the eggs one at a time, beating just until the yolk disappears into the batter.
In a medium bowl mix together the flour, salt, and baking soda.
Add half of the flour mixture to the butter mixture, add sour cream, and then add the other half of the flour mixture. Beat the batter on low just until blended after each new addition.
Stir in the almond extract, lemon extract, and lemon zest on a low speed until fully incorporated.
Pour the batter into prepared pan only 3/4 full and bake for 1 hour or until a toothpick can be inserted into the center of the cake and come out clean.
Cool the bundt cake on a wire rack in pan for 10 minutes before inverting the pan onto a plate.
Let cake cool completely, chill if desired, and top with glaze when ready to serve.
Recipe for Raspberry Glaze
2 cups powdered sugar
1 tablespoon honey
2 tablespoons smashed raspberries
Warm water
Directions
Combine the powdered sugar, honey, and warm water in a small bowl, mixing with a wire whisk until smooth.
Add the smashed raspberries and whisk until evenly distributed.
Pour over the top of the bundt cake, and allow the glaze to drizzle down the sides.
Sprinkle with lemon zest for extra garnish.