Hello, Sugar: Pizzazzerie's Skillet Cherry Cobbler Recipe
Surely y'all know by now that we'll embrace any holiday that invites us to indulge (hello, National Pi Day and National Carrot Cake Day). But the cherry on top is when a holiday comes along that pairs so perfectly with our Draper James prints.
Enter National Cherry Cobbler Day. Celebrated today, this glorious holiday honors the arrival of cherry season and provides the perfect excuse to cart out our Draper James cherry print tabletop and fashion pieces.
Here to share her Skillet Cherry Cobbler recipe, along with some thoughts on how and when to serve it up, is Courtney Whitmore, the Tennessee-based stylist, blogger, and recipe developer behind Pizzazzerie.
Tell us about this recipe. What do you love about a cherry cobbler, especially in late spring and summer?
Cherry cobbler is one of those desserts that takes me back to my childhood in South Carolina! It's always a favorite go-to dessert down South, and I have so many memories of eating it on the back porch of my grandparent's house.
I have tweaked my recipe over the years, and I finally have what I consider to be the perfect cherry cobbler! Making it in a skillet is certainly optional, but I love how it stays warm longer that way. Plus, I have mini skillets and being a party lover, I love anything that's individualized! Of course, this recipe would work just as well in a large skillet.
Tell us about styling the cobbler with our Draper James cherry print items. What drew you to them?
I adore the cherry print! It reminds me of a modern twist on classic old-fashioned patterns. It's playful, but not overly bright. I love the navy and pops of red. It's perfect for a backyard patio party or just everyday fun!
Naturally, serving up cherry cobbler with the cherry print items is the perfect fit. Why not host a full-on cherry-themed party with cherry lemonade, cherry cobbler (of course), and cherry jam for favors.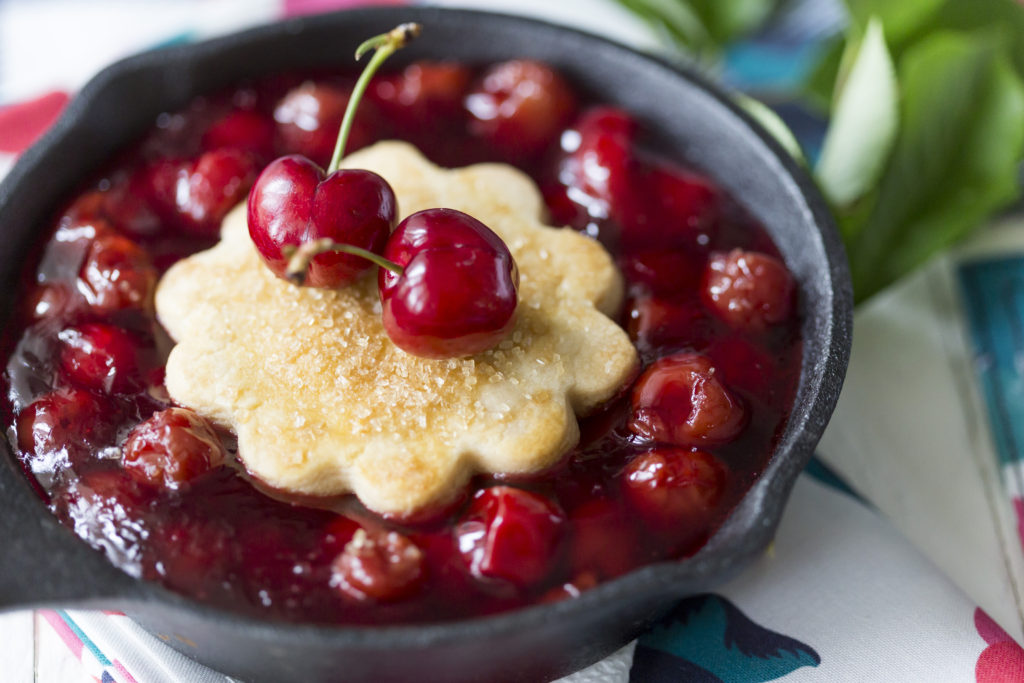 It's National Cherry Cobbler Day. We love any kind of holiday, even a silly one like this one! You?
I live for fun holidays! National food holidays are just the perfect excuse to gather friend and family and enjoy a delicious treat.
Sometimes we can get stuck in the monotony of everyday life, work, and other obligations. Just play along with fun days like National Cherry Cobbler Day and you might find yourself making sweet, lifelong memories!
Describe your favorite seasonal meal that ends with this dish?
My family and I love being outside in the late spring and summer. It's not too terribly hot in the South until later in the summer, so we are outside in the early summer as much as we can!
My husband loves to grill, so the perfect meal for this cherry cobbler dish would start off with an arugula salad topped with blue cheese crumbles and candied walnuts (dressed with fig balsamic). Next up is grilled chicken or salmon and a side of grilled vegetables. Naturally, dessert is skillet cherry cobbler topped with a scoop of vanilla ice cream (because life is short)!
 Anything new with Pizzazzerie you would like to share?
Yes, in fact! My latest book releases in August! Pizzazzerie: Entertain in Style is full of over 50 party recipes and over a dozen full party designs, from tablescape details to DIY elements to bring your celebration to life. I'm so proud of this book and excited for it to release!
You'll see several Draper James items on its pages and even a full-on Charleston garden party with lots of Southern touches!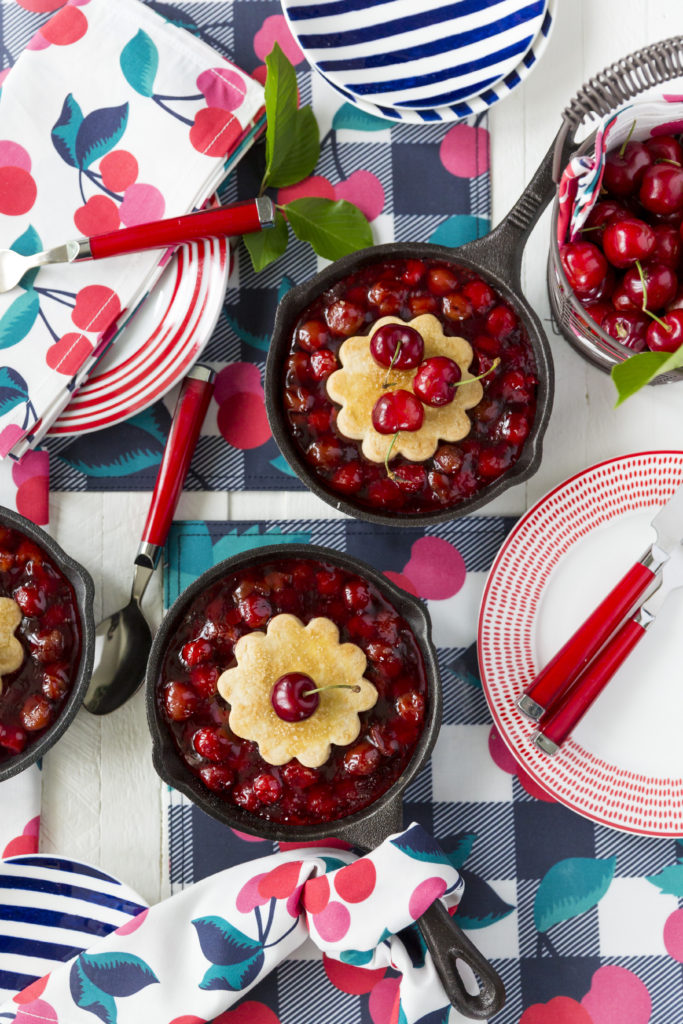 Skillet Cherry Cobbler Recipe from Courtney Whitmore of Pizzazzerie

Yields: 1 large cobbler or 3 small/medium cobblers
Ingredients for the Cookie Topping
1 cup unsalted butter, softened
1 teaspoon vanilla extract
½ cup light brown sugar
⅛ teaspoon salt
2 ¼ cups all-purpose flour
¼ cup turbinado sugar
Ingredients For the Cherry Cobbler Filling
4 cups pitted tart red cherries
1 cup white sugar
3 tablespoons cornstarch
1 tablespoon lemon juice
1 teaspoon almond extract

Directions
Preheat oven to 400° F. Combine butter, vanilla, light brown sugar, and salt in the bowl of a mixer. Mix until just combined. Add flour a little at a time and stir until combined. Place dough on floured surface and roll out to ½–inch thickness. Use a fluted cookie cutter to cut out rounds. Place each round on a baking sheet, sprinkle with turbinado sugar, and chill until ready to bake.
In saucepan, heat cherries over medium heat. Cover and heat until juices are released and bring to a simmer (10-15 minutes, stirring often). Pour cherries into skillet and place on medium heat. Whisk together sugar and cornstarch in a mixing bowl and add to cherry filling. Stir in lemon and almond extract. Heat on low and simmer until filling has thickened (about 2-3 minutes). Remove from heat.
Place a cookie round on top of cherry cobbler filling. Bake for 20 minutes or until cookie is lightly golden. Note: for a more golden topping, brush with egg white and sprinkle with more turbinado sugar.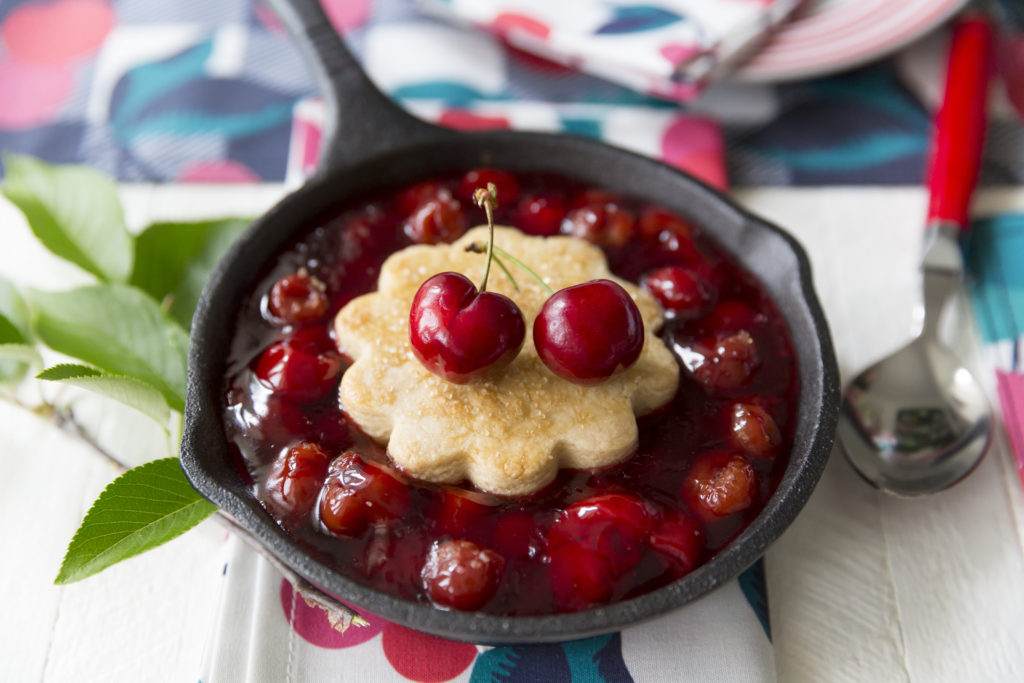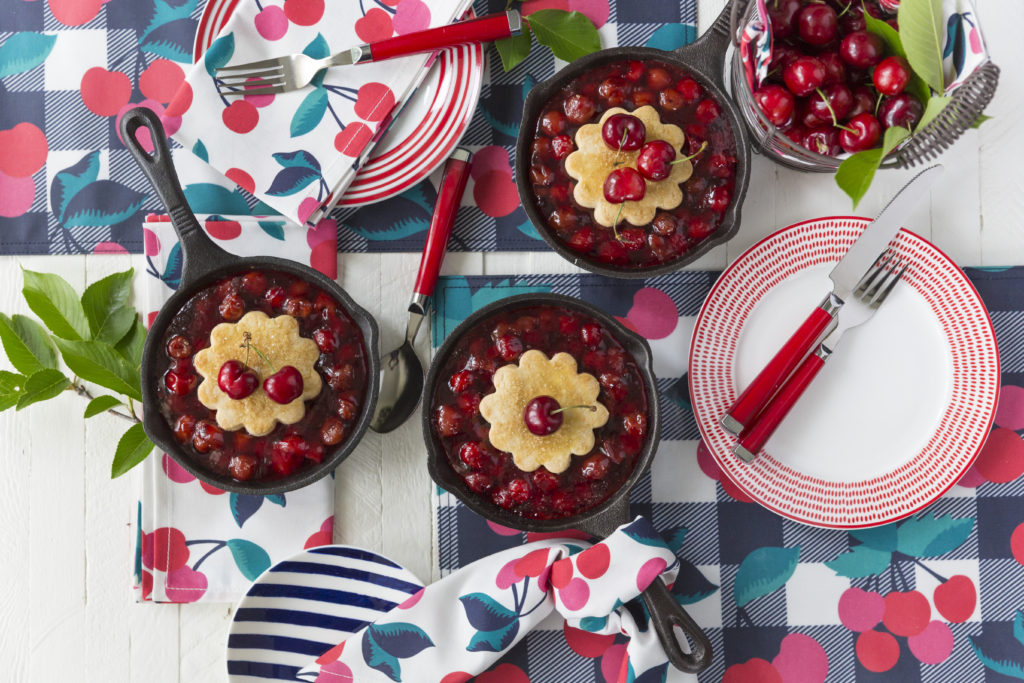 Save
Save
Save
Save