Style School: Dressing Cute but Not Kooky for July 4th
Fashion blogger Krystal Faircloth is not afraid to embrace a trend or rock a rainbow bright. On her blog, A Pinch of Lovely, she sports culotte jumpsuits, off-the-shoulder tops, dizzying patterns, and more—and she pulls it off with with a sense of class and ease that keep her readers (us included!) coming back for more and more.
So when it came to dressing for the upcoming 4th of July holiday, we turned to Krystal for help on how to channel our patriotism into a look that's cute, but not costume-y. Her style rules for this quintessentially American holiday? "I can understand why people tend to gravitate towards the stars-and-stripes wardrobe pieces. It's fun!" says Krystal. "But personally, I like to stick with solid colors with a pop of pattern or a dash of red lipstick."
In this case, Krystal went with both, pairing our Draper James Parton Button Down Shirt and Solid Bristol Short with a few key accessories, red lipstick included. "It essentially comes down to how you're spending your holiday weekend," she says, "but I think choosing to go with one main color—either red or blue—is always a safe bet!
How will you be spending July 4th this year?
This year we will be in Cape Cod. My husband, Jordan, played summer baseball on the Cape during college, and he has always wanted to make a return trip to catch a few games and show me where he used to play. It will be my very first time visiting that part of the East Coast, so we are also going to be spending time in Boston and Nantucket. (This Draper James look will be as perfect in New England as it is in the South!)
Favorite July 4th memories?
I have spent many 4th of July holidays at the beach in Florida; it's one of our favorite places to go with our friends during the summer and just a short drive from Baton Rouge. We've done everything from Perdido and the Flora-Bama area to Destin and Baytowne Wharf. Getting on a boat and heading to Crab Island [in Destin] is a must as well!
What drew you to this look?
Gingham is always a classic Southern print. It is easy to dress up or down, and in this case, the Bristol Short was an easy choice to pair the top with. I don't normally go for pants or shorts that zip in the back, but these shorts have a perfectly tailored fit and are super comfortable. The length is also great.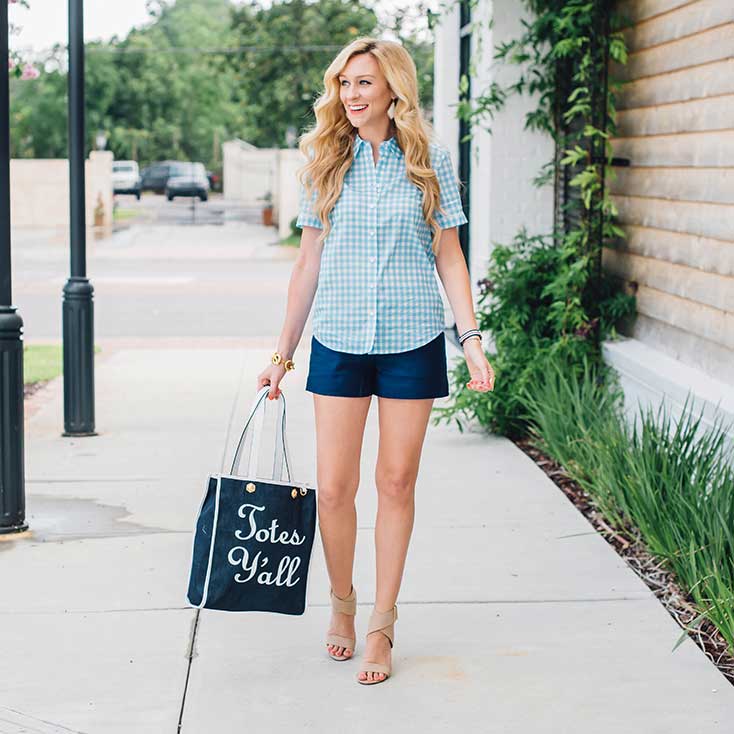 How did you change up the pieces for two slightly different looks?

I wore heels and tied the top into a cropped top for a more dressy look. Then I switched into flats and untucked the top for something more casual. The outfit is virtually the same, but you can wear it on different occasions.
The Totes Y'all bag is the cutest little conversation starter and the perfect weekend bag to toss in all of your essentials. The inside is lined with red striped fabric, which is fantastic detailing. I'd also wear it with an easy t-shirt dress or a pair of white jeans and heels—with a red lip!
Three recent posts on your site that have really resonated with readers?
The 4 Basic Wardrobe Pieces I Have On Repeat
Be This Summer's Best Dressed Guest
The Pants That Will Change Your Summer Office Outfits
Save
Save
Save
Save