Vivian Howard's Strawberry Shortcake with Basil Whipped Cream and Coconut Cornbread
North Carolina native and current resident Vivian Howard was recently named the South's Best Chef by Southern Living, and we're so excited to feature her this week on the Love, Reese blog.
The chef, restauranteur, author, and TV host is known for her warmth, charisma, and delicious food, of course. She encompasses so many of the things we love about the South and Southern culture, and she's truly the definition of a #girlboss—from running three restaurants to taking care of her twins. Vivian does it all.
Speaking of food, Vivian was kind enough to share her recipe for Strawberry Shortcake with Basil Whipped Cream and Coconut Cornbread, a recipe she calls the "ultimate dessert." Hear from Vivian, and get her recipe below.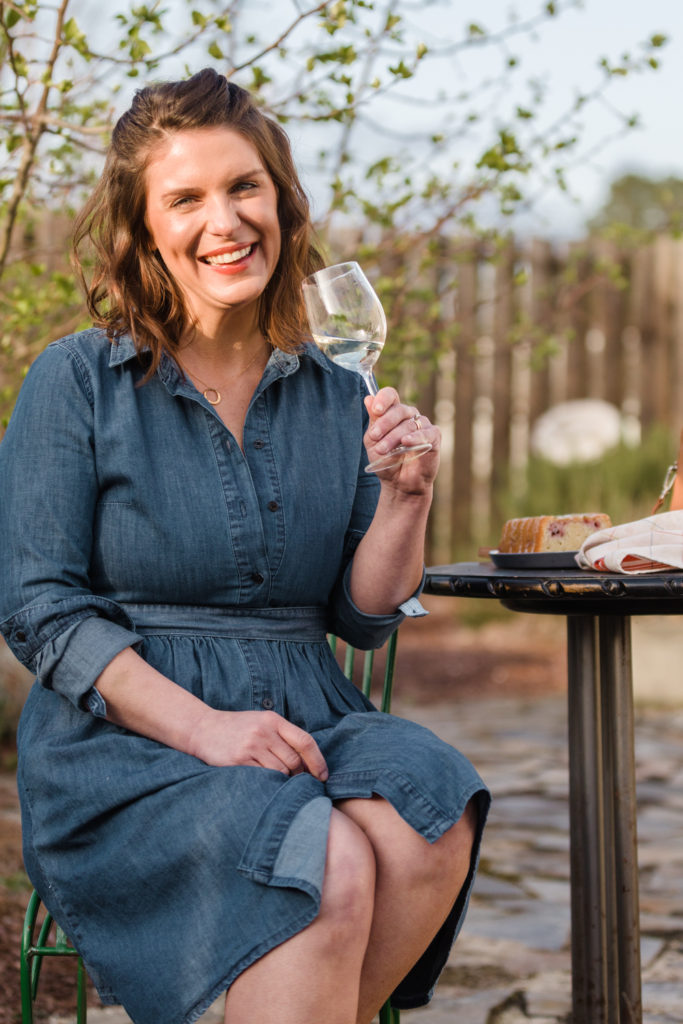 What's your favorite part of the South?
Our penchant for story-telling… and turnip salad.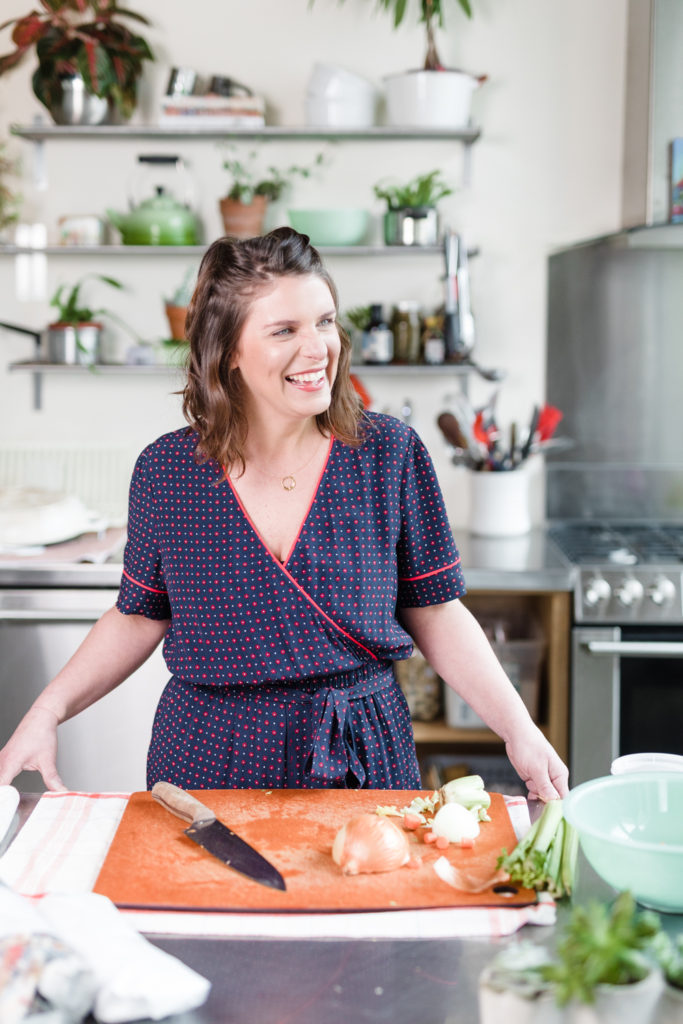 What do you love most about the Chambray Shirtdress?
I can wear it on camera (and it's oddly hard to find that kind of thing) because it's flattering, calm, and solid color.
Describe your Strawberry Shortcake recipe in three words.
Mom, me, and strawberries.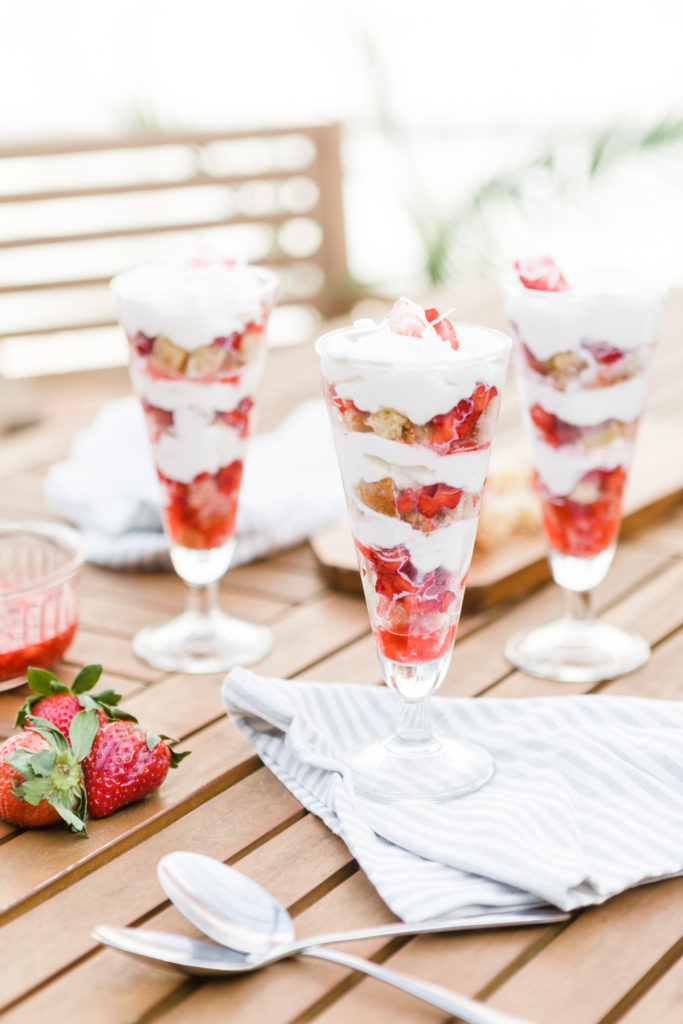 Vivian Howard's Strawberry Shortcake with Basil Whipped Cream and Coconut Cornbread
Makes 10 -ounce shortcake trifles
"To me, strawberry shortcake is the ultimate dessert. The way the strawberry juice leeches into and eventually sogs out the cake, makes me crazy happy. And when the lightly sweetened cream melds into the juicy crumb scenario, I can't handle it. That being said, I always wanted to do a riff on a strawberry shortcake at Chef and the Farmer, but there's just no way to improve on the classic without changing the premise a little. Basil and coconut are a match made somewhere near Southeast Asia, while fluffy cornbread and sweet strawberries are more American than apple pie. All of these elements soaked together with whipped cream is a great way to open up spring."
Coconut Cornbread
1/2 cup cornmeal
1 1/2 cups AP Flour
1/2 cup granulated sugar
2/3 cup coconut flakes
1 Tbsp. baking powder
1/2 tsp. salt
1/3 cup vegetable oil
1/4 cup melted butter
1 Tbsp. honey
2 eggs (beaten)
1/2 cup Coco Lopez (cream of coconut)
7oz coconut milk
1/2 tsp. coconut extract
2 Tbsp. butter
Preheat your oven to 350. While it's preheating, place an 8×10 inch casserole dish in there to preheat as well.
Meanwhile in a large bowl, combine and mix to incorporate the cornmeal, flour, sugar, coconut flakes, baking powder, and salt.
In a smaller separate bowl, whisk together the vegetable oil, melted butter, honey, eggs, Coco Lopez, coconut milk, and coconut extract. Pour the wet ingredients into the dry. Stir to just combine.
Remove the hot casserole dish from the oven and drop in 2 tablespoons butter. Rotate the dish to make sure the butter is coating all sides of the dish.
Pour in the batter. Return the dish to the oven and bake for about 15 minutes until golden brown and cooked through.
For the Strawberries
1 qt. strawberries
1/2 cup granulated sugar
pinch salt
juice of one lime
Top and wash the berries. Slice each berry into 4-6 pieces.
Toss them with the sugar, salt and lime juice. Allow this to hang out for 30 minutes or until the berries produce a syrupy delicious sauce.
For the Basil Whipped Cream
1/2 cup lightly packed basil leaves
2 cups heavy cream
In a small saucepan, combine basil and cream. Heat it until bubbles start to form in a real way around the edges.
Remove the cream from the heat and allow it to steep for about 30 minutes.
Strain out the basil and allow the cream to chill thoroughly.
In a mixer fitted with the whisk attachment, or with your good old arm fitted with the same "attachment," whip the cream to medium stiff peaks.
To Assemble
You can go wild here to fit your whim. At the restaurant, we use Weck jars. You could use a trifle bowl, a sundae dish or a wine glass. It is however nice to see all the layers, so keep that in mind when selecting your vessel.
Spoon a small amount of your strawberry love on the bottom of the vessel.
Top with coconut cornbread that you have torn into smallish pieces. Top that with a nice amount of strawberry dream stuff and finish that layer with several dollops of basil whipped cream.
Continue this layering process until you reach the top of your vessel making sure that you finish with the basil whip.
Top the whole thing with a few whole or halved strawberries.
In a perfect world, you would let this sit refrigerated for a minimum of six hours before serving, overnight would be even better. Serve chilled.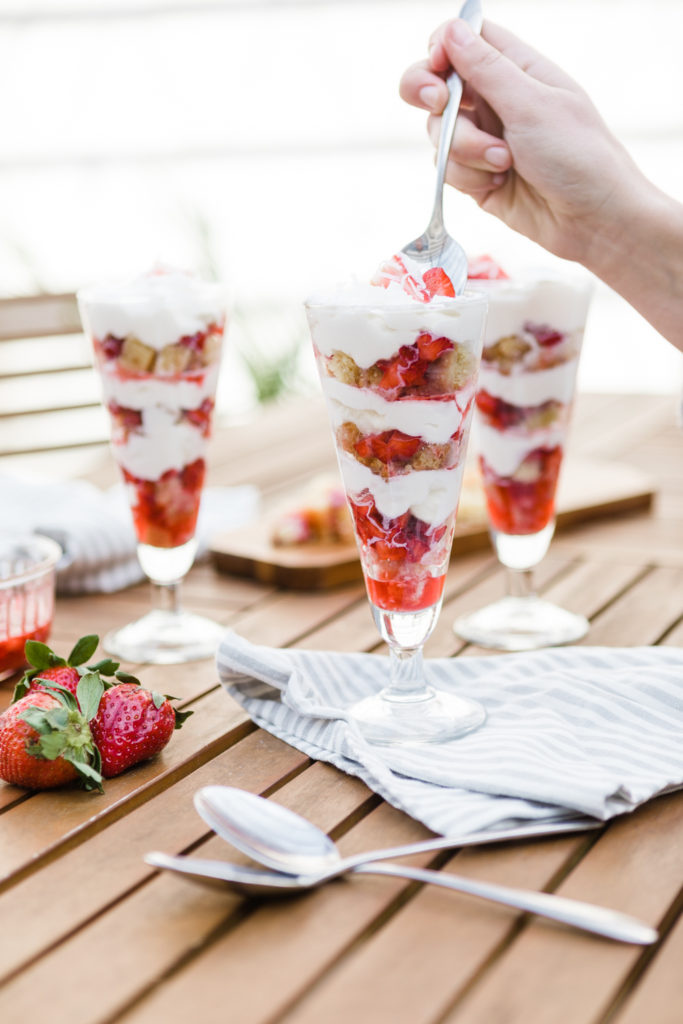 Photos by Baxter Miller