January 14, 2019 • RECIPE
Hello, Sugar: Kate Wood's Chocolate Morning Rolls
You know what you need today? Chocolate Morning Rolls.
Yep, chocolate in the morning is a great idea. Maybe not a whole chocolate bar… but Kate Wood's Chocolate Morning Rolls certainly fit the bill.
Kate, the mind behind Wood & Spoon, lives in Alabama, where she and her husband are raising two children (and one more on the way!). Her cooking and baking motto is all about making recipes pretty and approachable while incorporating moderation into your diet. And we're totally on board with that.
So if you're craving chocolate or anything delicious, really, take a peek at her blog when you get a chance.
Get her recipe below, and shop her Sailor Knit Dress here.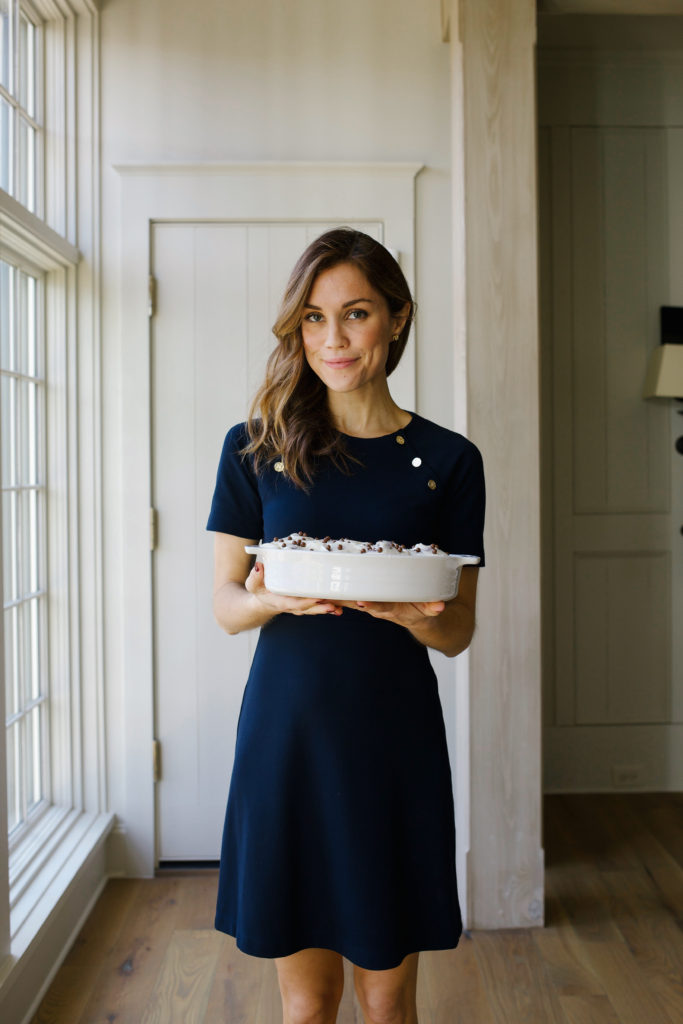 Tell us about this recipe.
These chocolate sweet rolls were created purely for the enjoyment of my children. The wee hours of the morning are some of the most enjoyable in our house, and there's nothing like a sweet breakfast treat to beckon a cozied up toddler onto your lap to snuggle.
Similar to a traditional cinnamon roll, these buns feature a sweetened yeast dough that is filled with a rich chocolate filling and slathered with a sweet and tangy cream cheese frosting. Although they require a little time and patience to prepare, the end reward is worth the effort. These rolls are perfect for slow weekend breakfasts but reheat well for a midweek bite as well.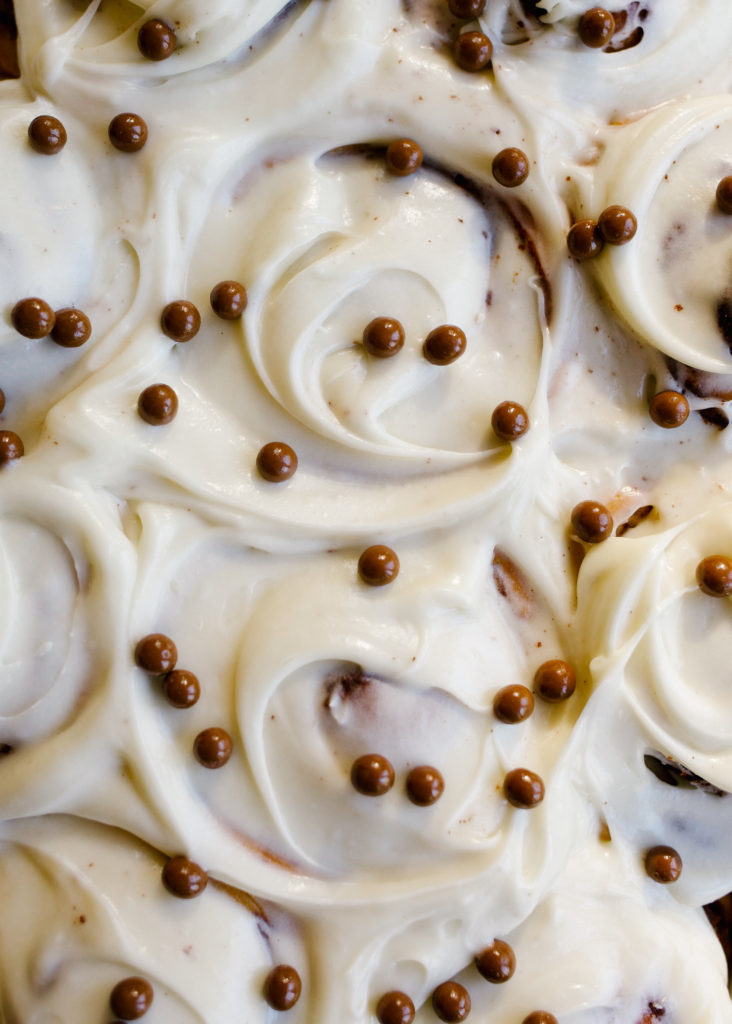 Did you have a New Year's resolution for 2019?
This is one of the first years in forever that I didn't create a resolution. Instead, I create a list of simple things that I thought would make my days better, and I plan to include those as I'm able throughout the year.
In years past, I've spent a lot of time focusing on failed resolutions and feeling disappointed in myself for not achieving my goals, and this year I just want to love myself a little bit better.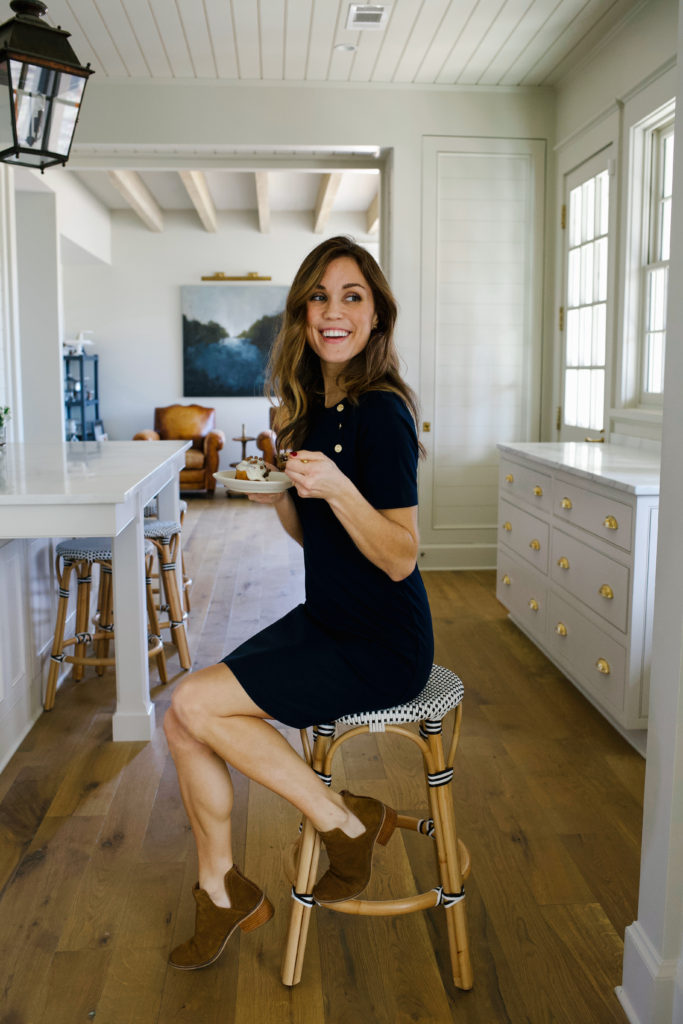 What's your favorite thing about the Draper James Sailor Knit Dress?
This dress feels like an instant classic, the type of thing Jackie O. might have worn decades ago but has somehow been refreshed for modern tastes. I love to invest in pieces that can stick around in my closet for longer than a season, and this dress is one I see myself reaching for for months (and maybe years?) to come.
The fabric was very comfortable and forgiving, but it's tailored in such a way that it stays looking neat and put together all day long.
What are you most looking forward to for 2019?
We're having a baby! Our new baby, due in July of this year, will be our third kiddo, and my two toddlers are probably more excited than I am. It's so fun to hear them talk about the baby and what life will be like when they arrive, and while I have a feeling they're getting more than they've bargained for, I'm thrilled to meet this tiny person and see how they fit into our family.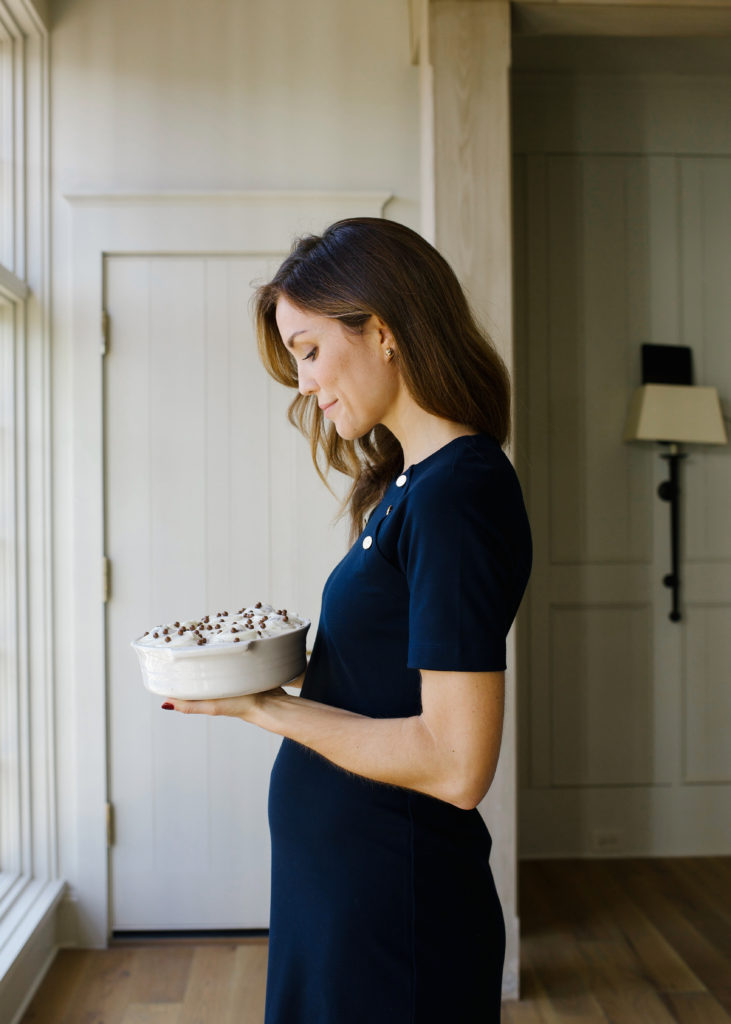 ---
Kate Wood's Chocolate Morning Rolls
Makes 18 Rolls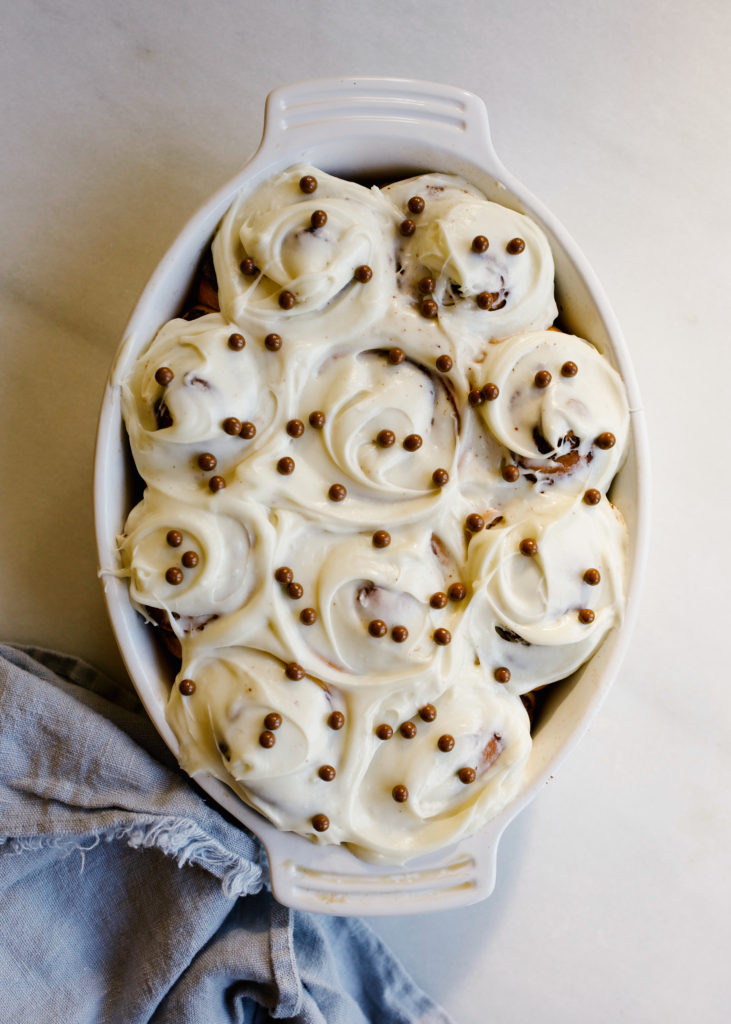 Dough Ingredients
1 cup milk (2% or whole), lukewarm
1/2 cup sugar
2 1/4 teaspoons active dry yeast
3 1/2 cups all-purpose flour
1 large egg, at room temperature
1/2 teaspoon salt
1/2 teaspoon baking powder
6 tablespoons (85 gm) unsalted butter, at room temperature
Filling Ingredients
6 ounces chopped semisweet/ bittersweet chocolate, depending on your preferences
6 tablespoons unsalted butter
3 tablespoons cocoa powder
1 tablespoon espresso powder
1/2 cup powdered sugar
Frosting Ingredients
6 ounces cream cheese, room temperature
2 tablespoons butter, room temperature
2 cups powdered sugar
1/2 teaspoon vanilla
1-2 tablespoons of milk, plus more as desired
To prepare the dough:
In the bowl of a stand mixer, stir together the warm milk and half of the sugar.
Sprinkle the yeast over top of the milk and allow the yeast to activate, about 5 minutes. The mixture should froth and foam slightly. You can stir it gently to make sure all the yeast has been moistened, but if the yeast does not foam, dump it out and start over.
Once the yeast has been activated, stir 1/4 cup of the flour into the milk mixture.
Once combined, add the remaining sugar, egg, salt, and baking powder, and stir to combine.
On low speed, add an additional 3 cups of flour and beat to combine, scraping the sides of the bowl as needed.
Once evenly combined, increase the speed to medium (I use speed number 4 on my KitchenAid stand mixer) and add the softened butter 1 tablespoon at a time. Add up to an additional 1/4 cup flour if the dough is too soft and doesn't hold it's shape somewhat.
Scrape the sides of the bowl and then continue to beat on medium speed for an additional 4 minutes. The dough will be quite moist and sticky.
Lightly grease a large bowl and place the dough inside, covering it tightly with a piece of plastic wrap. Allow the dough to rest in a warm spot in the kitchen until it has approximately doubled in size, about 1 1/2 to 2 hours.
To prepare the buns:
Once the bread has nearly risen, melt the chocolate, butter, cocoa powder, and espresso powder in a saucepan over low heat.
Once smooth, stir in the powdered sugar until well combined. Set aside until the dough is ready. If it firms up beyond a spreadable consistency, gently melt it again.
On a floured surface, roll out the risen dough into an approximately 19"x13" rectangle. Use an offset spatula to spread the chocolate filling evenly over the entirely of the dough.
Starting with one of the long ends, roll the dough somewhat tightly and pinch together the ends to seal in the filling. Cut 1 1/2" slices of dough and place them about an inch apart inside of a greased baking dish. I bake mine in two 9" pans.
Cover the dishes with plastic wrap and allow them to rise a second time until puffed, about 30 minutes.
In the meantime, preheat the oven to 350 degrees.
Once the buns have risen, remove the plastic wrap and bake in the preheated oven for about 30 minutes, or until a light golden color. Allow to cool.
To prepare the frosting:
Beat cream cheese and butter together until smooth. Add sugar and vanilla, beating until evenly combined. Add milk slowly, 1 1/2 teaspoons at a time, until desired consistency is reached. Add extra liquid to thin out frosting to a drizzling glaze. Spread the frosting evenly over the buns and eat while warm!