November 16, 2018 • RECIPE
Hello, Sugar: The Pumpkin Praline Pie from Georgia's Pie Bar
A real Southern Thanksgiving always has a few staples: sweet potato casserole, green bean casserole, stuffing, cranberry sauce, and pie. There's always pie.
While many of us have pie recipes passed down through the family, it can be a nice turn of events when someone brings a new recipe to the table. After all, traditions have to start somewhere.
For a fresh new pie recipe, we went to the Pie Bar in Woodstock Georgia. It's there where Lauren Bolden (along with her husband, Cody) churns out pie after pie—especially during the holiday season.
"As soon as there is a hint of chill in the air, people come into Pie Bar and begin to ask when we will start baking Pumpkin Praline Pies," Lauren tells us.
Well, we like pumpkin and pralines (and pie, obviously), so we just had to have that recipe. Hear more from Lauren, and get her recipe for Pie Bar's Pumpkin Praline Pie below.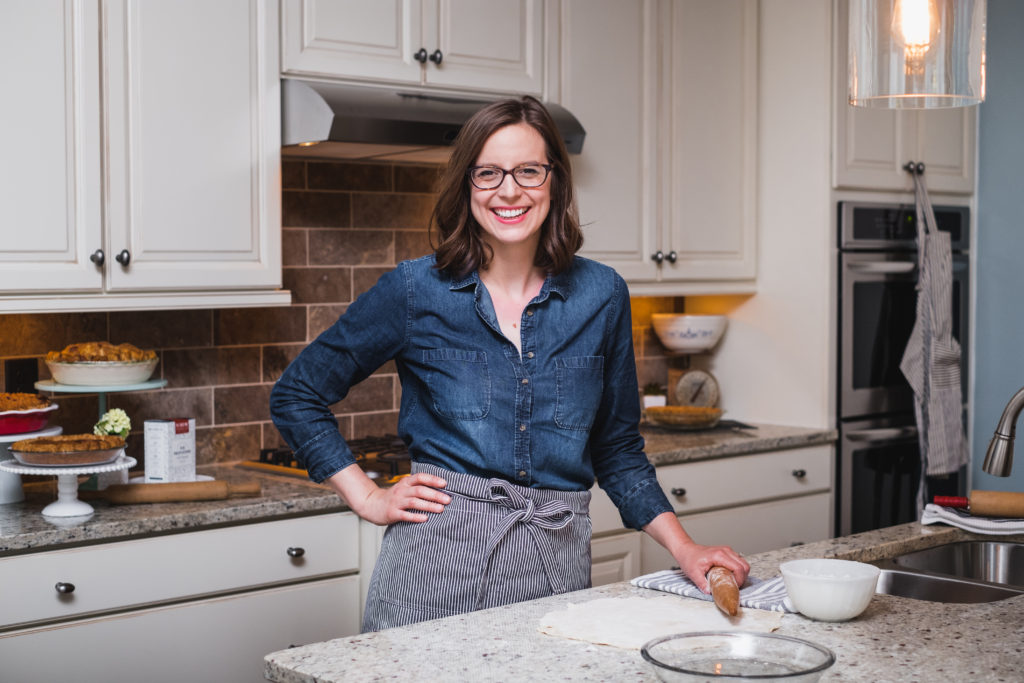 Tell us about this recipe.
Classic Pumpkin Pie is a staple, but Pumpkin Praline Pie is a lifestyle. Each component of this pie adds its own unique balance of sweetness, spice, and texture, creating the perfect slice of pie.
Starting from the bottom, the crust is an all-butter pastry dough. The butter lends flavor and flake, creating the perfect base for the creamy pumpkin custard filling. Fresh roasted pumpkins, light brown sugar, and a pinch of ginger, nutmeg, and cinnamon come together to create an intense pumpkin flavor with a hint of spice. The custard is poured into the pie crust, baked until almost completely set, and then topped with a toasted pecan praline. The praline is sweet from the brown sugar and has a touch of salt. It is sprinkled onto the Pumpkin Pie and returned to the oven to create a crispy and toasty topping for our Pumpkin Praline Pie.
Once the Pumpkin Praline Pie has been removed from the oven and cooled, serve a slice with a good cup of coffee and a dollop of homemade whipped cream.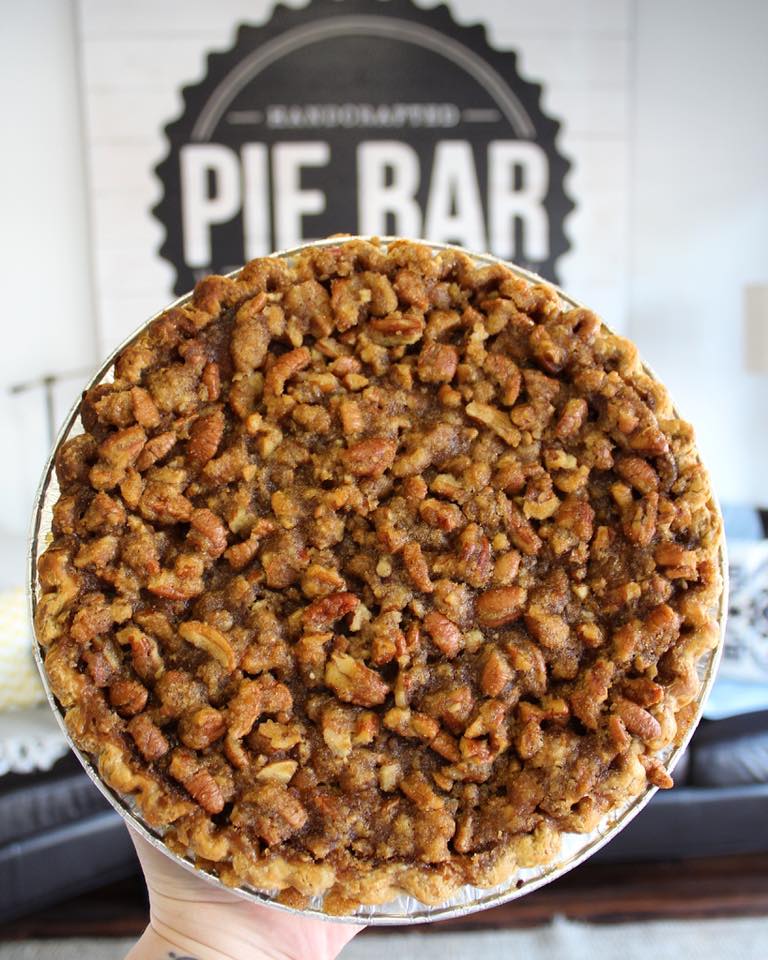 What's your favorite thing to do in Georgia during the holidays?
Owning a pie shop means that from November 1st until Christmas Eve, I am in the shop baking pie! This will be our fourth holiday season in our shop, so things like decorating a tree at Pie Bar feels more normal than decorating a tree at home!
It has become a tradition for us to close Pie Bar for a few days surrounding Christmas and my husband, Cody, and our dog, Hank, and I drive down to his parents' house in a small town three hours south of Woodstock. I love spending those few days away from our normal lives to rest and relax, and it definitely helps that my mother-in-law really embraces the Christmas spirit. Every surface is decorated, there is always a fire crackling in the fireplace, hot chocolate and eggnog are served all day long, and, of course, "National Lampoon's Christmas Vacation" is on repeat.
Besides this recipe, what's your favorite pie to make this time of the year?
I love Pecan Pie any time of year, but for some reason it feels even more special surrounding the
holidays. We make a Bourbon Pecan Pie at Pie Bar, and I sneak a slice at least one a week.
It is one of our most beloved pies, so we actually sell a Perfect Pie Kit through our Home Baking Pie Company, Pie Provisions, so people can make our Bourbon Pecan Pie at home with their loved ones!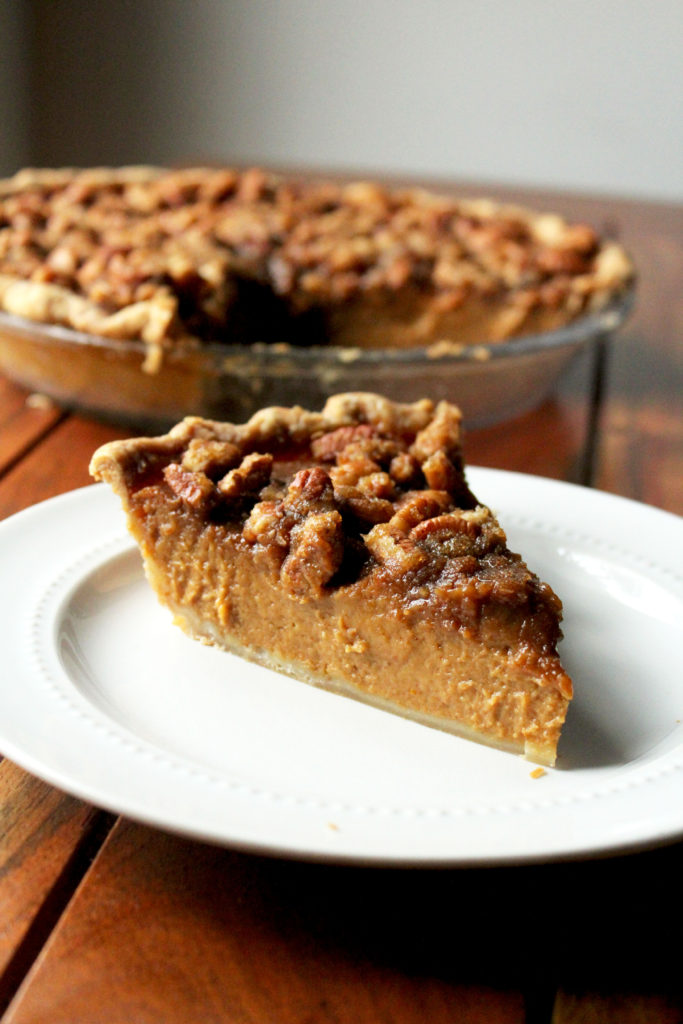 About how many pies does Pie Bar bake during the holiday season? 
We are so fortunate to be in a community where people are so supportive of small business, and also happen to love pie! We generally bake several thousand pies over the course of the holiday season starting in November through the end of the year.
If you could only eat one type of pie for the rest of your life, what would it be?
Choosing one flavor of pie is a tough one. I usually enjoy a slice of pie almost daily, so I have found that my pie eating habits depend on two things: the weather and my mood!
Recently it has been a bit gloomy with lots of rain and overcast days, so I find myself eating our heartier pies, like our Salted Caramel Apple Streusel Pie or Chocolate Chess. This past summer, I was addicted to our Key Lime Pie. Today? I had a slice of Coffee & Cream Pie with a side of more hot coffee.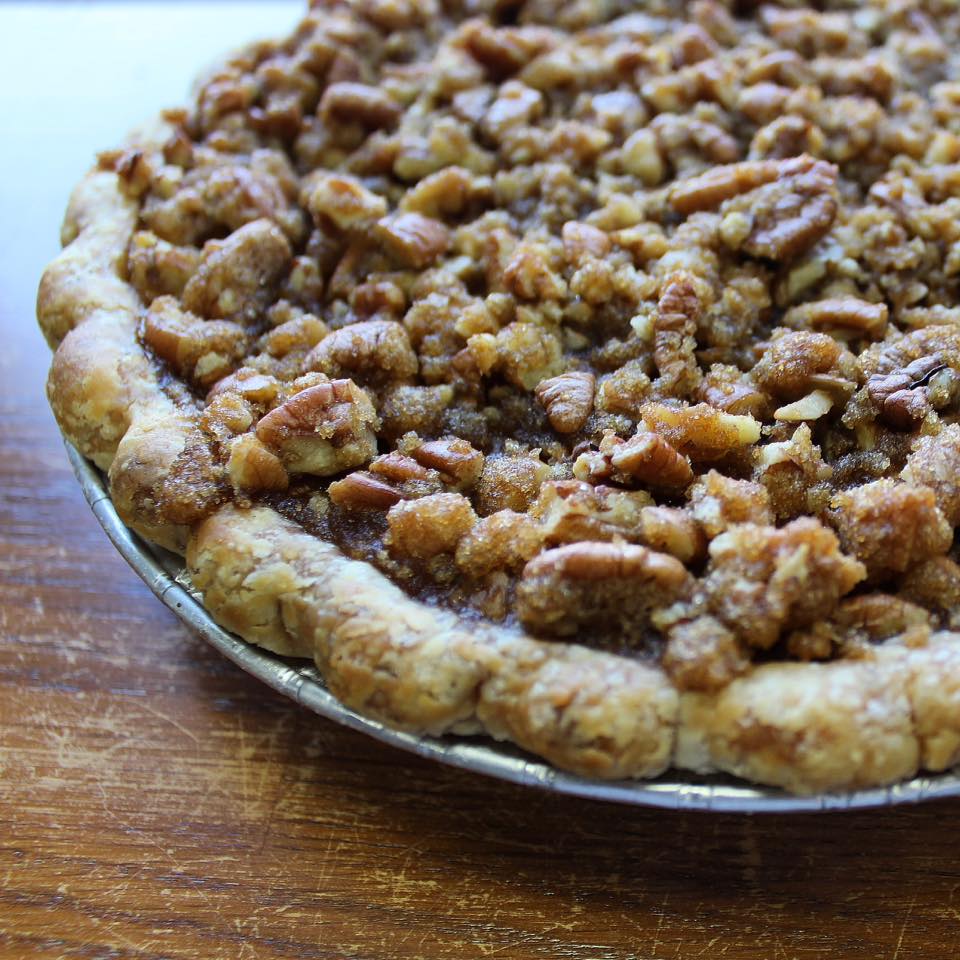 Pie Bar's Pumpkin Praline Pie
This recipe will make 1 9-inch pie.
You will need: 1 all-butter pastry crust, rolled out and put into a 9" pie pan (keep refrigerated until ready to use!)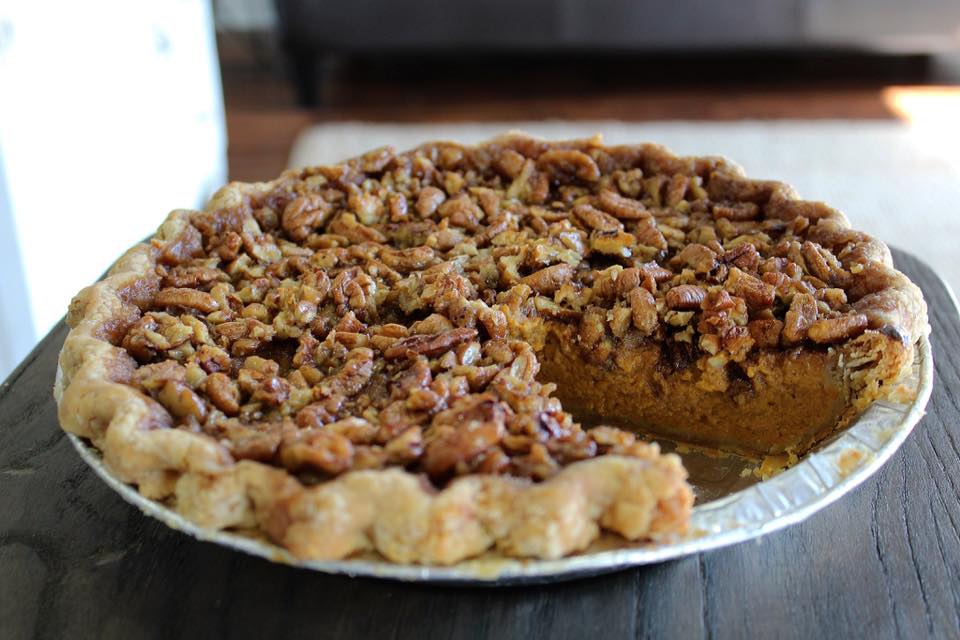 Ingredients for the Pumpkin Filling
2 cups fresh roasted pumpkin, pureed and drained; or 15-oz canned pumpkin puree
12-oz canned evaporated milk
2 large eggs, lightly beaten
1 cup light brown sugar
1 tablespoon all-purpose flour
½ teaspoon coarse kosher salt
1 3/4 teaspoons ground cinnamon
1 1/2 teaspoons ground ginger
1 teaspoon ground nutmeg
¼ teaspoons ground allspice
Ingredients for the Pecan Praline Topping
1 cup pecan pieces, toasted
¾ cup light brown sugar
¼ teaspoon coarse kosher salt
3 tablespoons unsalted butter, melted
Directions for Pecan Praline Topping
You can toast the pecans up to 3 days ahead of time if needed
Pre-heat oven to 350° F.
Place pecan pieces onto a baking sheet, and bake for 5 minutes or until toasted. Pecan pieces are toasted once the air smells nutty and the pecans have turned a shade of dark brown. Remove pecans and allow to cool.
Combine cooled, toasted pecan pieces, light brown sugar, and salt in a medium bowl. Mix untilcombined.
Add melted butter. Using your hands or a wooden spoon, mix until combined. Set aside.
Directions for Pumpkin Filling
Combine pumpkin, evaporated milk, and eggs in a medium bowl. Mix until combined.
Combine light brown sugar, flour, salt, cinnamon, ginger, nutmeg, and allspice in a separate, large bowl. Mix until combined.
Pour the wet ingredients on top of the dry ingredients. Using a whisk, mix until combined and no lumps remain. Set aside.
Assembly
Pre-heat oven to 350° F.
Remove the pie crust from the refrigerator. Par-bake the bottom crust by lining the crust with parchment paper and fill it to the brim with pie weights (or dried beans!).
Bake the weighted pie for 15 minutes on the bottom rack.
Remove weighted pie from the oven. Carefully remove the pie weights (or beans) as well as the parchment paper.
Pour pumpkin filling into par-baked pie crust. Return to oven for 35 minutes.
Rotate pie and bake for an additional 15 minutes. If the filling is set, remove the pie from the oven and continue on to step 7. If the pie is still "liquidy," return to the oven for 10-15 minutes, or until just set.
Using your hands, evenly sprinkle the pecan praline topping over the entire surface of the pie.
Return the pie to the oven.
Bake for an additional 15 minutes.Remove it from the oven and allow to cool.
This pie will last in the refrigerator for up to 7 days.