September 20, 2018 • RECIPE
Hello, Sugar: Browned Coconut Cream Pie from Charleston's Millers All Day
Any trip to Charleston, South Carolina requires a few things.
For starters, you have to stop at some classic spots like Hominy Grill and Husk (if you can get a reservation).
You also have to have some barbecue. Our suggestions? Rodney Scott's BBQ or Lewis Barbecue. You can't go wrong with either.
Make sure you get a biscuit or two—probably at Callie's Hot Little Biscuit.
And, of course, you need to find something for your sweet tooth. You could go with the traditional Southern praline (nothin' wrong with that), or you could indulge in a Southern pie. Maybe a Browned Coconut Cream Pie?
For the latter, you'll need to head to Millers All Day on King St.
View this post on Instagram
The Instagrammable hot-spot is home to all the favorites—including biscuits, waffles, Hoppin John, and, of course, the aforementioned pie.
If you aren't in the Charleston area in the near future, you can make the pie with the recipe below.
But, if you are in the Lowcountry, stop by Millers All Day for some Southern food with a twist, and when you're done, you can pop in their super fun photo booth.
(PS. They also have a great happy hour…)
Recipe for Millers All Day's Browned Coconut Cream Pie 
Yields 1 pie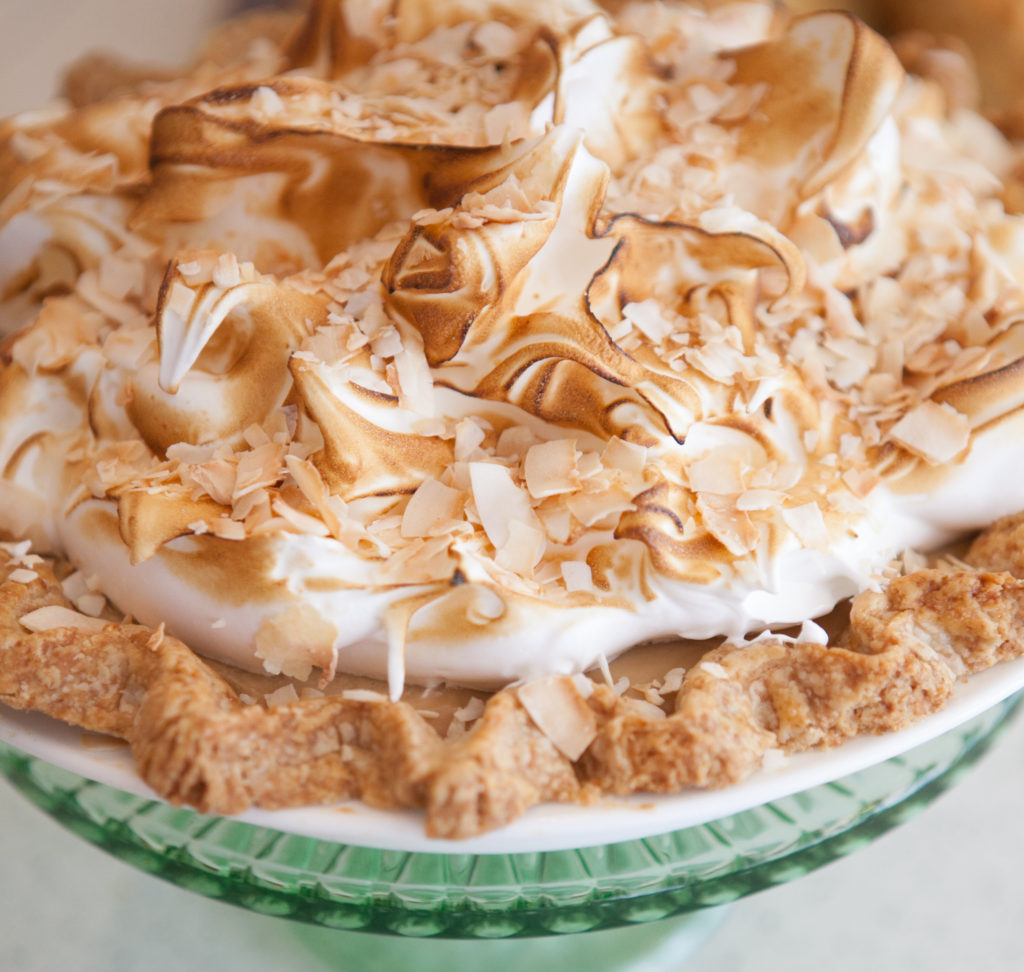 Ingredients
9-inch deep dish pie crust, baked (store-bought or homemade)
Coconut filling (recipe below)
Coconut meringue (recipe below)
Coconut Filling
Ingredients
1/2 cup brown sugar
1/2 cup granulated sugar
1/3 cup cornstarch
1/2 teaspoon salt
8 egg yolks
3 1/2 cups coconut milk
2 teaspoons vanilla
5/8 cup brown coconut butter
Directions
In a heavy bottom pot, whisk together the sugars, cornstarch, and salt.
In a bowl, whisk together the yolks, coconut milk, and vanilla.
Whisk the egg and milk mixture into the sugar mixture.
Over a medium high heat, cook the mixture, whisking constantly until it starts to thicken.
Cook for 90 seconds after the mixture starts to bubble.
Remove the heat, and whisk in the coconut butter. Continue to whisk until butter is melted and mixture is the uniform.
Pour mixture into prepared pie crust.
Press plastic wrap to the filling to prevent a skin from forming and allow to cool.
Coconut Meringue
Ingredients
3/4 cup, plus 2 tablespoons granulated sugar
3 tablespoons water
3 egg whites
1/2 teaspoon cream of tartar
1 teaspoon vanilla extract
Directions
In a heavy pot, combine the 3/4 cups sugar and water. Whisk until sugar is dissolved.
Over medium high heat, bring the mixture to a boil and continue to cook until a candy thermometer reads 245 degrees F.
While the sugar mixture is cooking, beat the egg whites with an electric mixer until foamy.
Add cream of tartar and continue to beat until stiff peak forms.
Sprinkle the remaining 2 tablespoons sugar into the egg whites and beat until incorporated.
Once the sugar has reached temperature, remove it from the heat.
With an electric mixer on medium high speed, pour the hot sugar syrup slowly into the egg white and beat until the mixture has cooled.
Add the vanilla and mix until incorporated.
Spoon meringue over the cooled pie filling, and pull out points with a spatula.
Lightly toast the meringue with a blowtorch or bake at 350 degrees F for 10-12 minutes.
Enjoy!