July 12, 2018 • RECIPE
Let's Eat, Y'all: Katie Jacobs's Tomato Pie with Whipped Ricotta and Parmesan Cheese
Tomatoes are the South's favorite summer treat (well, it's a tie with peaches).
You can keep your tomatoes simple, with just a little salt on a couple slices, or you can add another step and spread some Duke's mayonnaise on white bread and top with your farmers' market finds.
While both options are delicious, you can go even further by whipping up a Tomato Pie. It'll impress both your taste buds and any guest who stops by your home for a fresh summer meal.
Nashville's very own Katie Jacobs of Styling My Everyday shared her Tomato Pie recipe with us, and it's one you'll want to make again and again before the first day of fall appears on your calendar.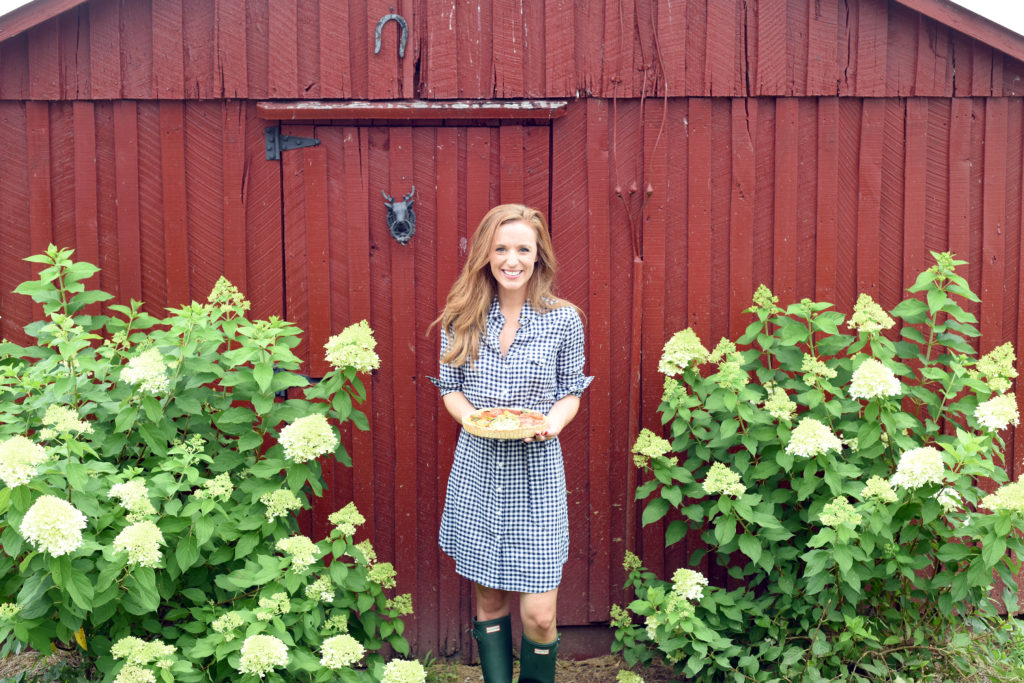 Get Katie's recipe below, and shop her Belted Gingham Shirtdress here.
Recipe for Tomato Pie with Whipped Ricotta and Parmesan Cheese
Ingredients
For the pie crust:
(makes two pie crusts, one for this recipe and one to save)
1 cup (2 sticks) butter
4 1/2 cups all-purpose flour (plus more for rolling)
2 tablespoons sugar
1 teaspoon salt
1 cup shortening
2/3 cup ice cold water
For the filling:
2 cups whole-milk ricotta cheese, chilled
2 teaspoons olive oil
1/4 teaspoon salt
3/4 cup grated parmesan
1 1/2 lb. heirloom tomatoes, sliced 1/4 inch thick
Salt and freshly ground pepper, to taste
2 Tablespoons fresh basil
Thyme leaves for finishing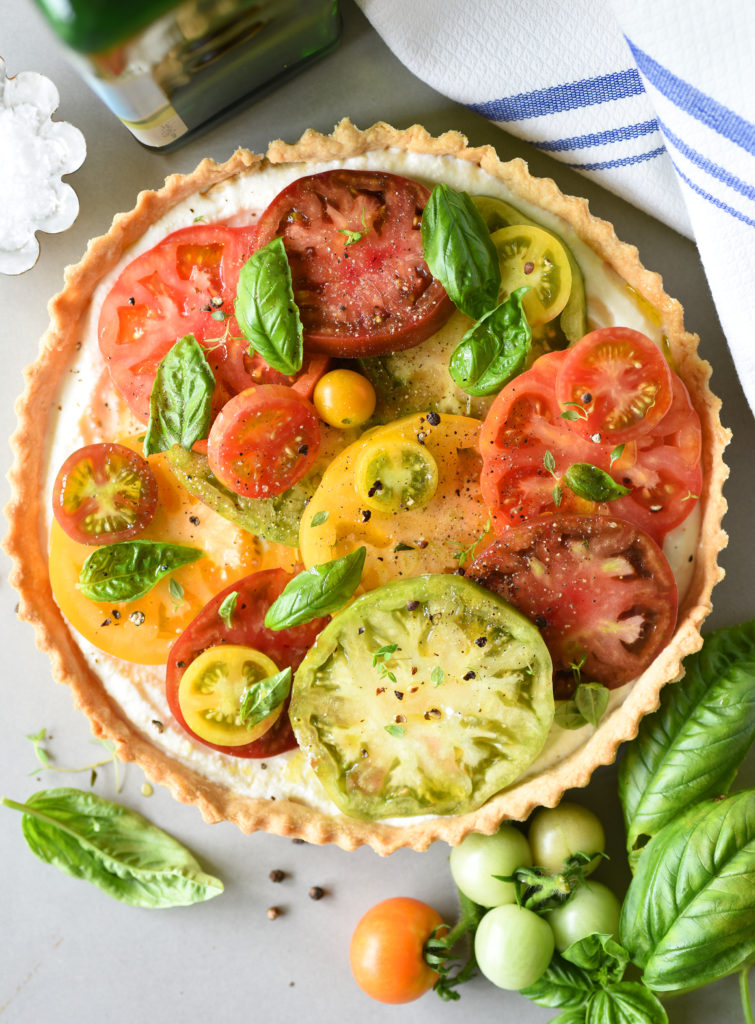 Directions
Cut the butter in 1/2-inch dice and return it to the refrigerator while you prepare the flour mixture.
Place the flour, sugar, and salt in the bowl of a food processor fitted with a steel blade and pulse a few times to mix.
Add the butter and shortening. Pulse 8 to 12 times, until the butter is the size of peas.
With the machine running, pour the ice water down the feed tube and pulse the machine until the dough begins to form a ball.
Divide the chunks of dough in half and very gently pat each group into a round 1-inch-thick disk.
Wrap each tightly in plastic wrap and refrigerate until firm, about 1 hour, before rolling.
Place dough on a lightly floured surface. Hit dough several times with rolling pin to slightly soften.
Start rolling out dough, working from the center out and stop rolling before you reach the edge. Roll until you reach 1/8-inch thickness.
Place dough in pie dish and trim and crimp edges of dough.
To blind bake the crust, preheat the oven to 425 F. Line pie dough with parchment paper and fill with pie beads. Bake the crust for 20 minutes, then remove it from the oven and take out the pie weights and the wax paper liner.
Lower the oven temperature to 375 F. Return the pie to the oven to bake for an additional 15 minutes, or until the crust is golden. Remove from the oven and cool completely before filling.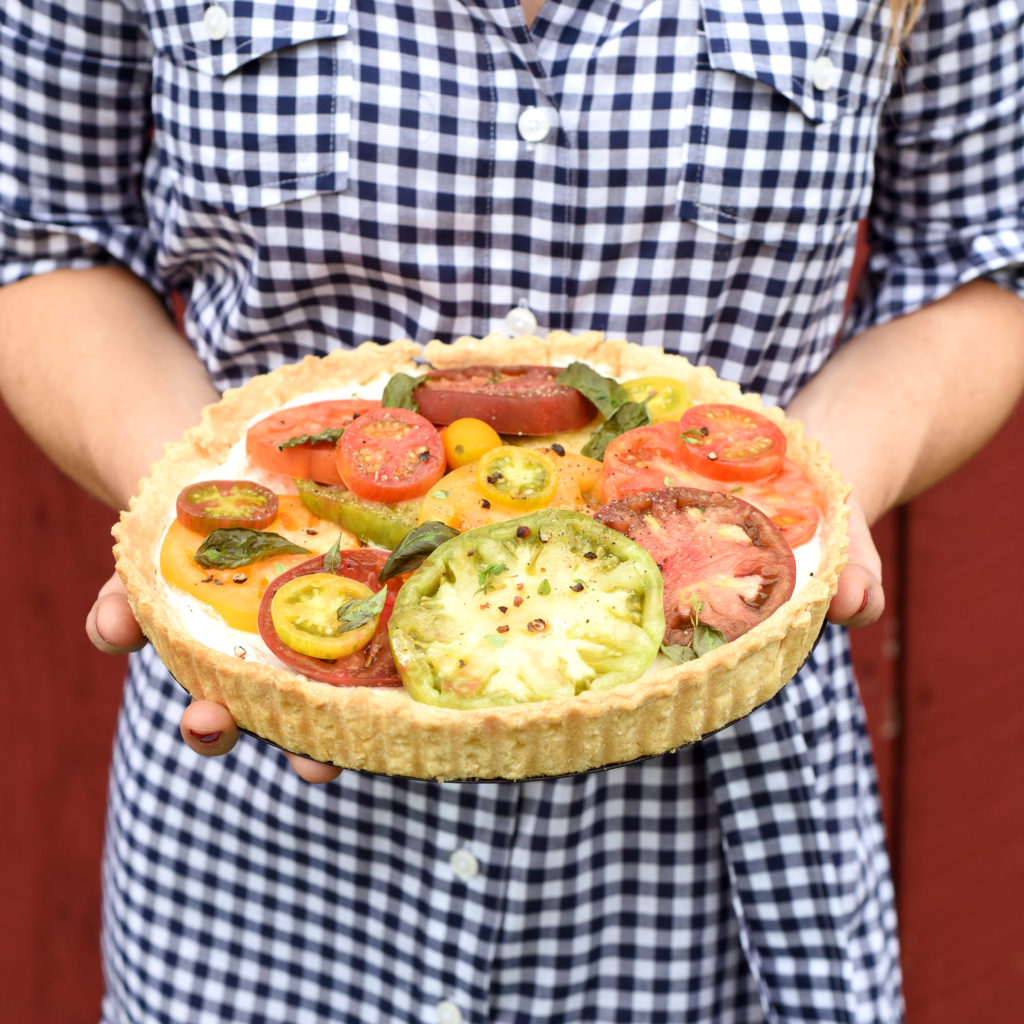 To make the filling, place the ricotta, olive oil, and salt in the bowl of a food processor. Blend until light and smooth, about 30 seconds.
Add parmesan and pulse until combined. Pour into cooled pie crust and smooth with an offset spatula.
Top with tomato slices and sprinkle with salt, pepper, and basil leaves.
Garnish with thyme leaves. Serve immediately.