Let's Eat, Y'all: Hominy Grill's Famous Shrimp & Grits Recipe
Visiting Charleston, South Carolina can be stressful.
No, not stressful because of the lifestyle… It can be stressful because of all the fabulous restaurants within walking distance of each other.
How are you ever supposed to choose?
Well, for starters, you can check out the Draper James Charleston city guide (lots of great tips in there), and then you should head to Hominy Grill.
Sitting directly on Rutledge Ave, Hominy Grill is one of those spots that can get pretty darn busy.
It's known for some pretty amazing Southern food, and it's also pretty Instagrammable—both for the food and the building itself.
One of its most famous meals, however, is a Lowcountry staple: shrimp & grits, of course. It's the type of meal you just have to have at least once—even if you never make it down to the Holy City.
That's why we're so excited to bring the readers of the Love, Reese blog the recipe for Hominy Grill's Shrimp & Grits, "a very traditional Lowcountry dish with many variations," in the words of the restaurant itself.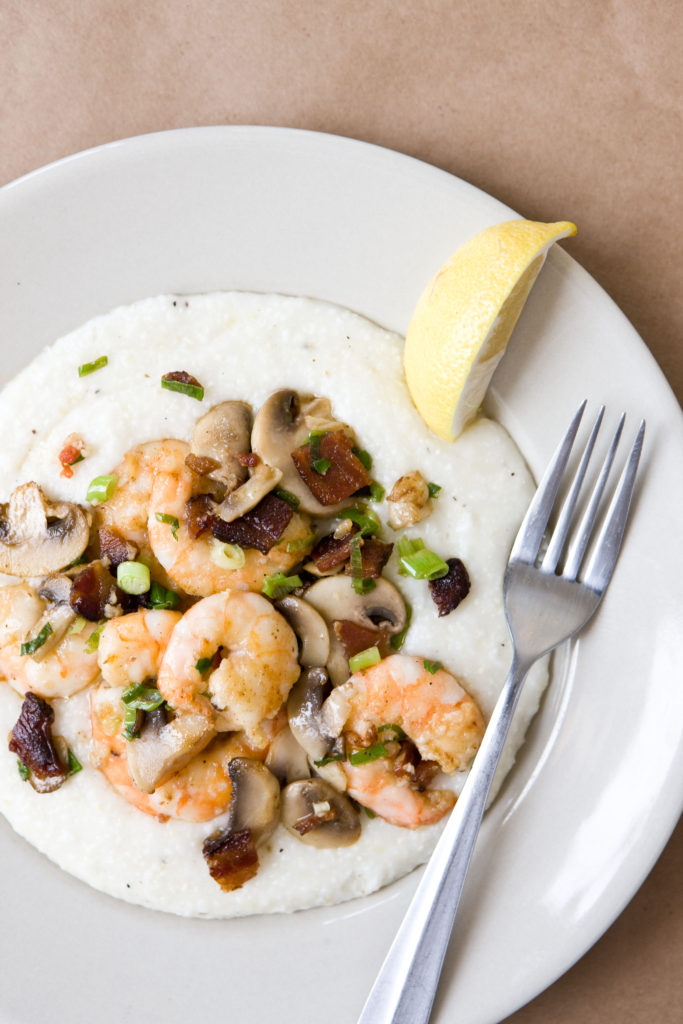 Recipe for Hominy Grill's Shrimp & Grits
Serves 2-4
Shrimp Ingredients
3 slices bacon, chopped
Peanut oil, optional
1 pound shrimp, peeled and deveined
2 tablespoons flour
1 1/4 cups sliced mushrooms
1 large clove garlic, minced
2 teaspoons lemon juice
1/2 teaspoon Tabasco
1/4 cup thinly sliced green onions
Directions
In a medium skillet over medium-high heat, cook the bacon, stirring occasionally, until crisp, approximately 5-6 minutes.
Drain the bacon on paper towels, reserve the bacon fat in the pan, and add peanut oil if needed to give you approximately 1 1/2 tablespoons.
Toss the shrimp with the flour until they are lightly coated, removing any excess flour.
Over medium-high heat cook the shrimp on one side, flip and add mushrooms and bacon. Cook approximately 2 minutes.
Add the garlic, stirring constantly so as not to brown the garlic. Remove from heat and add the lemon juice, Tabasco and green onions.
Spoon over cheese grits.
Cheese Grits Ingredients
4 1/2 cups water
1 cup stone ground grits
1 teaspoon salt
3/4 cup grated sharp cheddar cheese
1/4 cup grated parmesan cheese
3 tablespoons butter
1/2 teaspoon freshly ground pepper
1/2 teaspoon Tabasco
Directions
In a medium saucepan over high heat bring water to a boil.
Whisk in the grits and salt, reduce heat to low and cook, stirring occasionally, until the grits are thickened, approximately 35-40 minutes.
Remove from the heat and add the cheeses, butter, pepper and, Tabasco, adding more to adjust seasoning as desired.
Enjoy!