5 Expert Tips for Wrapping The Perfect Mother's Day Gift
Is your Mother's Day shopping done?
If your answer is no, then you should probably check out the Draper James Mother's Day Gift Guide.
But if your answer is yes? Great job! Now it's time to start wrapping your presents for mama.
As y'all probably know, wrapping is truly an art form. It's a time-honored tradition that's usually perfected by the best of the best.
Caroline Hernandez, the owner of Sweet Caroline Designs, is an expert in this field.
The artist, entrepreneur, wife, and mom-to-be is a self-proclaimed "lover of all things bright and colorful," so she knows more than a thing or two about presentation and gift wrapping. When we asked her if she could help us come up with a few tips on wrapping Mother's Day presents, Caroline immediately knew what to do.
Her background in lifestyle products (like planners, notepads, greeting cards, gift wrap and more) lends itself to the craft: Details and fun are two of the only things you should be concerned about when you're reaching for the final gift-giving touches.
Read Caroline's five gift wrapping tips below, and be sure to follow her on Instagram at @sweetcarolinedesigns.
1. Personalize it
You spent time picking out the perfect gift for mom, so take it one step further by reflecting her personality with gift wrap.
Does she love funky and bold? Then play with colors, like bright orange and hot pink, or fun patterns to really make her gift pop. Does she appreciate classic styles? Then choose a plain paper, like craft paper, and add a crisp, navy blue ribbon.
Whatever mom's style, you can find a way to reflect that with your wrapping.
2. Reach for ribbon
When it comes to wrapping gifts, you just can't go wrong with beautiful ribbon; it will tie your whole look together. In addition to making your gift look polished, various colors of ribbon can change the whole theme of your gift.
For example, if you pair navy gingham gift wrap with a yellow or hot pink ribbon, you have the perfect Mother's Day combination. However, add a red ribbon to that same gift wrap and you're all set for Fourth of July hostess gifts.
Pro tip: Use grosgrain ribbon because it makes a perfect bow every time!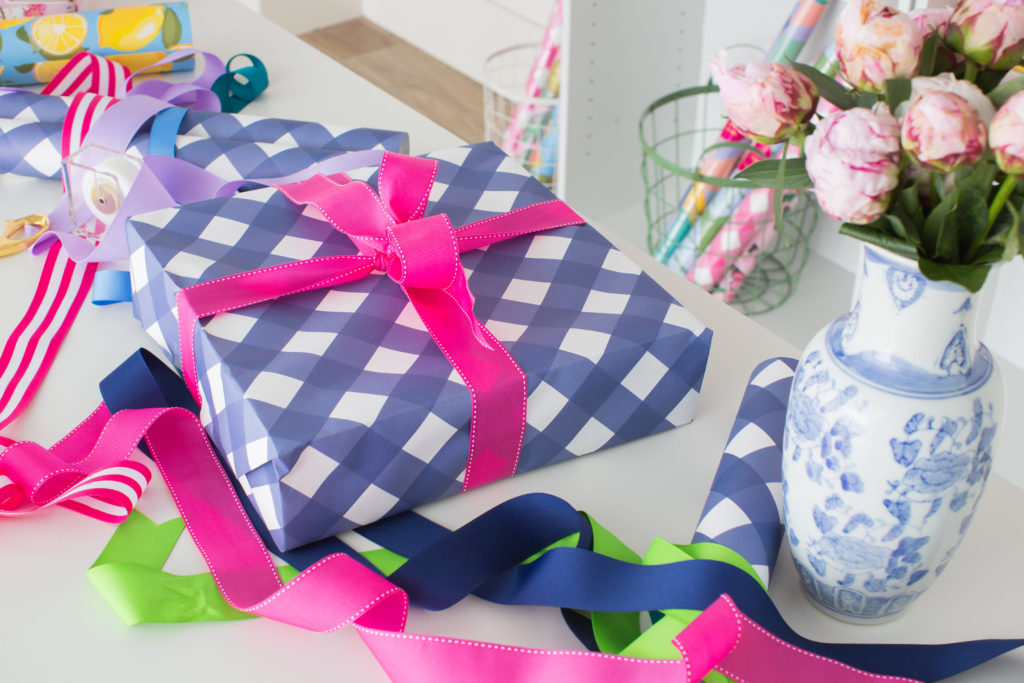 3. Keep it simple
A beautifully wrapped gift doesn't require tons of "extras." Just keep it simple!
Thick, printed wrapping paper paired with grosgrain ribbon looks beautiful and is super easy. Your gift will look effortless. Don't try to overdo it!
4. Don't forget a card
Even though Mom knows how much you love and appreciate her, there's nothing she'll cherish more than sweet words written in a card.
Whether you opt for handmade, sentimental, or something catchy and fun, take the time to put your thoughts down on paper. She just might love the card even more than the gift!
5. Have fun!
Don't stress, there are no rules or "right and wrong" in gift wrapping!
Ultimately, it's the thought that counts, so have fun and be creative.
Photography by Christy Montgomery Photography