April 12, 2018 • RECIPE
Let's Eat, Y'all: Going for Grace's Mini Hot Chicken and Waffles Recipe
One of our resident blog contributors, Lauren of Going for Grace, is back with another dish that'll melt in your mouth.
The Tennessee resident is serving up a recipe for mini hot chicken and waffles that, quite frankly, we want to eat every day for the rest of our lives.
It's simple, classic, and a great option to bring to any party or gathering. You, and your mini hot chicken and waffles, are sure to be a hit!
Hear more from Lauren and get her scrumptious recipe below.
Tell us about this recipe.
Fried chicken is such a classic Southern dish and since our fellow Tennesseans in Nashville do it best, I had to try my hand at their specialty: hot chicken!
These mini hot chicken and waffles are the perfect bite-sized combination of savory and sweet, making them great for entertaining!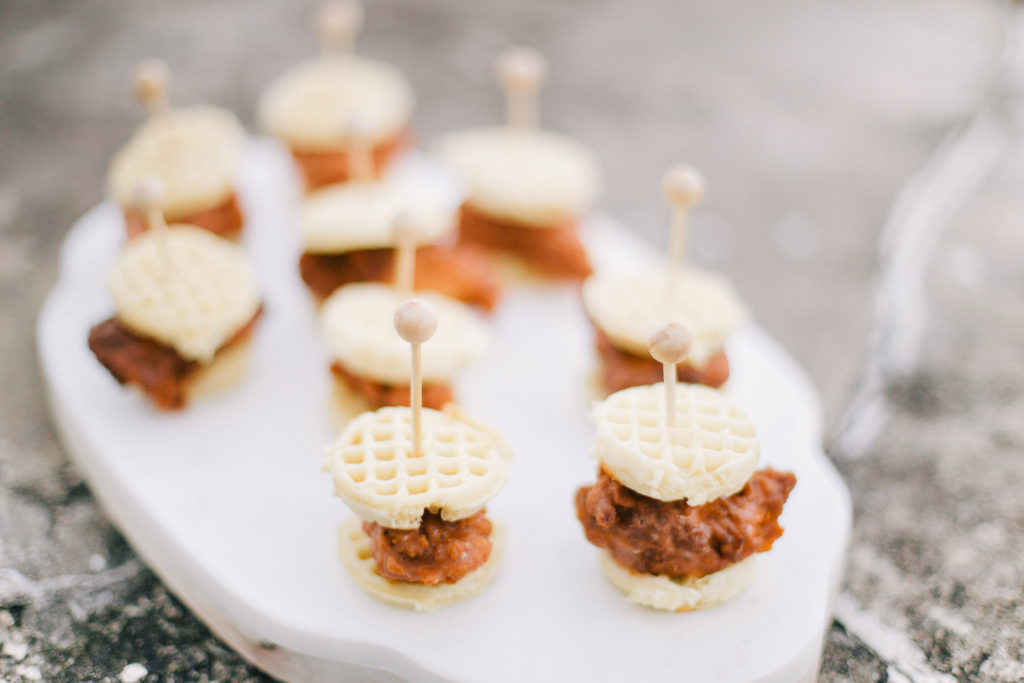 What's your favorite thing about living in Tennessee?
My favorite thing about living in Tennessee is our stunning mountain views. I never truly appreciated how special they are until I began traveling and was welcomed back home by their grandeur!
Why do you think chicken and waffles are so popular?
I think that chicken and waffles are so popular because they are genius!
It is the best of both worlds in so many ways–salty and sweet, crunchy and soft, breakfast and dinner; I have yet to find a more perfect union!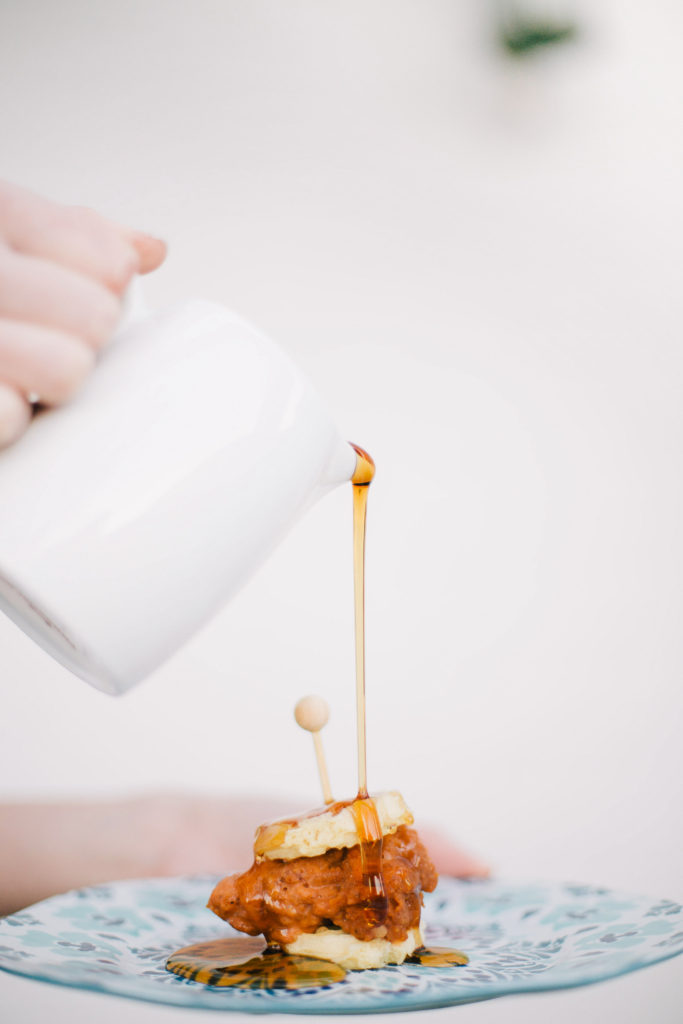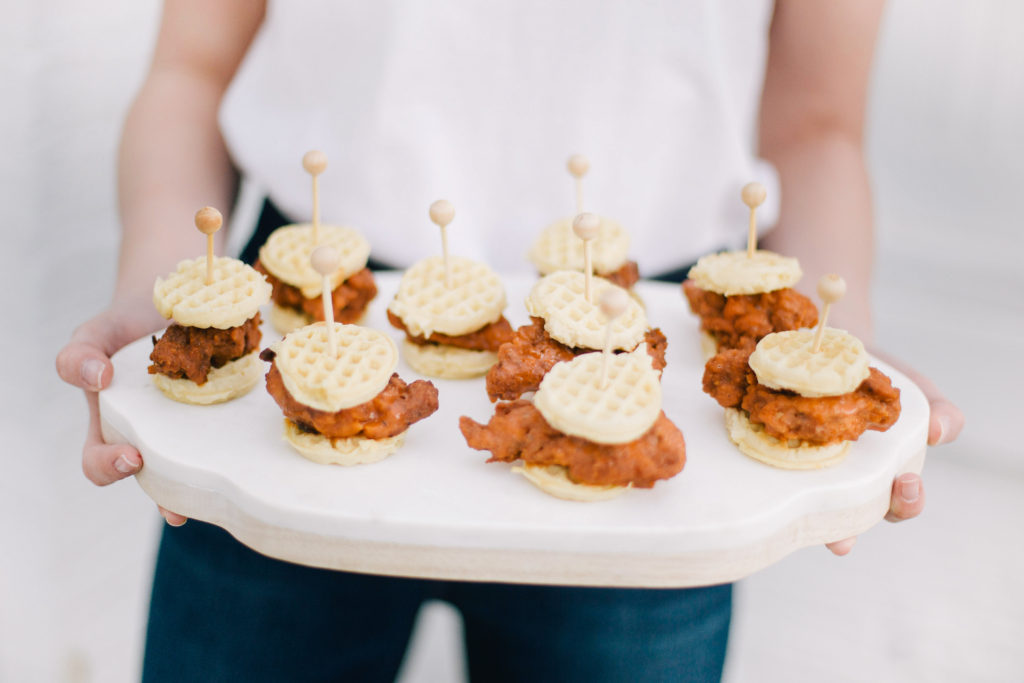 Mini Nashville Hot Chicken & Waffles Recipe from Going for Grace
Makes 12 minis
Ingredients
2 tablespoons paprika
½ tablespoon black pepper
2 teaspoons garlic powder
2 teaspoons oregano
½ teaspoon cayenne pepper
1 cup milk
2 tablespoons vinegar
1 egg
2 teaspoons salt
1 pound chicken tenderloins
1 ½ cups all purpose flour
½ cup cornstarch
1 teaspoon baking powder
4 cups vegetable oil
Mini Homestyle Eggo waffles
Hot Sauce
2 tablespoons hot sauce
2 tablespoons brown sugar
2 tablespoons butter, melted
Instructions
Combine paprika, black pepper, garlic powder, oregano, and cayenne in a small bowl.
In another small bowl, combine milk and vinegar. Let sit about 5 minutes.
In a large bowl, whisk milk/vinegar mixture with the egg, 1 teaspoon of salt, and 2 tablespoons of the spice mixture. Place into a Ziploc bag.
Cut each chicken tenderloin in half and place into the Ziploc bag. Let marinade in fridge for a couple of hours.
Whisk flour, cornstarch, baking powder, 1 teaspoon salt, and any remaining spice into a large bowl.
Remove chicken from the bag and drop chicken into the flour mixture. Coat thoroughly, pressing the flour onto the chicken.
Heat oil to 350 degrees and fry each strip 4-6 minutes or until cooked through. Set aside to cool.
Meanwhile, mix together hot sauce, brown sugar, and melted butter in a small bowl.
Once chicken is cool enough to touch, dip each piece into the hot sauce to evenly coat.
Make mini waffles according to package instructions.
Break waffles apart into rounds, place one piece of chicken in between two rounds, and secure with a small wooden skewer.
Serve with maple syrup.
Make ahead: The fried chicken can be made one day before and stored in an air tight container in the fridge. Dip in hot sauce and assemble when ready to serve.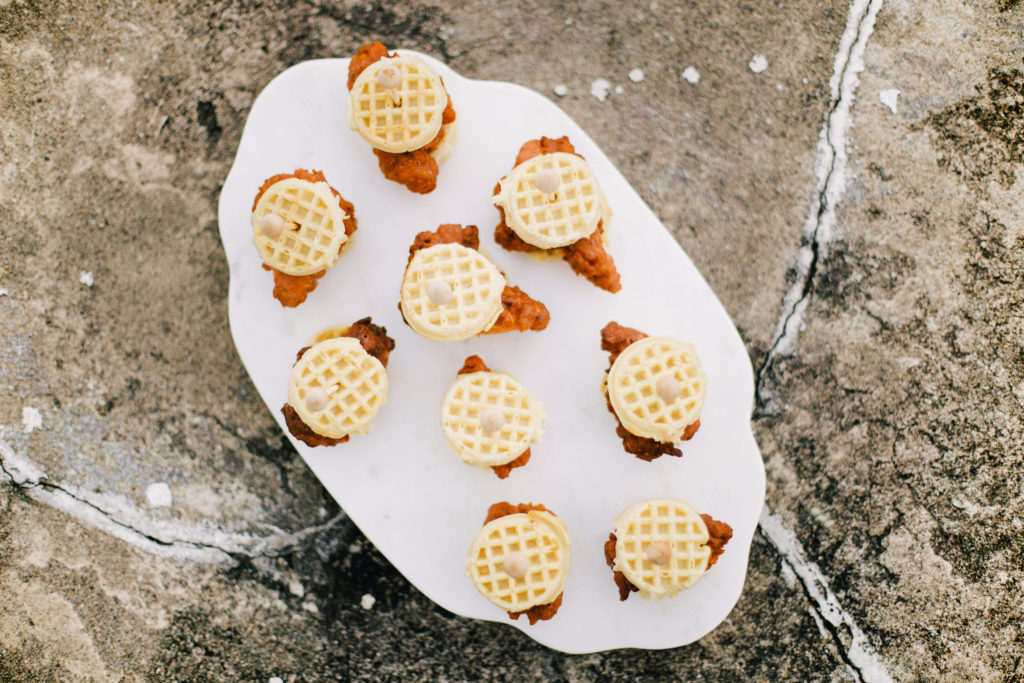 Photography by Morgan Smythe Photography
Styling by Going for Grace