April 18, 2018 • RECIPE
Hello, Sugar: Damaris Phillips, Author and Celebrity Chef, Shares Her Coconut Lavender Cream Cake Recipe
Damaris Phillips knows food.
The celebrity chef and the winner of the 2013 season of "Food Network Star" is currently co-hosting "Southern & Hungry" with Rutledge Wood and "The Bobby and Damaris Show" with Bobby Flay.
Her resume even includes the title of "author"–Damaris recently released her first cookbook, "Southern Girl Meets Vegetarian Boy: Down Home Classics for Vegetarians (and the Meat Eaters Who Love Them)."
When we asked Damaris about where her love of food comes from, she said,
"I was raised in a family where we cooked and ate dinner together every single night. Most of my memories of family or around a table. My dad always told us that at the end of the day, you should've made a memory. We shared those memories around our dinner table which filled our dining room with laughter."
If this love of food sounds up your alley, then you're going to love what we're about to tell you: The Louisville, Kentucky native will be signing her cookbook at the Draper James Lexington store on April 25.
You can RSVP here.
And if you can't make it, you can still hear more from Damaris and grab her Coconut Lavender Cream Cake recipe below.
Tell us about this recipe.
I have always thought coconut cake was utterly feminine and elegant and so, so delightful to eat. Usually I take a slice and put in the freezer until it gets super cold, and then I have it with a cuppa coffee in the middle of the afternoon. This is what I thought being a grownup looked like; cold cake and a cuppa coffee on your front porch says "I have arrived" to me.
There's something soft about this cake that I like. Super tender cake, creamy icing, and flakes of sweet coconut pressed into that icing, come on, that screams and delicious.
How did you get the idea for your cookbook?
When Darrick and I decided to get married and keep a vegetarian home, I knew that it would be difficult, not because I would miss eating meat that much, but because I miss sharing with him all the recipes that I ate growing up.
I decided to write this cookbook as a celebration of my past and future. I included traditional recipes for people who eat meat and then transformed those recipes so the love of my life could enjoy them too. Finding a way to make Southern food more hospitable, so everyone seated around the table can enjoy delicious food steeped in memories, has been one of my greatest joys.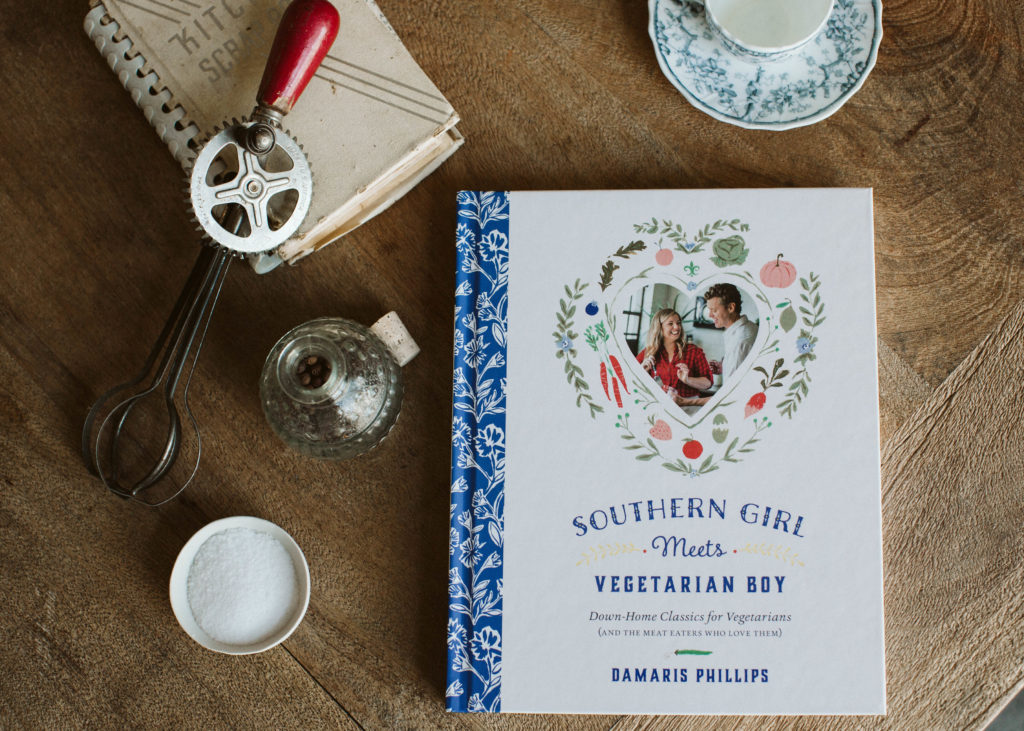 Besides this recipe, do you have a favorite recipe featured in your cookbook?
I filled this book with recipes that remind me of the people that I love the most in this world. Some of those recipes have the ability to transport me back to a time when I'm sitting with my Nanny Ree or laughing with my dad or looking at my mom with adoration; those are the recipes that are my favorite.
Biscuits and gravy for my grandmother, pimento cheese reminds me of my mom, and when I'm missing my dad so much I can't breathe, I make the cornbread and sweet milk.
What are you most excited for your readers to get from your book?
I'm excited that the cookbook is literally for everyone in your life who likes delicious Southern food–whether they are vegetarian, a meat eater, eating a plant-based diet, or just someone who loves comfort food. There are recipes for everyone. I think the food in this food is fun and accessible, but also just a little bit adventurous.
If you could describe the book in one word, what would it be?
One word??? When have I ever described anything in just one word???? Love. My one word is love.
It's what inspired the book and what inspires my cooking, so I'm going with love. And that is way more than one word.
Favorite Southernism?
"Full as a tick." OR "Are y'all ready for Christmas?"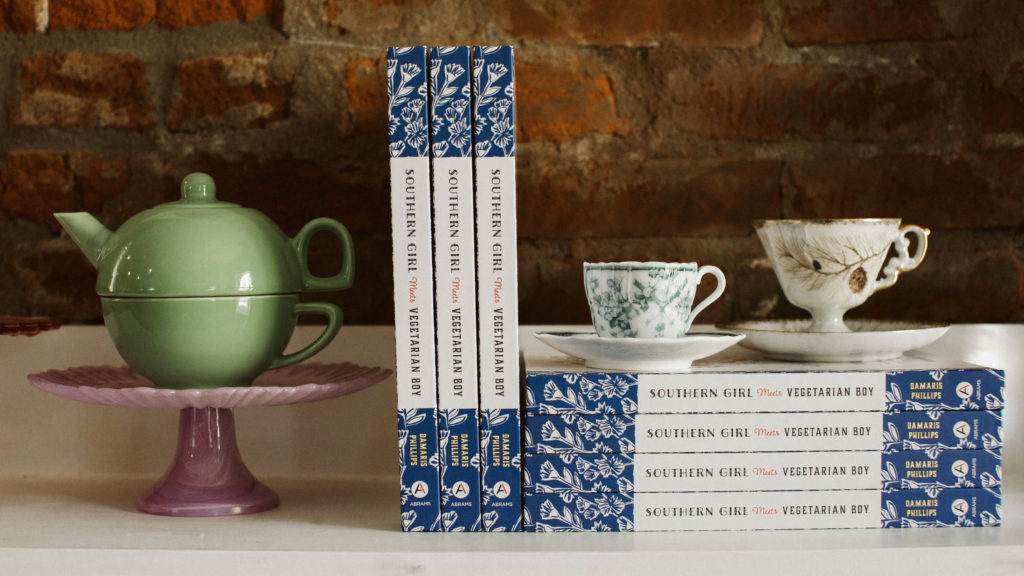 Coconut Lavender Cream Cake
Serves 12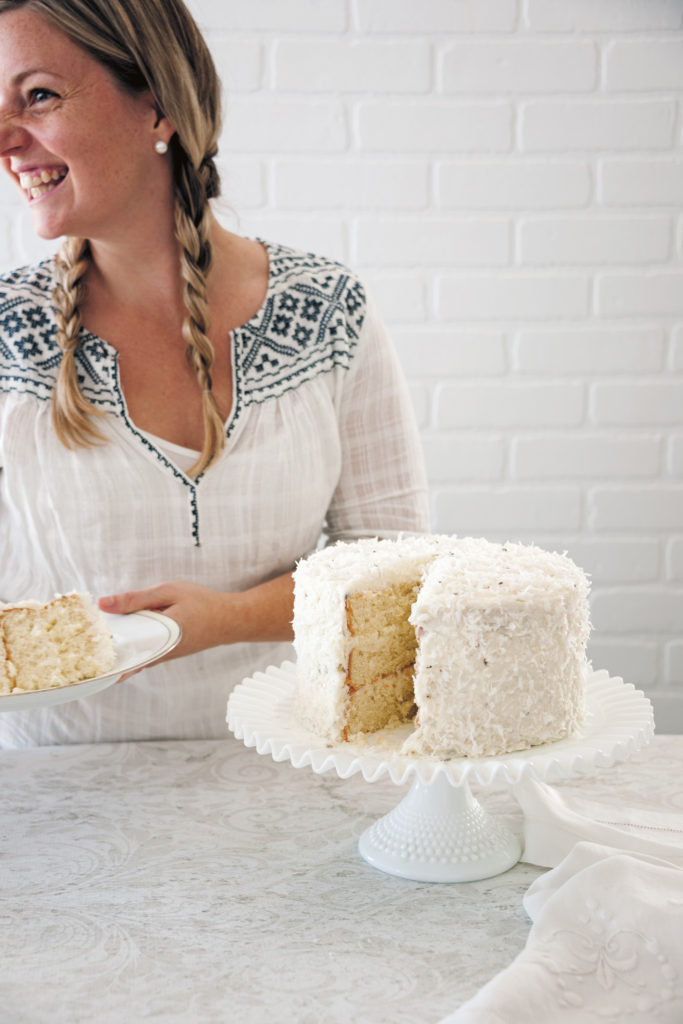 For the cake
2 cups unsalted butter, at room temperature
2 2/3 cups sugar
7 large eggs
4 cups all-purpose flour
4 teaspoons baking powder
1 teaspoon kosher salt
11/3 cups unsweetened coconut milk
2 teaspoons vanilla extract
2 1/2 teaspoons coconut extract
For the frosting
1 pound cream cheese, at room temperature
1/2 cup unsalted butter, at room temperature
3 cups confectioners' sugar, sifted
1 tablespoon dried lavender buds
3 cups sweetened shredded coconut
Directions for the cake
Preheat the oven to 350°F (175°C). Spray three 8-inch (20-cm) cake pans with cooking spray and line the bottoms with parchment paper.
Put the butter and sugar in the bowl of a stand mixer fitted with the paddle attachment and cream together on medium until light and fluffy. Add the eggs one at a time, scraping down the sides after each egg to make sure everything is getting incorporated.
In a large bowl, whisk together the flour, baking powder, and salt. Add one third of the flour mixture to the butter mixture and mix until just combined. Add half of the coconut milk and mix. Continue this way until the flour and coconut milk are all added and combined. Stir in the vanilla and coconut extracts.
Divide the mixture among the three cake pans and bake until a toothpick inserted into the center comes out clean, and the top is golden, 45 to 55 minutes. Let cool in the pans for 15 minutes, then invert onto wire racks to remove from the pans.
Let cool completely before frosting. Seriously, don't rush this part. If you are pressed for time throw the cakes in the freezer for 20 minutes, because if they are at all warm the frosting is gonna melt right off.
Directions for the frosting
In the bowl of the stand mixer fitted with the whisk attachment, cream together the cream cheese and butter.
Add the confectioners' sugar 1 cup (125 g) at a time.
Mix in the lavender buds.
To frost and decorate the cake, level the layers if the centers are domed. Add a large dollop of frosting to one layer of cake and spread it evenly all the way to the edges.
Add the second layer and frost. Add the third layer. Frost the top and then the sides of the entire cake.
Press the coconut into the sides and top.
Now you are ready to enjoy a huge slice with a cup of coffee or tea.