March 14, 2018 • RECIPE
Hello, Sugar: Going for Grace's Mini Strawberry Rhubarb Pies For Pi Day
Okay, y'all, it's Pi Day.
Pi Day, like 3.1415926 (and so on and so on), is an excellent reason to eat pie. Not that you need a reason. We recommend eating pie every day of your life if that's what your heart desires.
Cherry pie, apple pie, chess pie, sweet potato pie, pumpkin pie, key lime, pecan pie… we could keep going, but we'll stop and let you enjoy a Mini Strawberry Rhubarb Pie from Lauren of the blog Going for Grace.
Lauren, a Southern gal born in Texas and raised in East Tennessee, developed her passion for entertaining after seeing "the joy that came from preparing a simple meal or sweet treat for someone" while growing up. For Lauren, cooking and baking is her "way of serving others."
We couldn't love that more, and we're so excited for our readers to learn more about Lauren and grab her recipe below.
Tell us about this Strawberry Rhubarb Pie recipe.
One of my biggest joys in life is to look through the many recipe cards my grandma has stored up over the years. I love how she has a story behind each one!
Over Thanksgiving, I found a whole recipe box full of Southern desserts! Jackpot, right?! The strawberry rhubarb pie quickly became my favorite, and I so enjoyed adding my own flare to it. I love how the sour tang of the rhubarb plays with the sweetness of the strawberries in these fresh pies! Plus, they're so simple to make!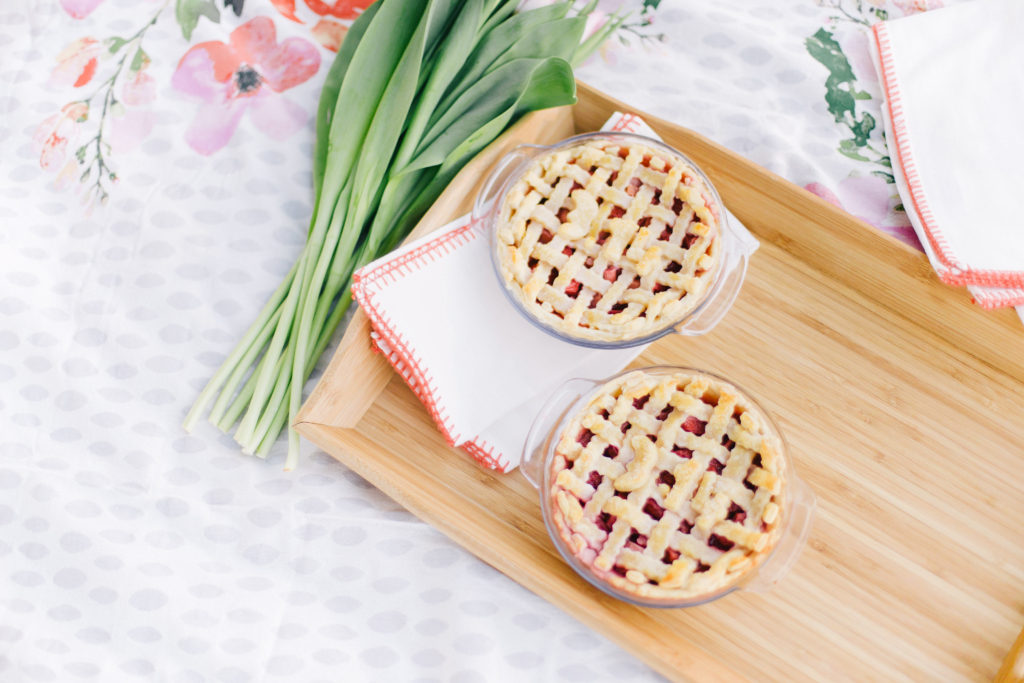 How did you get into baking?
I grew up baking with my mom and sister for fun, but it became a true passion when I got married and started a home of my own.
My grandma makes the most incredible apple stack cake, and shortly after our wedding she taught me how to make it. From that moment on, I have been like a sponge to the craft!
How would you describe your own style?
I would describe my own style as classic, graceful, and feminine. With a Southern flair, of course!
Favorite "Southernism?"
"You're a peach!" I've always loved this one.
Besides this recipe, do you have a favorite pie?
No doubt, cherry! I could (and probably have) eaten a whole cherry pie in one sitting!
What's your favorite thing about living in the South?
The hospitality and manners are unmatched. From thank you notes to a kind word in the grocery store, most everyone is so considerate and respectful.
It is very rare that anyone opens their own door around here because the person in front of them has held it for them! Plus, you cannot beat a sweet Southern accent!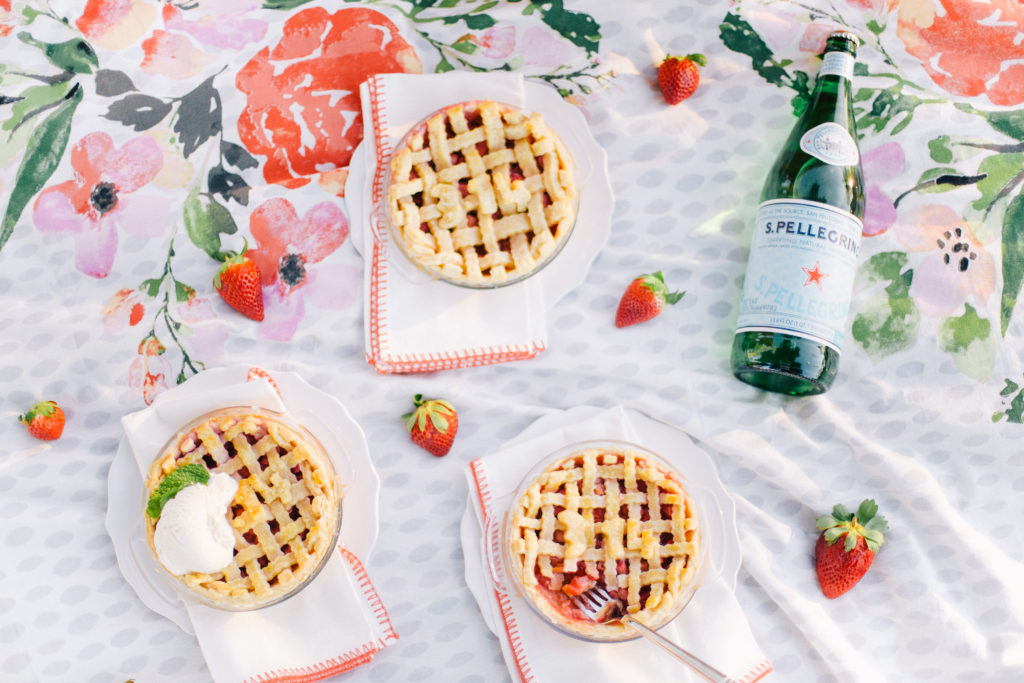 Strawberry Rhubarb Individual Pie Recipe from Going for Grace
Makes 4 6-inch mini pies
Ingredients
For the pie crust
2 ½ cups all purpose flour
1 teaspoon salt
½ tablespoon granulated sugar
6 tablespoons unsalted butter, cubed and cold
¾ cup vegetable shortening, cold
½ cup ice water
For the filling
3 cups rhubarb, sliced in thin pieces
2 ½ cups strawberries, quartered
¼ cup cornstarch
1/3 cup light brown sugar, packed
1/3 cup granulated sugar
¼ teaspoon salt
½ teaspoon almond extract
1 large egg, beaten for wash
Coarse sparkling sugar to top
Directions
For the pie crust:
Mix flour, salt, and sugar together in a large bowl.
Using a pastry cutter (or two forks), cut in the cold butter and cold shortening until the mixture forms pea sized pieces.
Stir in ice water so the dough beings to form. Place dough on a floured work area and with floured hands, begin folding the dough into itself until you can form it into a ball.
Using your hands, divide dough into five separate discs (4 for the bottom crusts, 1 for the lattice tops).
Wrap each in plastic wrap, and let chill in refrigerator for at least 2 hours.
For the filling:
Mix sliced rhubarb, quartered strawberries, cornstarch, brown sugar, granulated sugar, salt, and almond extract in a large bowl. Set aside.
Assembly
Preheat oven to 400 degrees.
Once dough has chilled, roll four out on a floured surface a few inches larger than the dish you are using.
Carefully place the dough into your dish, smoothing it out with your fingers. With a slotted spoon, spoon about 1/2 cup-1 cup of the filling onto the crust. Draining a majority of the filling's liquid keeps us from ending up with a mushy pie!
On a floured surface, roll out your final disc of dough. Using a pastry wheel or pizza cutter, cut ½ inch thin strips for the lattice top of each pie (about 12 strips per pie).
Carefully weave each strip over and under each other to form the lattice topping. Trim the overhanging crust around each pie and lightly press the edges of the strips into the bottom pie crust to seal the edges of the pie.
Lightly brush the pie with the beaten egg and sprinkle with coarse sparkling sugar.
Bake for 20-25 minutes, lightly covering the top of the pie with aluminum foil halfway through.
For a thicker filling, allow the pie to cool before cutting… if you can wait that long! Top with vanilla ice cream and enjoy!
Make ahead: These pies can be made a day in advance and tightly covered in the fridge. The pie crust dough can be made ahead and kept in the fridge for up to 4 days.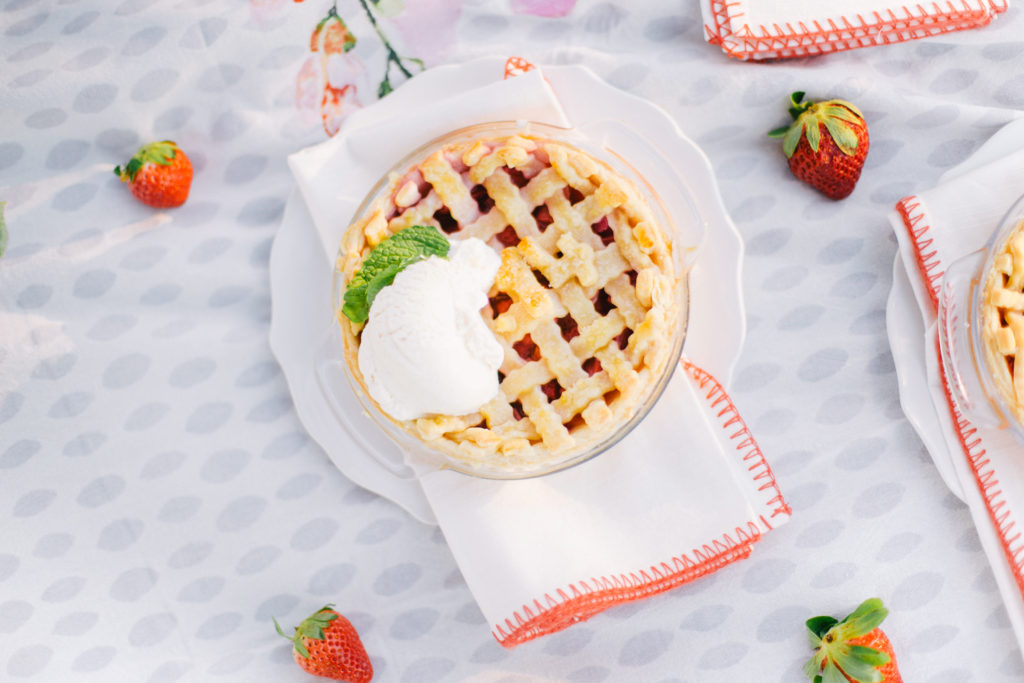 Photography by Morgan Smythe Photography
Styling by Going for Grace