Hello, Sugar: Gingham Sugar Cookies from Best Friends for Frosting
Melissa from Best Friends for Frosting is back on the Love, Reese blog baking some goodies sure to make our mouths water.
This time, she's focusing on (what else?) Valentine's Day!
Wearing our Love Row Ruffle Knit Tee, she whipped up the best, most scrumptious, and obviously Instagrammable type of valentine for the big day: gingham sugar cookies.
Read more from Melissa and get her recipe below.
Tell us about this sugar cookie recipe.
This is my absolute favorite sugar cookie recipe. It has been my go-to recipe for the past 12 years because it makes the easiest and most delicious sugar cookies… With this recipe, I swear the cookies never lose their shape–great to know when you're baking for an event!
The secret to these cookies are the hints of almond extract. I'm a little biased because I am such an almond fanatic, but the almond really gives them the most amazing taste.
What's your favorite part about Valentine's Day?
More than anything else, I LOVE that it's all about love. (No pun intended ;)) I don't really look at the holiday in a purely romantic way.
For me, it's more of an opportunity to celebrate all of the people you love. I love making little gifts for friends or baking some treats for the kids; it's just the perfect excuse to remind them how much you love them. And if we are being totally honest, I have to admit that I love all of the Valentine's Day decor pieces. Seriously anything heart-shaped, confetti, balloons, sprinkles, candy, dessert, flowers… I am always looking for a reason to buy them!
Do you have any Valentine's Day traditions?
My absolute favorite tradition is Valentine's Eve. I wait for the kids to go to sleep and then go all out on decorating the living room! I put heart decals on the windows, plenty of cute, heart-shaped decor on the walls, confetti on the table, and decorations everywhere.
Stay tuned for more details on my Instagram story. It may seem a little crazy, but seeing their faces when they wake up makes it so worth it! I also make sure to pick up a little gift or two for the kids and cute Valentine's Day card (which always takes me so long to pick out!). Then we have a family tradition of making a heart-shaped pizza for dinner on the actual day. I know I'm silly, but I can't help it… I LOVE Valentine's Day!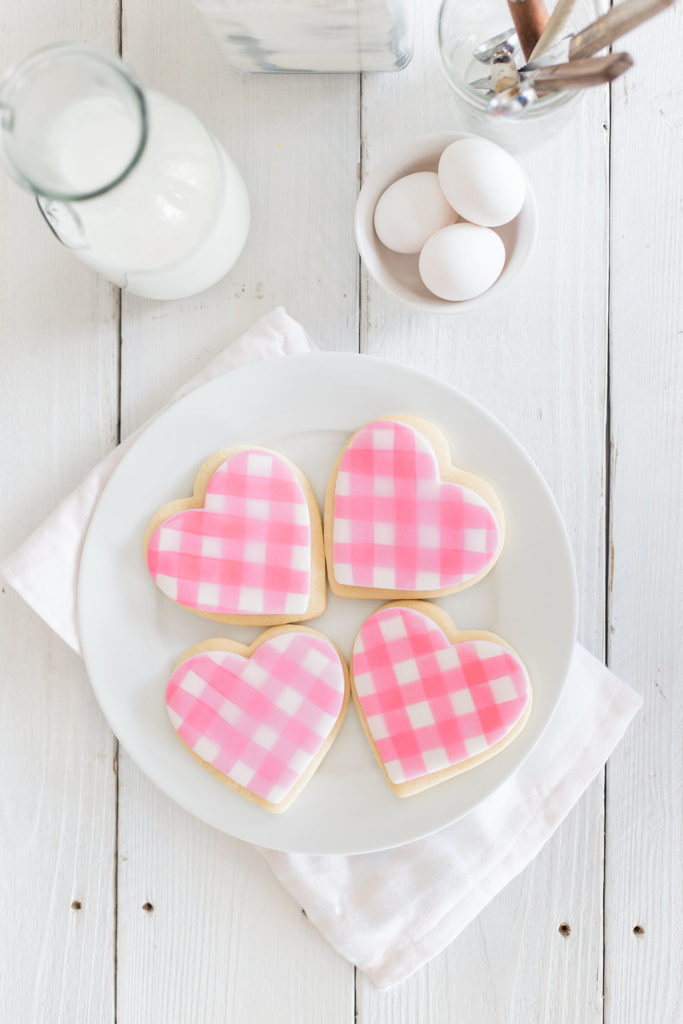 Melissa's Sugar Cookie Recipe
Ingredients
1 1/2 cups butter, softened
1 1/2 cups sugar
3 eggs
1 teaspoon vanilla
1 teaspoon salt
2 teaspoons baking powder
4 1/2 cups flour
Instructions
To make the sugar cookie dough, first add salt, baking powder, and flour to a medium-sized bowl and whisk together; set aside.
In a stand mixer with a paddle attachment, cream together butter and sugar on high speed until fluffy and light in color.
Add eggs and vanilla to mixer, only mixing until combined.
Add in dry ingredients in two parts, adding half of the mixture at a time.
Wrap dough in two packs using plastic wrap and chill for 1 hour to overnight.
When ready to roll out, pull one sugar pack out at a time from the fridge and sprinkle flour on your work bench as needed while rolling to help with stickiness.
Roll dough to about 1/4 inch thick and use any cookie cutters you'd like!
Once cookies are cut into shapes, let chill in fridge for at least 1 hour (I froze mine overnight).
Bake at 325 degrees for 12-17 minutes, depending on the size of your cookies; you'll want them slightly golden brown around the edges.
How to add the gingham
I love how the fondant gives each cookie a clean & smooth look. If you're not a fondant fan, you can always use your favorite icing recipe. Happy baking!
Materials
Heart shaped cookies (store bought) or homemade
White fondant
Heart shaped cookie cutter
Edible pink food color spray
Card stock paper
X-ACTO knife
Ruler
Instructions
Step 1
First you will need a batch of cookies, store bought or homemade.
Step 2
Roll out your fondant, using your heart shaped cookie cutter cut out your hearts.
Place your fondant hearts on top of your cookie.
You can use frosting from the grocery store or homemade to make sure the fondant adheres successfully to each cookie.
Step 3
Make a stencil using thick card stock paper, an X-ACTO knife, and a ruler.
Cut out 6 strips that are 1/2 inch wide and at least an inch longer than the width of the cookie. This will be your stencil.
Step 4
Place the stencil over your cookie and very lightly spray your color over the entire cookie creating stripes; let dry.
Step 5
Place your stencil at a diagonal across the cookie and spray lightly with color. This will create your gingham pattern.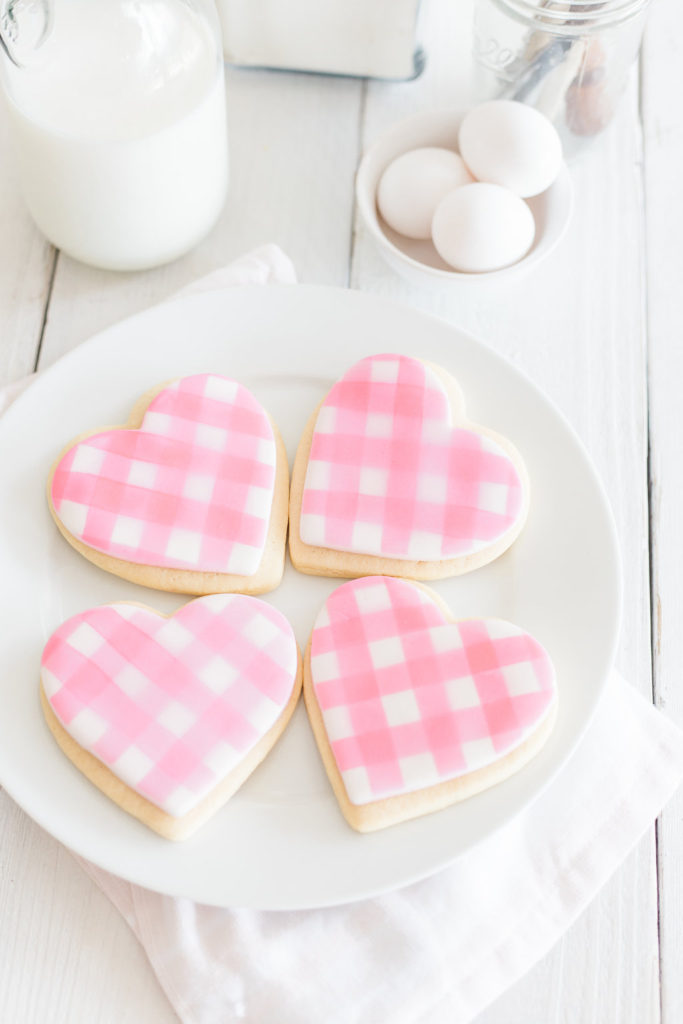 Photos by Ashley Baumgartner