Style School: What to Wear to Keeneland with Sydney of Summer Wind
Oh, how thankful we are it's horse racing season once again in Lexington, Kentucky!
That's right, October in Lexington calls for more races at Keeneland, a Thoroughbred racetrack that also opens up in April.
Along with choosing which horse to bet on, picking out your outfit (and fascinator or hat!) to wear to Keeneland is the next biggest decision one needs to make this time of the year.
You want something stylish, something comfortable, and something that won't clash with your accessories.
Sydney Carver of the blog Summer Wind knew exactly how to put together the perfect outfit for a day at the October Keeneland races, and she shared her tips and tricks with us in the latest edition of Style School.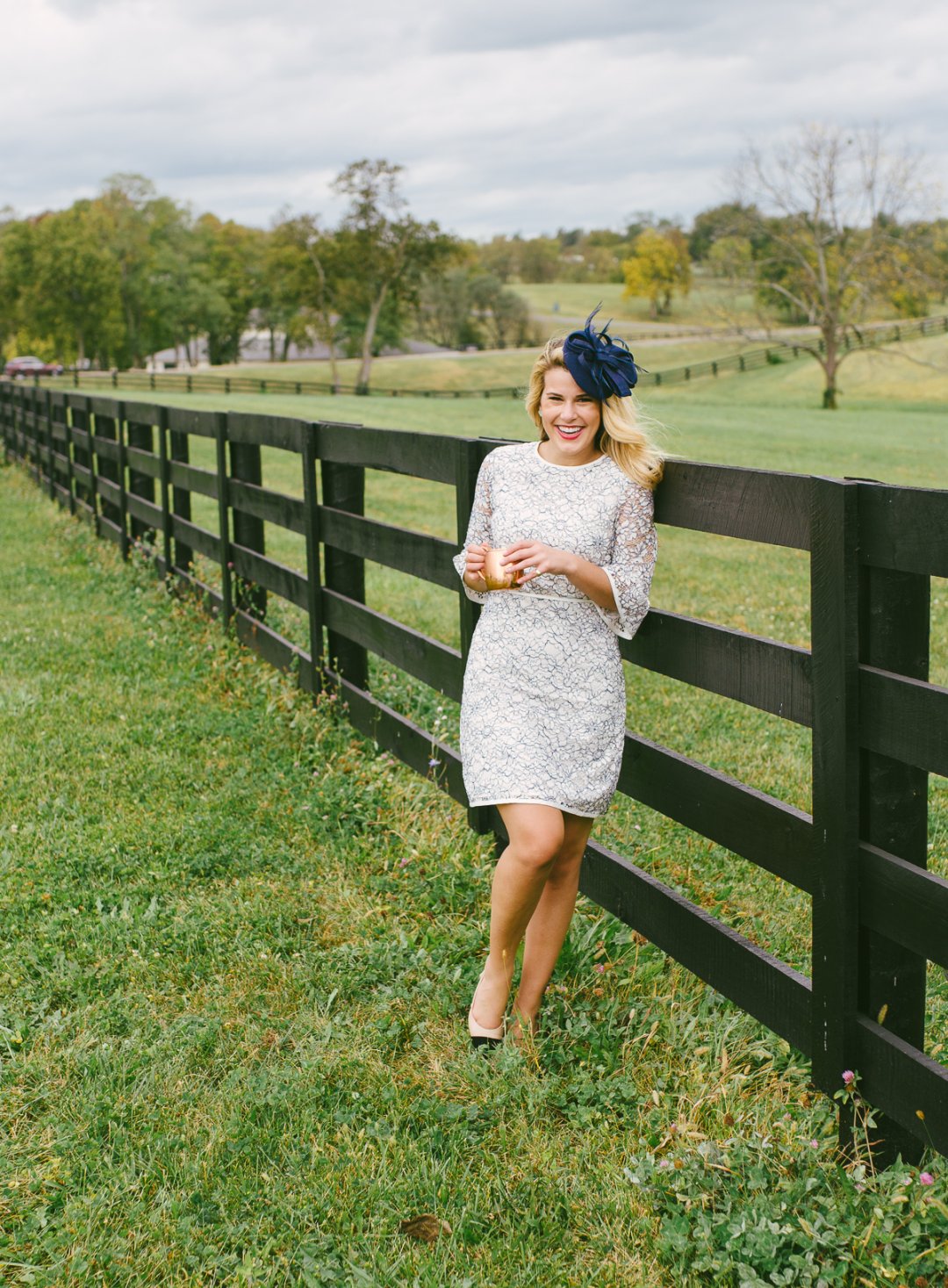 Tell us how you chose to style the Lace Rosslyn Dress.
Well first of all, the dress is absolutely beautiful! The lace is so intricate and the dress is so well-made.
But besides that, I wanted a dress that would work well in the Kentucky heat! I'm glad I considered the weather because it was about 85 degrees, and the Lace Rosslyn Dress was lightweight enough to endure the warmth!
Was this your first time at Keeneland? If not, what brings you back? 
I first went to Keeneland back in 2012.
My younger sister, Callie, went to the University of Kentucky, and now a close family friend goes there, so it's become somewhat of a tradition for our family to visit Lexington (which is a gorgeous town) and go to Keeneland.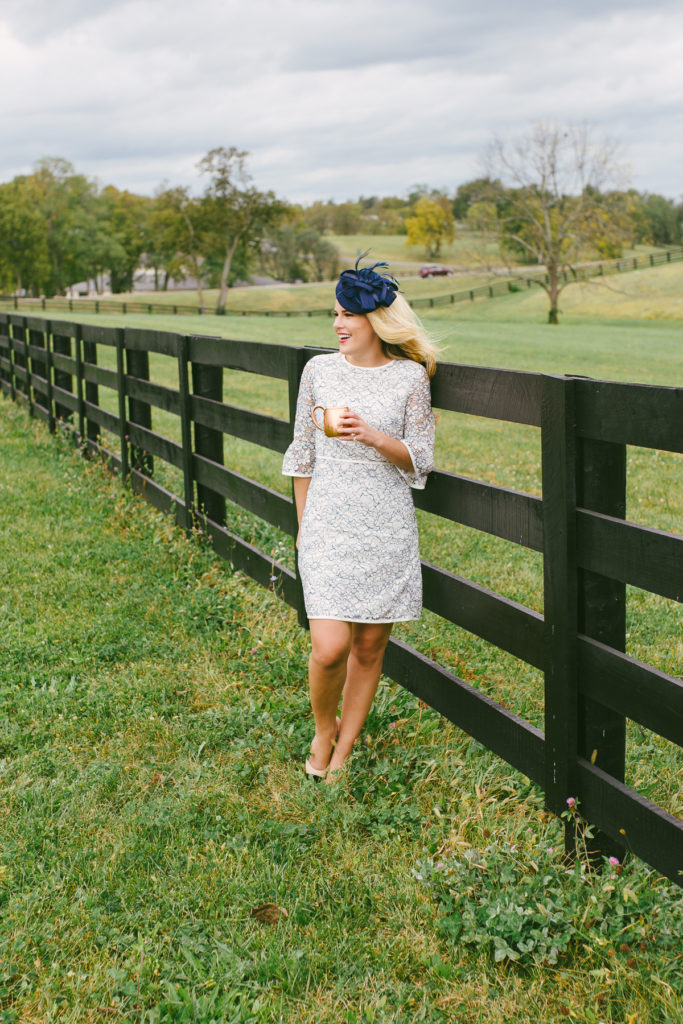 What's the one thing you think people should know before visiting the Keeneland races for the first time?
It gets crowded, so if you can, try to arrive early! The races usually start in the early afternoon, so we try to get there in the later morning (plenty of tailgating time!)… if you are a bit late, you'll probably end up in a long line of cars!
Since Keeneland is twice a year, I find that the fall season is a little more casual in terms of what people wear!
Tell us about your fascinator!
I actually ended up finding it at the last minute! I had a beautiful peach hat, but once I tried it on, it felt a little too "spring." So, I stumbled upon the fascinator and fell in love!
I had never worn a fascinator before, but it really looked great with the Lace Rosslyn dress… and made me feel like Princess Kate 😉
What would you say are the 2 essential things to bring to Keeneland?
One of the fun parts of Keeneland is that everyone tailgates before going in! I suggest packing a picnic and some blankets.
Besides that, sunglasses are a necessity so you're able to watch the track if it's super sunny. I also take a small bag with things like lipstick, mints, etc. to freshen up with!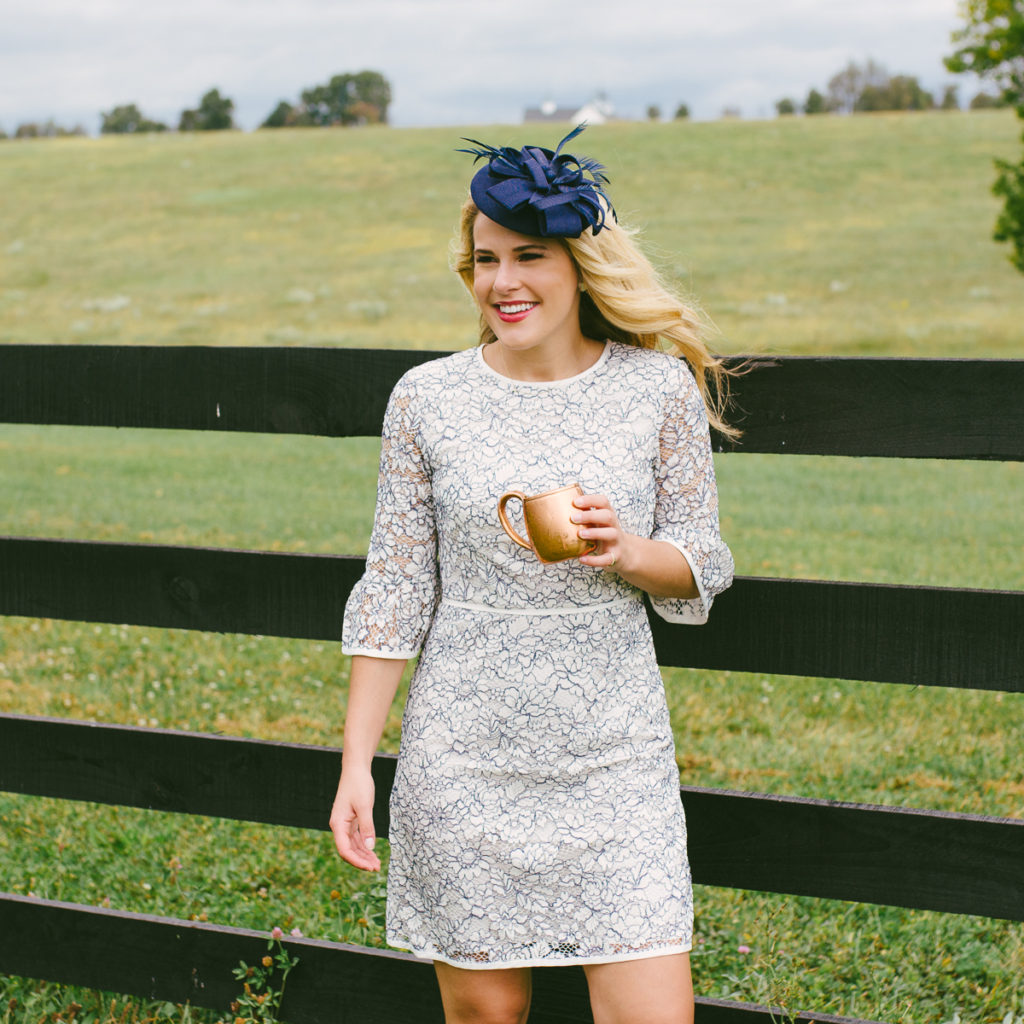 If you get a chance to stop by Keeneland this month, check out their shops for some Draper James product! Happy racing!