October 25, 2017 • RECIPE
Let's Eat, Y'all: A Perfectly Simple Pumpkin Soup Recipe From Nashville
If you've been following @draperjames on Instagram, you know we have a thing for pumpkins.
Pumpkins on porches, pumpkin houses, pumpkins in wheelbarrows… we're kind of obsesssed.
So when Nashville-based Melissa Haithcock of A Happy Healthy Heart and her pal Anna White of the blog Park Avenue made a simple pumpkin soup recipe, we just had to have the recipe for ourselves.
Keep reading to grab the perfectly pumpkin recipe, and hear more from Melissa and Anna about what they're up to in Nashville this fall.
Tell us about this recipe.
When the cooler weather rolls in, I crave soup the most. There's just something about the warmth of a bowl of freshly made soup that makes all things good. Of course, pumpkin soup is an obvious choice for October, so it's my go-to for a quick and easy taste of fall. – Melissa
Melissa's pumpkin soup is loaded with flavor and so comforting on a crisp fall day! – Anna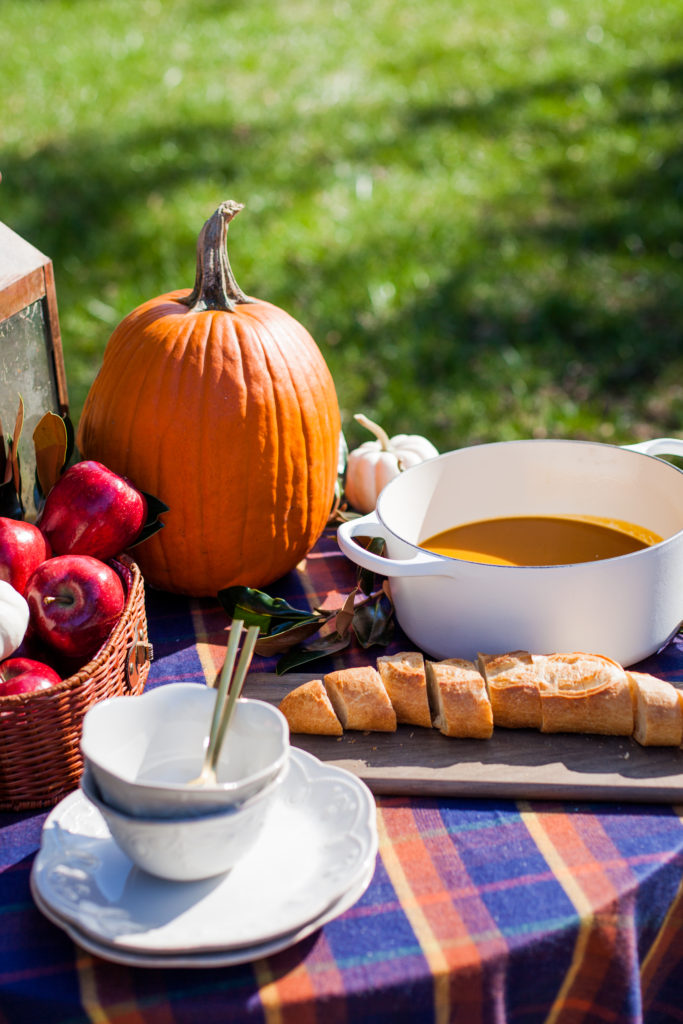 Where/what event would you serve this recipe?
Every fall, my husband and I have a small get together in our backyard, complete with a warm fire and roasted marshmallows. This soup would be the perfect side dish for this event paired with some crispy bread and a fresh salad. – Melissa
I love serving soups at any event because of how easy they are to make and serve. I host a fall party for friends in my backyard every year, and this pumpkin soup would most definitely make the menu! – Anna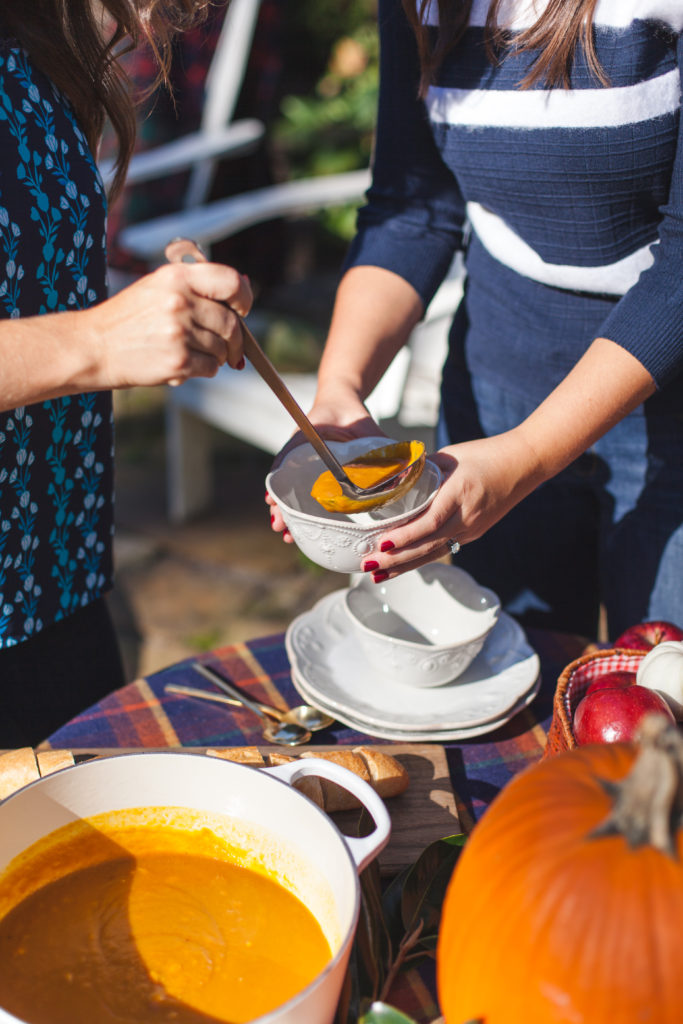 Tell us about this shoot.
Working with friends is just the best. Anna and I connect on a lot of levels so this shoot was really fun. We wanted this backyard fall picnic to air on the stress-free, simple side of entertaining and for us, it was just that. Decorating with natural elements is always my favorite way to bring life into the scene and the Draper James attire was the icing on the cake! – Melissa
Melissa and I had such a fun time getting together to celebrate fall and all things pumpkin! We kept the menu simple, with all the fall fixings: pumpkin soup, apple cider, and s'mores! – Anna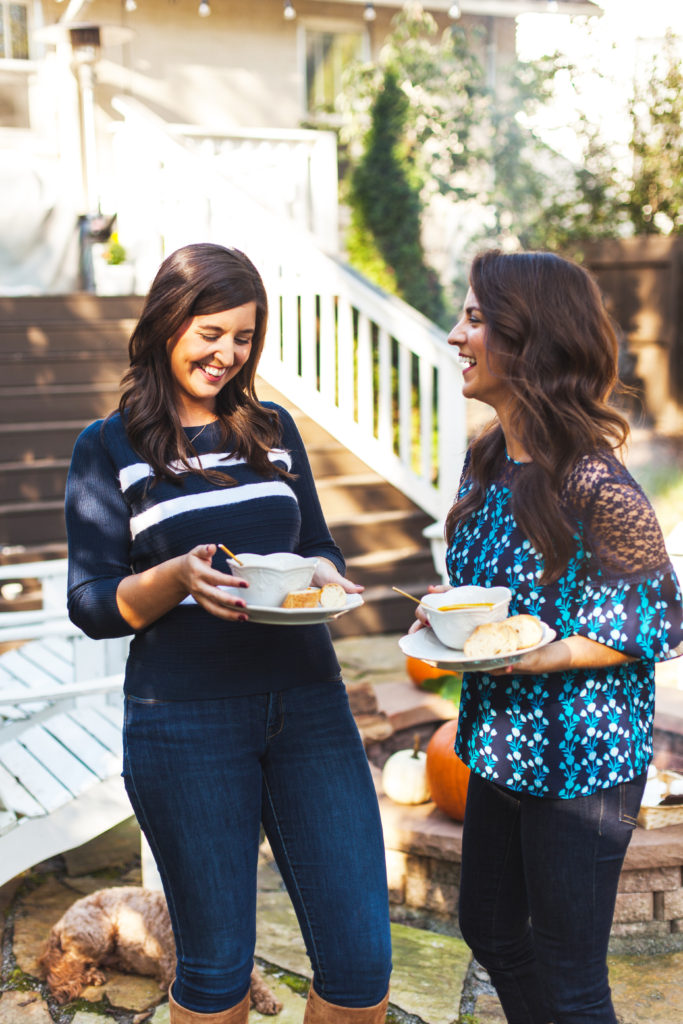 What drew the both of you to these tops?
I love navy, so I find this fall collection really beautiful. The lace details on the Meadow Vines Lace Top are really sweet and pretty, which helps add a touch of elegance to an otherwise causal outfit. – Melissa
I absolutely loved the Stripe Mohair Sweater because of the wool blend and classic stripes. I find myself reaching for sweaters and stripes in the fall, so to me, it's a match made it heaven. I love pairing it with jeans and tall boots, but also love it paired with a flowy fall skirt, or even under a vest. – Anna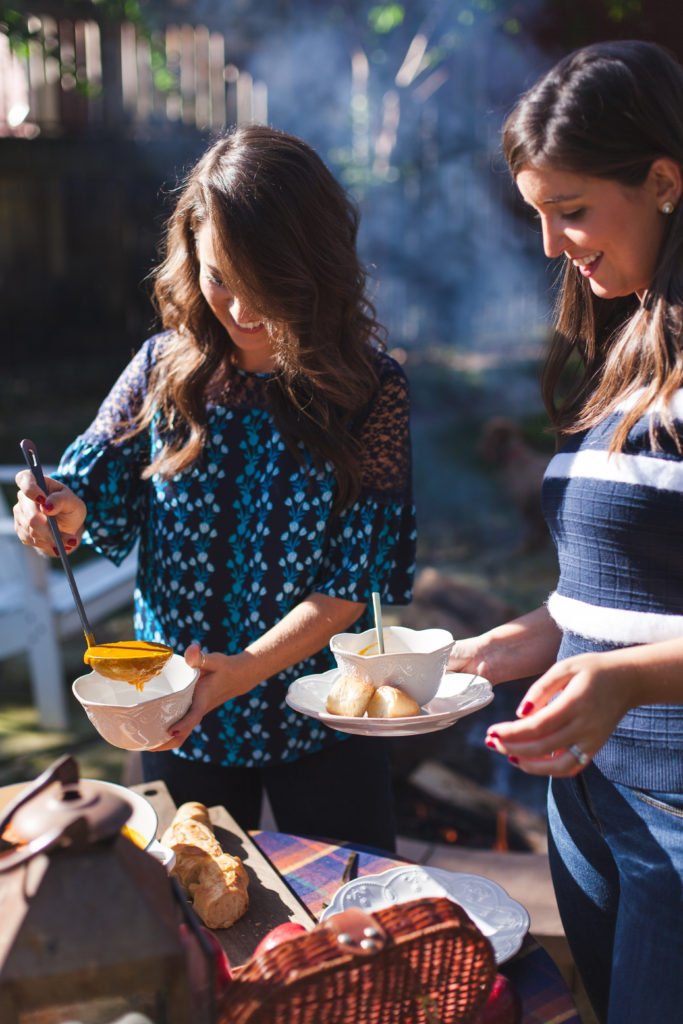 What do you love the most about Nashville in the fall?
Fall in Nashville is absolutely wonderful. We have the opportunity to check off all of the ideal fall bucket list items like visiting the pumpkin patch, hiking trails lined with fall colors and sipping on seasonal drinks at local coffee shops. If I had to pick a favorite though, it would certainly be experiencing the leaves changing colors. There are some days when I drive through the rolling hills and the sky looks like it's on fire. It's stunning. – Melissa
Nashville is beautiful in the fall! Our trees turn gorgeous hues of orange and yellow, and I just love the early morning crisp fall air. Hiking is one of my favorite fall activities here in the South, and Nashville has so many trails to offer. There are also so many fall festivals on any given weekend! My husband and I love attending as many as we can; it's a great way to check out the city's different neighborhoods! – Anna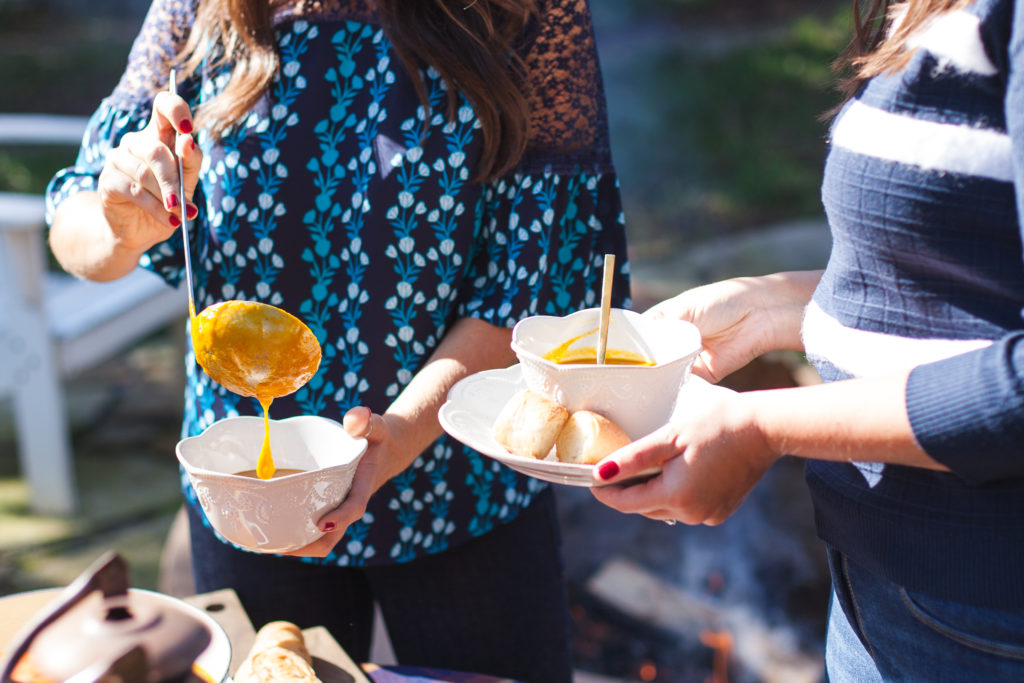 Recipe for A Happy Healthy Heart's Simple Pumpkin Soup
Ingredients
2 cans pumpkin puree
½ sweet onion, minced
3 garlic cloves, minced
2 cups vegetable broth
½ cup almond milk
2 tsp salt
2 tsp pepper
1 tsp ground cinnamon
1 tsp ground ginger
½ tsp nutmeg
1 tbsp olive oil
Directions
In a dutch oven, heat oil over medium heat.
Once heated, add onion and cook for about 4-6 minutes or until translucent.
Add garlic and stir.
Pour in pumpkin puree, vegetable broth, and almond milk. Stir well.
Next, add all seasoning and mix until incorporated.
Cover with lid; reduce heat to medium-low.
Allow to cook for about 20 minutes. The longer the cook time, the better the flavors with incorporate.
Serve warm.