September 22, 2017 • RECIPE
Hello, Sugar: My Modern Cookery's First Day of Fall Pumpkin Slab Pie Recipe
Happy first day of fall, y'all!
That means it's officially time for all things pumpkin: pumpkin spice lattes, pumpkin muffins, pumpkin bread, and, obviously, pumpkin pie!
Paige Rhodes of the blog My Modern Cookery is resident of Louisville–not far from our store in Lexington–and she loves fall (and pumpkin) just as much as we do.
When we reached out to this culinary expert to make the perfect fall dessert, she basically read our mind.
Paige took a fun take on the classic pumpkin pie, and put together this scrumptious, seasonal Pumpkin Slab Pie recipe.
Tell us about this recipe.
There's nothing more quintessentially fall than pumpkin pie. It's always the first to be gobbled up during the holidays, and it's the one dessert that everyone looks forward to.
Look at the pumpkin spice craze it's spawned! Instead of making two or three separate pies, this easy slab pie will feed an army, and it's way easier to portion than a traditional pie (you know you always mangle that first slice).
What do you think is the best thing about fall in the South?
Maybe I'm biased, but fall in the South is the absolute best. Most of us are lucky enough to have some semblance of a full four seasons, so the weather can't be beaten.
Anyone who has ever driven through the Smoky Mountains during the fall will tell you the scenery is so breathtakingly beautiful, you'll make it a point to see it every year.
What's your favorite fall activity?
Every year, my mom and I go all out hosting a fall party for all of our friends and family. We have a bonfire, an outdoor scary movie, caramel corn, and tons of cider. Last year, we asked everyone to wear plaid shirts and took a group photo to commemorate the occasion.
To me, fall is all about making memories and kicking off the season of spending time with loved ones.
What are your favorite "fall" ingredients/or spices?
Everyone loves summer produce, but I get so excited about all of the fall fruits and vegetables.
Roasted Brussels Sprouts, figs on every cheeseboard, pear and apple pies, and of course, pumpkin. Winter squash is one of the great gems of the fall harvest, and I constantly have them on rotation.
My favorite fall spice is, hands down, cardamom. It has the same spicy quality as cinnamon, nutmeg, clove, and allspice, but it has a more intense aromatic and citrus quality that pairs well with so much. It's not cheap, but a bottle will last you a long time, and it's more than worth the investment.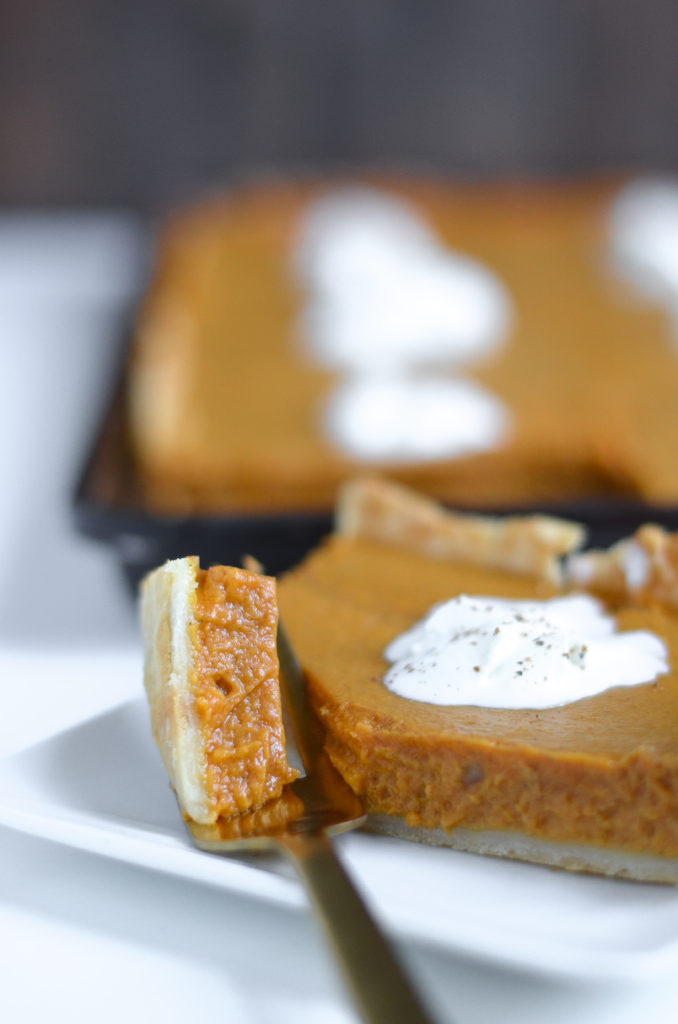 Pumpkin Slab Pie Recipe
Ingredients
Crust
4 cups all-purpose flour
1 and 1/2 teaspoons salt
1 teaspoon granulated sugar
1 and 3/4 cup unsalted butter, very cold and cubed
3/4 cup very cold ice water
Egg wash: 1 large egg, lightly beaten with 1 tablespoon milk
Filling
2 (15-ounce) cans pure pumpkin
2 cups light brown sugar
4 large eggs
2 cups heavy cream
1/4 cup whole milk
1 teaspoon pure vanilla extract
2 tablespoons cornstarch
2 teaspoons ground cinnamon
3/4 teaspoon ground ginger
1/2 teaspoon ground nutmeg
1/2 teaspoon salt
Instructions
Pie crust
Mix the flour, salt, and sugar together in a large bowl.
Add the butter.
Using a pastry cutter, cut the butter into the mixture until it resembles coarse meal.
Drizzle the cold water in, 1 tablespoon at a time, and stir with a rubber spatula after each.
Stop adding water when the dough begins to form large clumps.
Transfer the pie dough to a floured work surface.
Using floured hands, fold the dough into itself until the flour is fully incorporated. The dough should not be dry but also not be overly sticky.
Form dough into a ball.
Flatten dough into a 1-inch thick disc, and wrap tightly in plastic wrap. Refrigerate for at least 2 hours.
Filling
Whisk all of the filling ingredients together in a large bowl.
Cover and refrigerate until the dough is sufficiently chilled.
Preheat oven to 375°. 
Remove disc of pie dough from the refrigerator.
On a lightly floured work surface, roll the dough out into an 18×13-inch rectangle. Make sure to turn the dough about a quarter turn after every few rolls.
Carefully place the dough into a 10×15 inch jelly roll pan. Smooth the crust out so it fits nicely into all the corners of the pan.
Crimp the edges with your fingers, if desired. Brush edges lightly with the egg wash.
Spread filling evenly into the crust.
Bake for 35-45 minutes or until the filling is only slightly jiggly in the center.
Remove from the oven, set on a wire rack, and allow to cool completely before serving.
Topped with whipped cream for serving, if desired.