Style School: Ruffles and Summer Blues with The Southern Style Guide
We currently (and all the time, if we're honest) have a thing for ruffles and the color blue.
Ruffles add a fun, feminine touch to an outfit, and if you've ever been to one of our stores, you know #DraperJamesBlue is basically our version of a neutral color.
Cristin Cooper of The Southern Style Guide is a North Carolina-based blogger who we knew could rock both ruffles and the color blue. Earlier this year, we worked with Cristin on an Easter dressing post, and her style oozes all things summer and Southern.
This time, her ability to skillfully dress things up or down ruffles and the color blue completely inspired us; basically, we're never taking off the Parton Check Ruffle Skirt or Rosie Ruffle Top.
Keep reading to hear more from Cristin and see how she styled some of summer's most stylish pieces.
How did you choose to style these looks?
I love the contrast of relaxed basics with feminine statement items, so I styled both of these with classic staples. For the Rosie Ruffle Top I chose a good ole fashioned pair of skinny jeans and nude pumps for an easy date night look.
In contrast, I dressed down the Parton Check Ruffle Skirt with a white tee, sandals, and the Hello Sugar Vanderbilt Tote for an outfit you could wear to from anything to a Saturday morning market to an evening cookout. On my blog I always try to provide realistic style inspiration for every day life and mix beautiful statement pieces with items every woman would (should) have in her closet.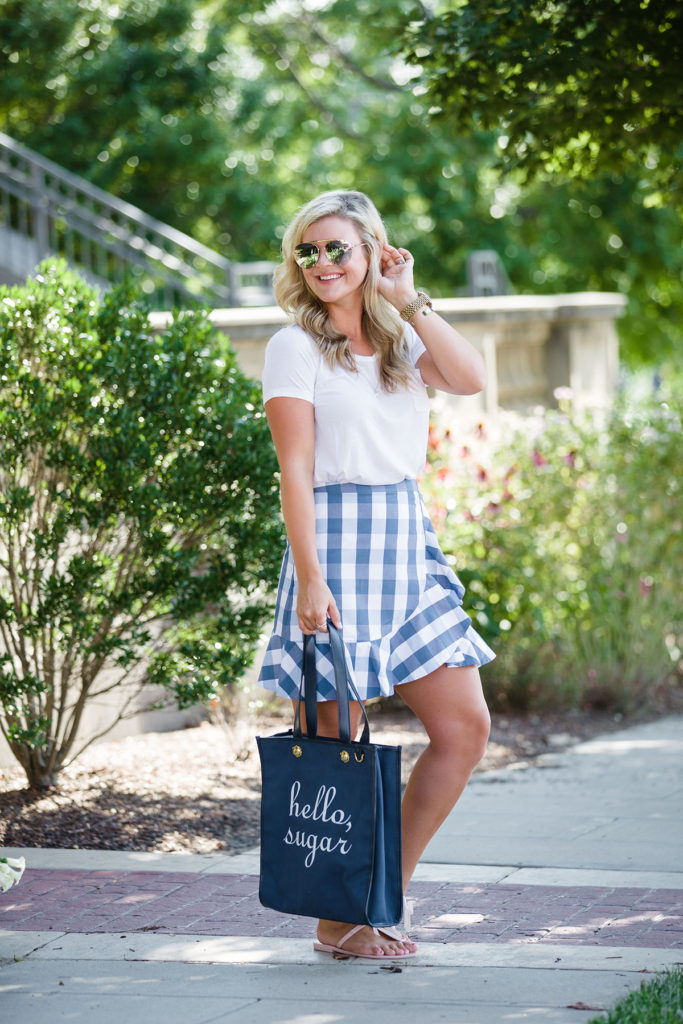 What drew you to these particular pieces?
I'm naturally drawn to romantic pieces and love anything with a flutter sleeve, ruffles, or lace.
My overall wardrobe is much more casual though, so I tend to dress down girly pieces with basics like jeans and tees. I knew that both of these would pair effortlessly with the items I love to wear on repeat including denim, white, classic shorts, and tees.
What summer essentials would we find in your Hello Sugar Vanderbilt Tote?
In an ideal scenario, I would be stashing my favorite rosé, a container of apps, and a Turkish towel just in case I needed to have a spontaneous picnic somewhere.
Much more realistically, though, I would probably have sunscreen, diapers, wipes, and a host of snacks for my minis. I could also find myself carrying it to the pool or the lake stashed with my suit, favorite magazines, and plenty of sunscreen. It is such a versatile size and color!
Gingham is pretty big this summer; what's the best way to style it?
I love gingham with classic staples like traditional or white denim, classic cut shorts, and neutral accessories.
It's hard to believe it's already mid-July… Do you have any plans for the rest of the summer?
We've had a busy summer traveling to Mexico, Rosemary Beach, Hilton Head, and Charleston, so I think a lot of weekends relaxing on the lake are in our future.