May 18, 2017 • STYLE
What's In My Summer Bag: Kate Brennan of The Chic Series
"What's In My Summer Bag," a new series on the Draper James blog, offers a look inside the daily lives of some of our favorite bloggers during the busy summer months through the lens of the essentials they cart around, day in and day out.
Kicking us off is Kate Brennan of The Chic Series. The Charlotte, NC-based mom of two young girls paired our Cherry Orchard Ruffle Romper with our Stripe Straw Tote for what she calls an "effortlessly chic" summer look. Take a peek insider her handbag below.
What qualities do you look for in a summer bag?
A sturdy bag that is chic and versatile. I also love a tote because I am often "toting" around my stuff and my daughters', so the more room, the better.
What are your summer plans — both when you're sticking around in Charlotte and for vacation?
I will actually be living in NYC this summer with my girls!  I can't wait to return to my hometown. The great part about living in NYC is the beach is just a short drive away.  I'm hoping to make it out to Montauk in eastern Long Island for a few weekends during the summer, but I would be perfectly content staying in the city on the weekends.
What's in your bag?! When you're out and about during the summer, what are some essentials you always carry?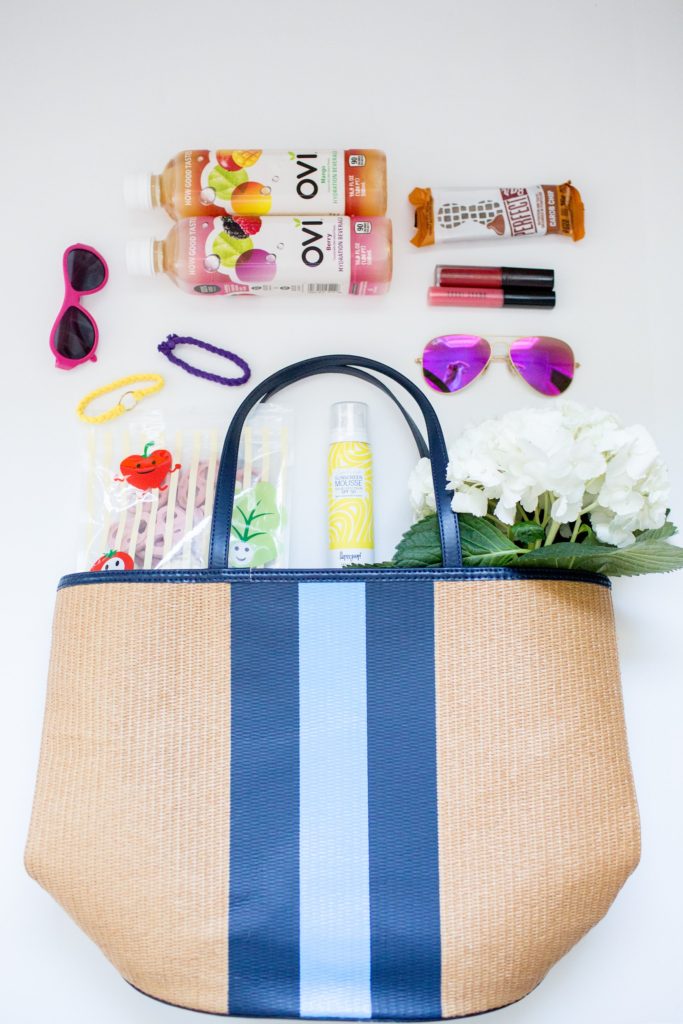 Sunglasses. A great pair can make you look instantly chic! Mirrored Ray-Bans are a classic and my go-to.  Can't forget the girls! How cute are these little ones?
Healthy snacks for me and the girls. I love bars and flavored water as it has a hint of flavor and is low in calories.
A bold lip. I almost always carry a bright bold lipstick on me. In the summer I love bright pink. It's the perfect shade to pair with a sun-kissed glow.
Sunscreen.
Hair ties. My hair is almost always up in the summer, and I love styles that look just as cute on your wrist as they do in your hair.
A romper. I actually always keep a change of clothes in my bag because with two little girls, there are always lots of spills and accidents.  A romper is a great option because it's one-and-done and super versatile.
Head on over to Kate's post on The Chic Series for even more details on her summer style.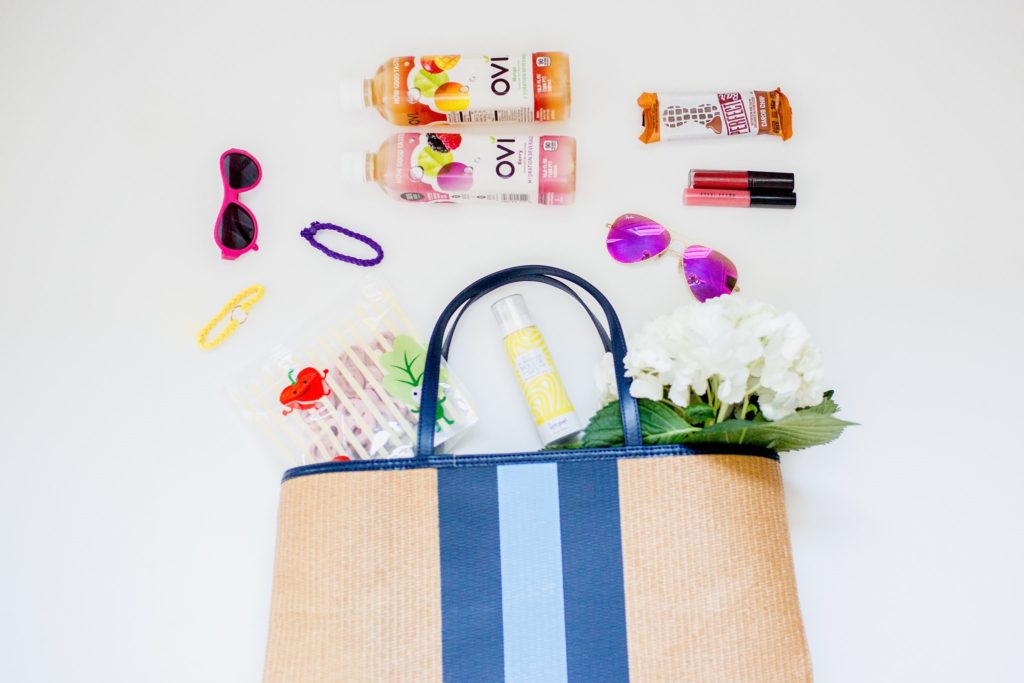 Save
Save
Save