DJ Dines: Willa Jean's Recipe for Pea Tartine with Poached Egg & Herb Pesto
As we were writing our Draper James experts' guide to New Orleans (see it here!), nearly every insider we spoke to named Willa Jean as one of her favorite spots to eat and drink. In a culinary capital where many dining stalwarts have been feeding folks for generations, this less-than-two-year-old bakery-cafe-restaurant gets points for its homey yet hip vibe and farm fresh cuisine. Fans rave about a menu that features house-made breads, fluffy biscuits, creative coffee concoctions, open-faced tartines, and lots more.
South Carolina native Kelly Fields, the chef and a partner at Willa Jean, named the restaurant after her grandmother, who encouraged her to pursue what she loved. Here, Kelly ponders Willa Jean's success and shares a recipe for Pea Tartine with Poached Egg & Herb Pesto. Featuring a bounty of fresh herbs and seasonal vegetables, it's the perfect dish for welcoming spring.
In less than two years' time, Willa Jean has become a NOLA classic. Why do you think it has resonated so much with locals and tourists alike?
Oh man, that's great to hear! I think we've been successful in creating a space where all feel welcome, cared for, and nourished in any and all ways that we can contribute to. Consistently delivering simple, but well-executed food in a fun, service-driven, loud, bustling space has created an energy—a draw—that most people can connect with in a way I never imagined. I've done my best to celebrate the South as a sense of place—a sense of people and community—rather than being cliche or stereotypical. I think it's working. . .
What are you most proud of about Willa Jean?
I'm so incredibly proud of the staff and how passionate they've been about what we're doing. And to now be positioning myself within my own dream to help other people achieve their dreams. . .  It's really, really special.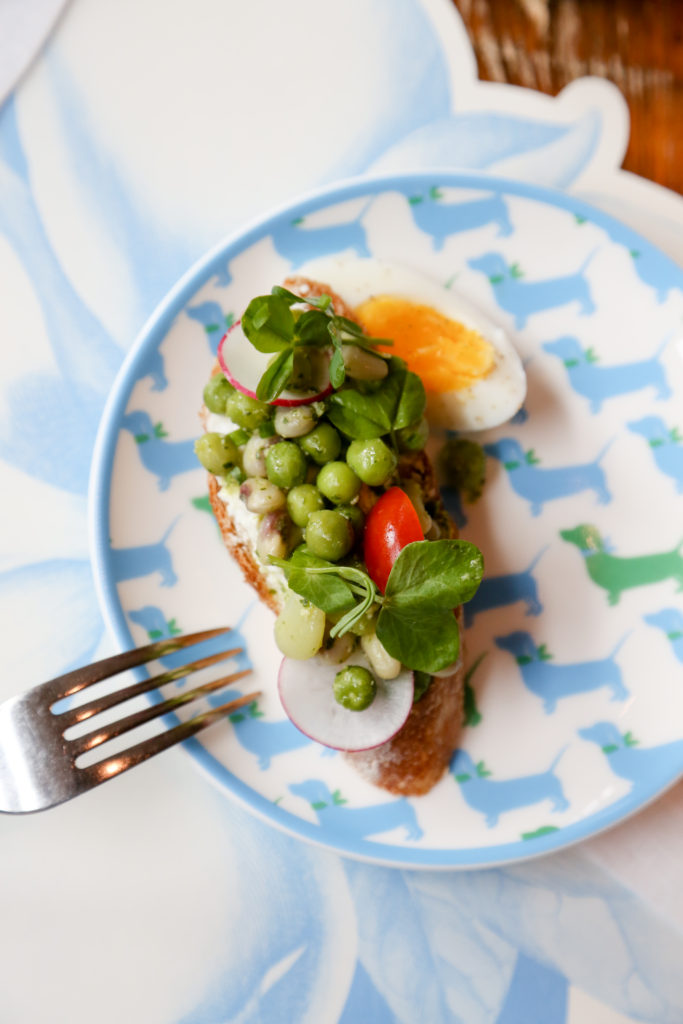 What's your favorite way to spend time in NOLA on a rare day off?
I love to take my dogs to City Park in the morning so that I can spend the rest of my day eating! I love riding bikes through the French Quarter and Marigny and finding live music, tasty drinks, and delicious bites—usually ending up enjoying an evening snack at Bacchanal in the Bywater.
Favorite Southernism?
Obviously, I use "y'all" more than anyone actually should. But "makin' groceries" always always makes me smile.
Tell us about this recipe for Pea Tartine with Poached Egg & Herb Pesto.
This dish is simple, bright, fresh, and light as the season itself. It's the perfect representation of spring on a plate. It has become a staple at my house for visitors and is always a beautiful crowd pleaser.
How do you like to serve it?
If you're serving a larger meal or have more "hosting" responsibilities to worry about, it's easily served family style, with large beautiful platters of sliced toasted bread, and bowls of peas/produce, pesto, and perfectly poached eggs.  It's fun to allow guests to create their own perfect bites.
Why does it make you think of spring, in particular?
Everything from the aesthetic to the flavors encompasses the feelings and emotions I experience with "spring fever."  It's as colorful and bright in flavor as the season itself.  This dish is so incredibly satisfying and nourishing without being too much.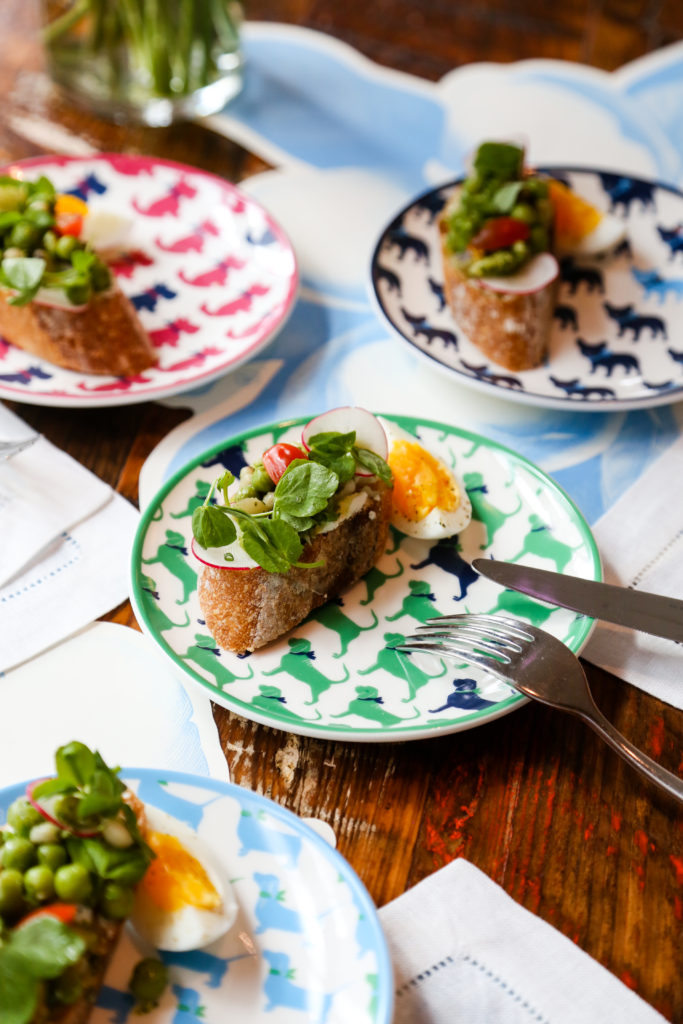 Pea Tartine with Poached Egg & Herb Pesto from Kelly Fields of Willa Jean in New Orleans
Ingredients for Herb Pesto Featuring Mint & Basil
1 quart picked mint
1 quart picked basil
¾ cup pine nuts
¾ cup pecorino or parm, shredded
⅓ cup lemon juice
⅓ cup crushed red pepper flakes
Salt and pepper to taste
1 ½ quarts of blended oil
Directions
Add nuts, pepper flakes, lemon juice, and 1 cup of each basil and mint in blender and blend on low speed. Slowly add in the oil and repeat until all herbs are combined with oil. Season to taste.
Ingredients for Goat Cheese Mousse
8 ounces Chevre
1 pound ricotta cheese
6 ounces cream cheese
2 teaspoons minced garlic
.75 ounces by volume picked thyme
.75 oz by volume chopped rosemary
.75 oz by volume chopped chives
1 quart heavy cream
2 lemons, one zested and one juiced
Salt and pepper to taste
Directions
In the bowl of a stand mixer fitted with the paddle attachment, place the ricotta and cream cheese on a slow speed until well blended. Next add Chevre and mix on low for 2-3 minutes. Add garlic, thyme, rosemary and chives into cheese mixture, and then add lemon zest and juice. Finally on low speed, add 1 quart heavy cream until well blended, then switch mixer to high speed until cream is whipped. Add salt and pepper to taste.
Ingredients for Spring Vegetable & Bean Topping
1 cup snap peas
1 cup English peas
1 cup fava beans
1 cup green beans
1 cup lima beans
1 bunch asparagus
3 cloves minced garlic
1 medium minced shallot
4 tablespoons lemon juice
2 tablespoons unsalted butter
Salt and pepper to taste
Directions
Clean all beans and asparagus as needed. Blanch all beans in boiling salty water for about 90 seconds. Remove from boiling water and place directly into ice water. I recommend blanching all the pea types separate from one another, using the same pot of boiling water throughout, and doing the asparagus last, as it will have the biggest impact on the water.
Once everything is blanched, slice the green beans and asparagus into desired sizes.
In a hot pan, add olive oil, garlic, shallot, and vegetables and toss a few times. Season with salt, pepper and lemon juice, then finish with butter. Remove from heat and toss in enough herb pesto to beautifully coat all the vegetables.
Ingredients for Serving
Loaf of your favorite bread
Butter for spreading
Poached eggs
Fresh herbs, edible flowers, and radishes
To Serve
Slice your favorite bread about an inch thick and slather with butter. Griddle in a pan until warm and golden. Remove from heat and top with the goat cheese mousse. Pile the spring vegetable and bean topping on top of the mousse nice and high. Top each toast with two poached eggs and garnish with fresh herbs, edible flowers, and radishes.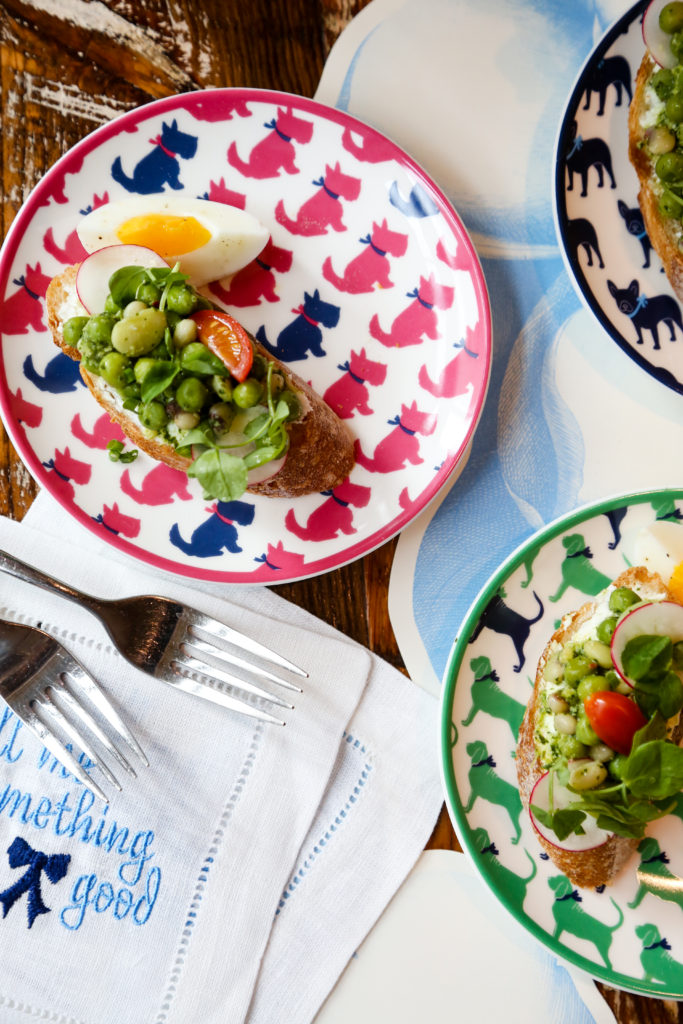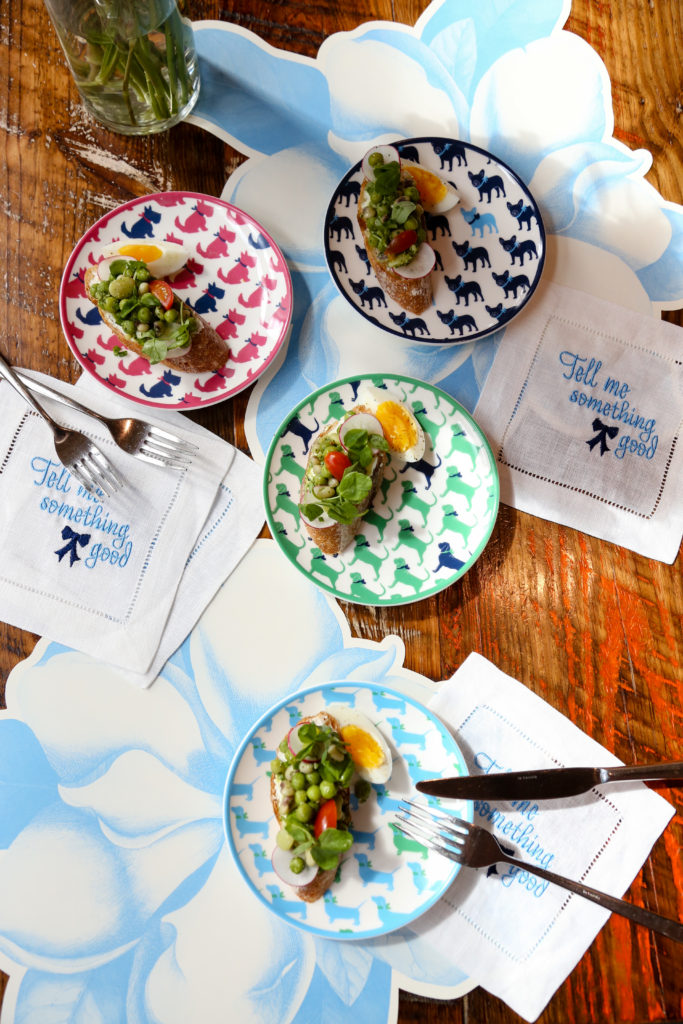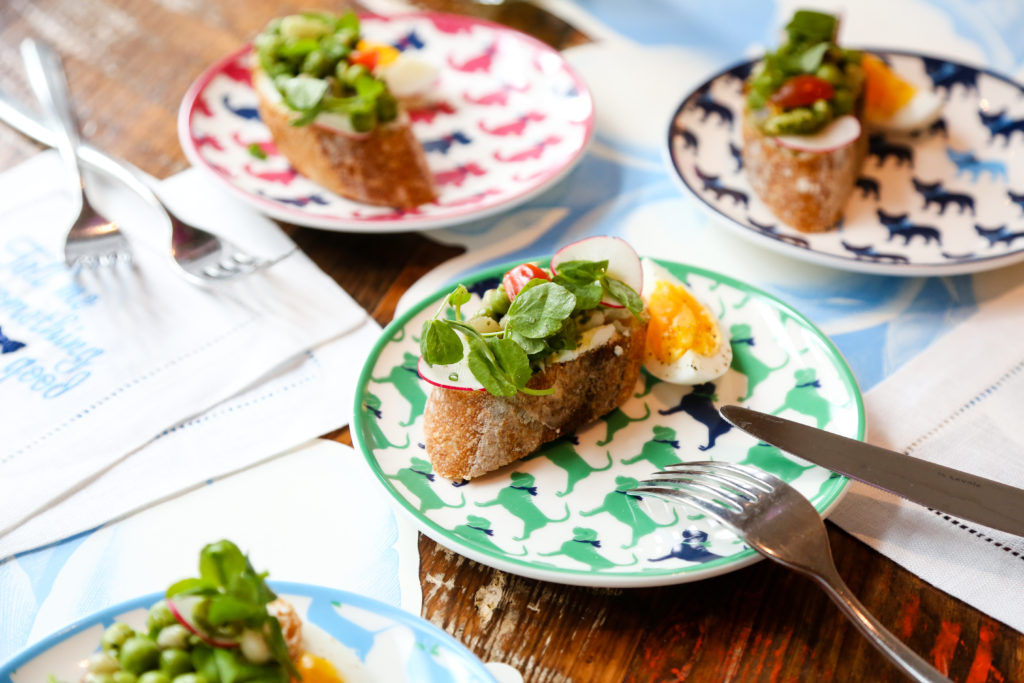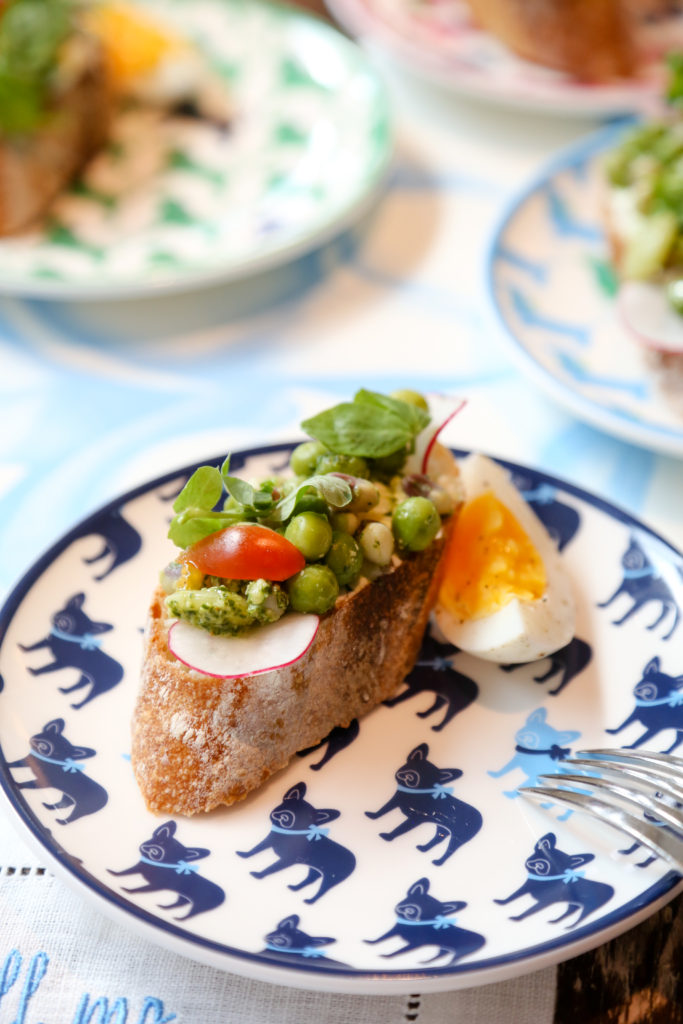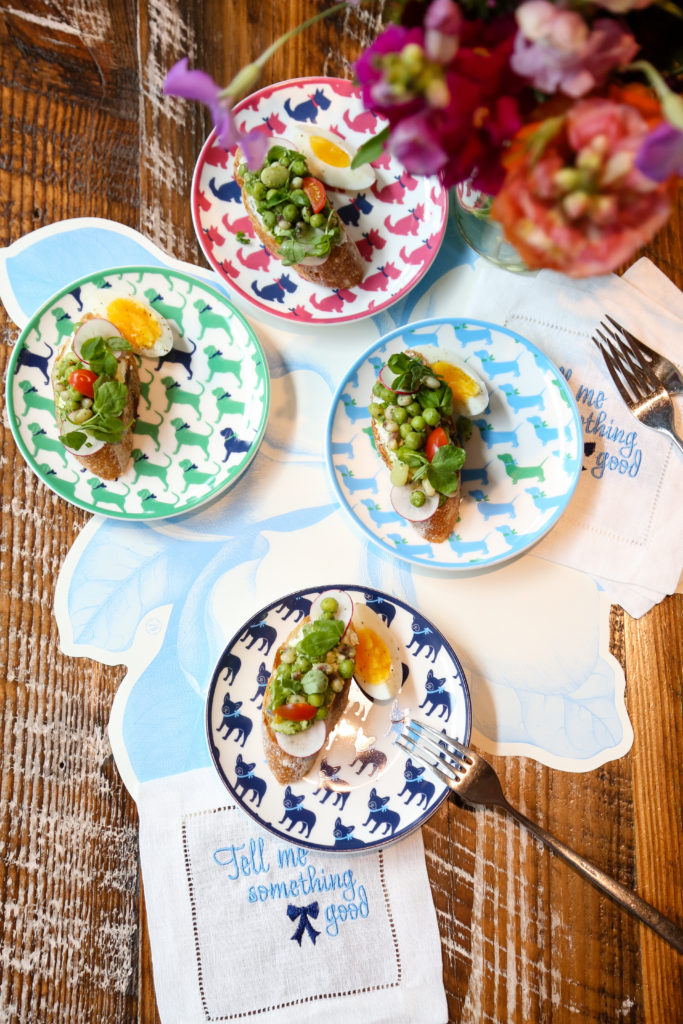 Save
Save
Save