Party People: A Galentine's Day Extravaganza [RECIPES]
If you haven't yet heard of Galentine's Day, we suggest you get on board. "Galentine's Day occurs the day before Valentine's Day and pays tribute to the amazing girlfriends who support us in friendship all year," says Draper James pal Shelby Hall, who inspired us with a Galentine's Day party she threw for her girlfriends, all of whom wore Draper James for the occasion.
Leslie Knope, the character played by Amy Poehler in Parks and Recreation, can be credited with coming up with the Galentine's Day concept. As Leslie herself explains on the show: "Oh it's only the best day of the year. Every February 13th, my lady friends and I leave our husbands and our boyfriends at home, and we just come and kick it, breakfast-style. Ladies celebrating ladies." But these days, the faux holiday is becoming something real-world women love to celebrate. And why not?
See how Shelby celebrated with her friends and find three recipes below:
Why celebrate Galentine's Day?
I use Galentine's Day as an excuse to get together with my closest girlfriends and to say 'thank you' for their love and support through thick and thin. Drinks and treats are always a good way to show my appreciation!
How did you celebrate at this particular party?
I decided to keep the menu simple and reflective of the ladies who were attending—anything sweet was welcome! I hosted the party in the early afternoon, so drinks and dessert were perfect. We caught up and even tossed in a throwback by playing M.A.S.H. We used to play this game relentlessly in middle school, and we all forgot how fun it was! We also decorated sugar cookies!
Tell us about the Draper James items each of you wore. . .
The Dunaway Vines Beverly Romper was perfect for Madison—fun and spunky just like her personality.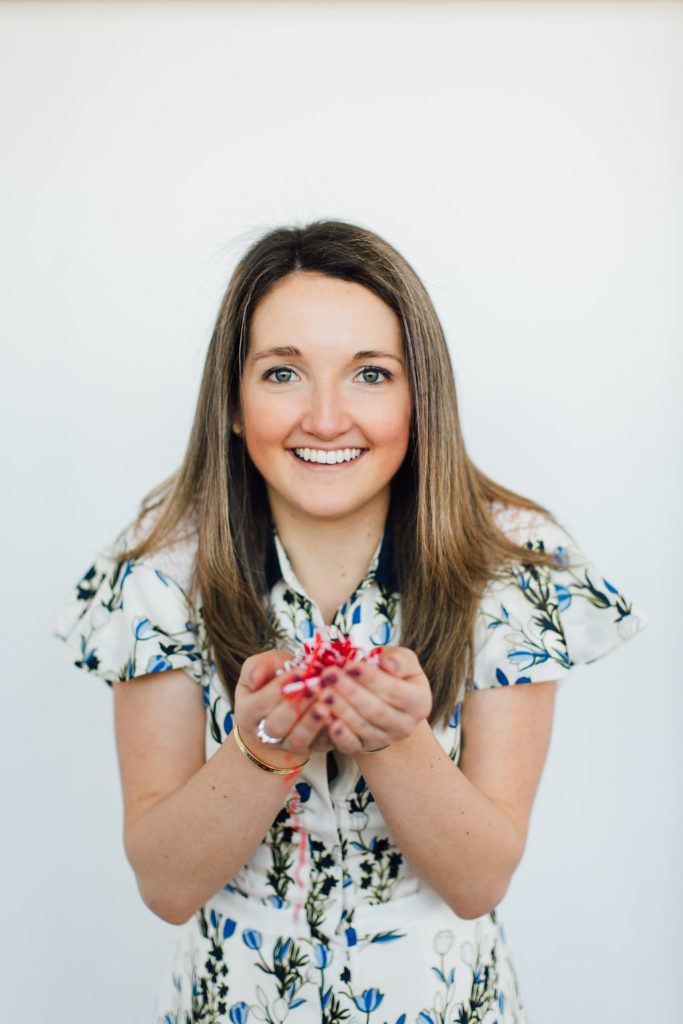 The Cloister Shirtdress was a great choice for both Liz and Sarah. They each have their own styles, but the dress is so versatile that it represented them both so beautifully! The White Dunaway Vines print Liz wore has that splash of preppy-professional-chic that makes it perfect for work and play alike.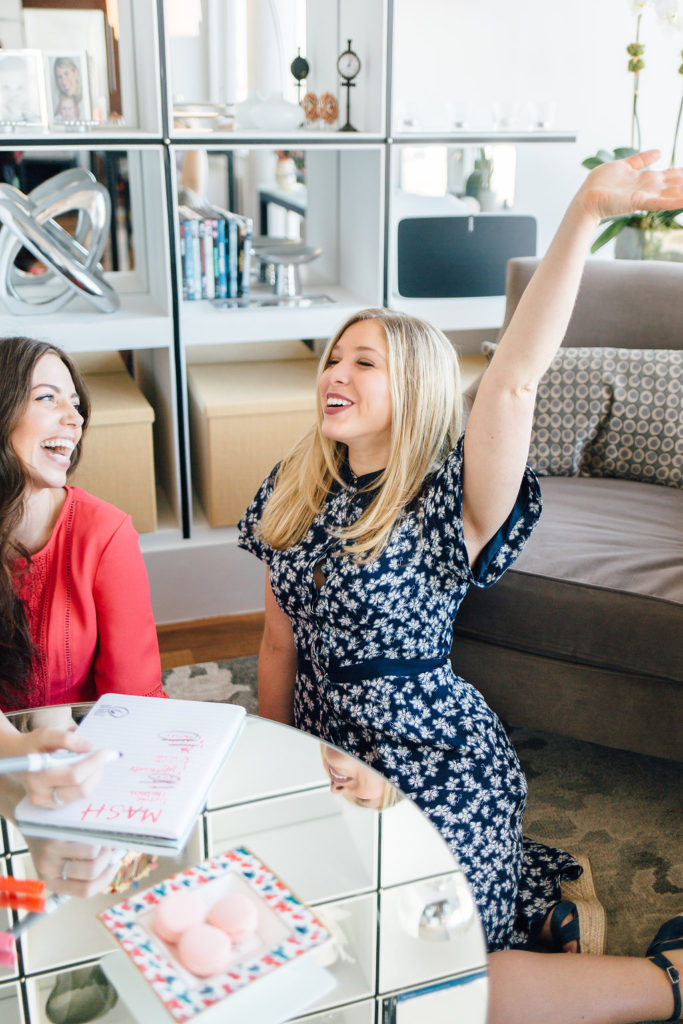 Sarah, who rocked our game of M.A.S.H., loved the feminine florals of the Meadow Garden print and pronounced the Cloister Shirtdress ultra-comfortable.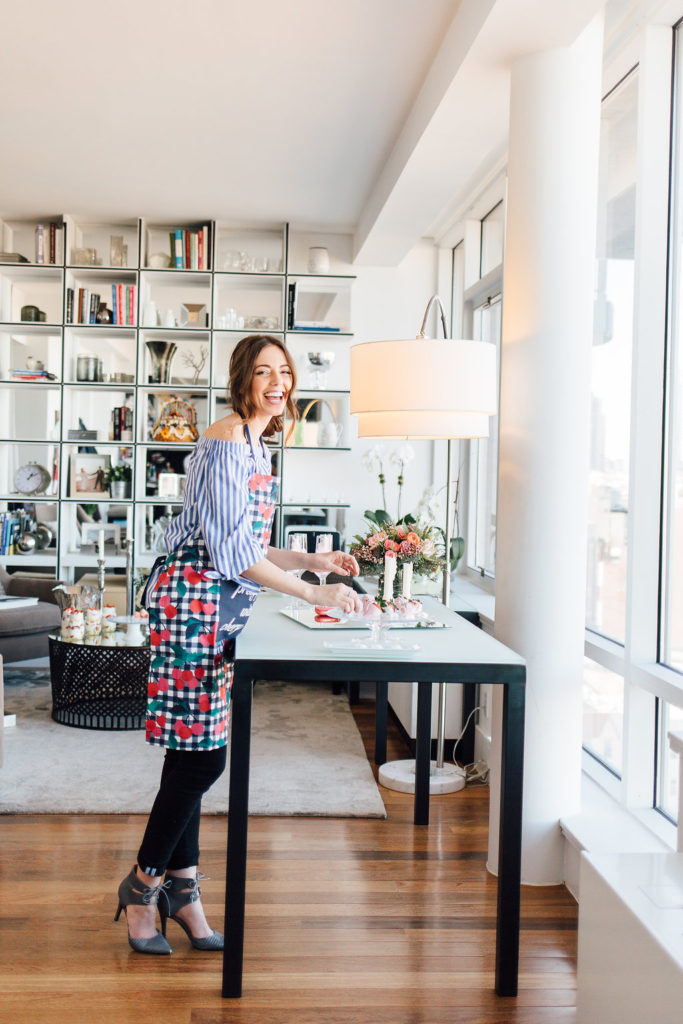 And your own look?
Since I went right from party prep to party time, I needed an outfit that would allow me to be in the kitchen baking and arranging things in the living room, but would also look elegant. I chose the Tootsie Jean and Lennox Off the Shoulder Top. The jeans fit me perfectly, even with my long legs. The Lennox top is effortlessly chic; it highlights those collar bones, while being very forgiving around the mid-section. When I was in the kitchen, I layered the statement-making Cherry Apron on top.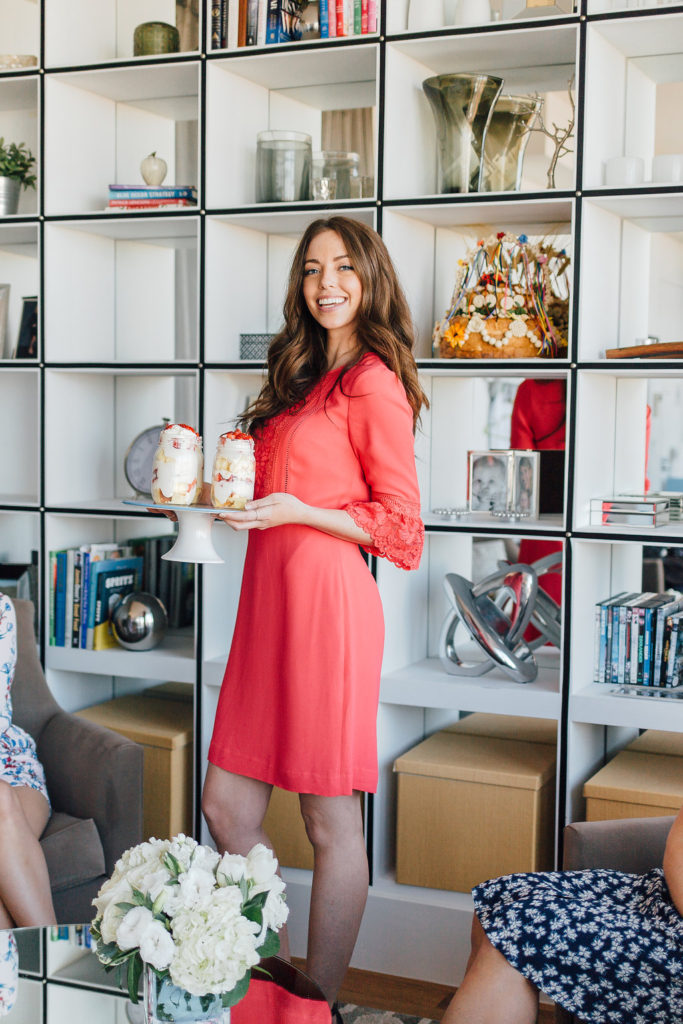 Since this was a party to celebrate friendship and fashion, I decided an outfit change was in order! As the party went on, I changed into the  Rosslyn Dress. I tend to gravitate more toward modest dresses that can be worn at parties and at church because if I'm buying a nice dress, it better work for a few different occasions, y'all! The Rosslyn Dress has beautiful lace detail and hugs you in all the right places.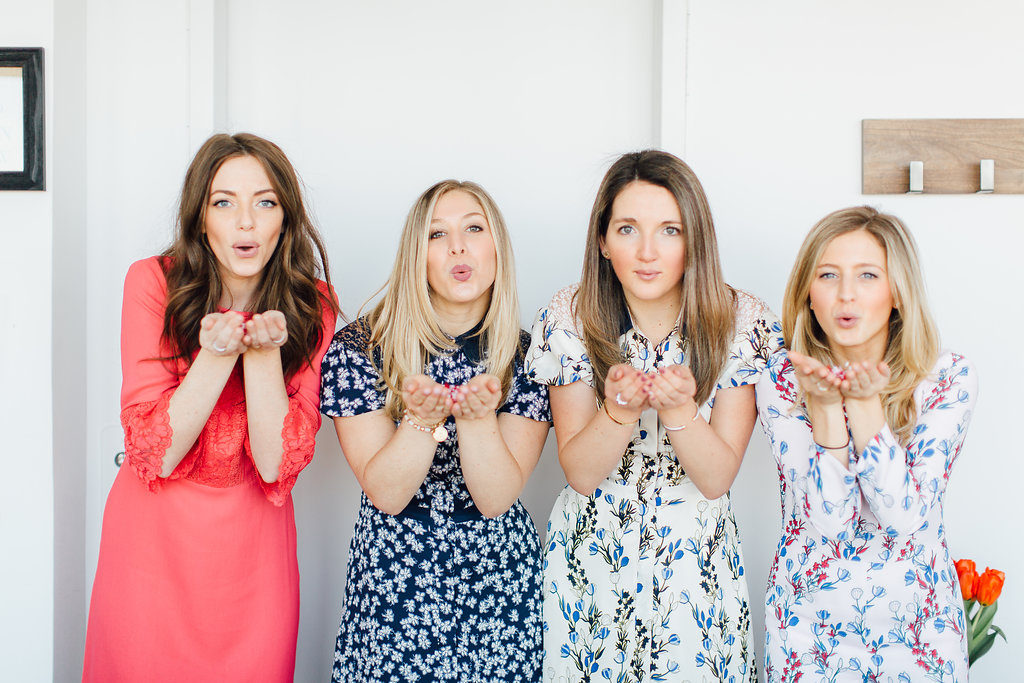 SUGAR COOKIES RECIPE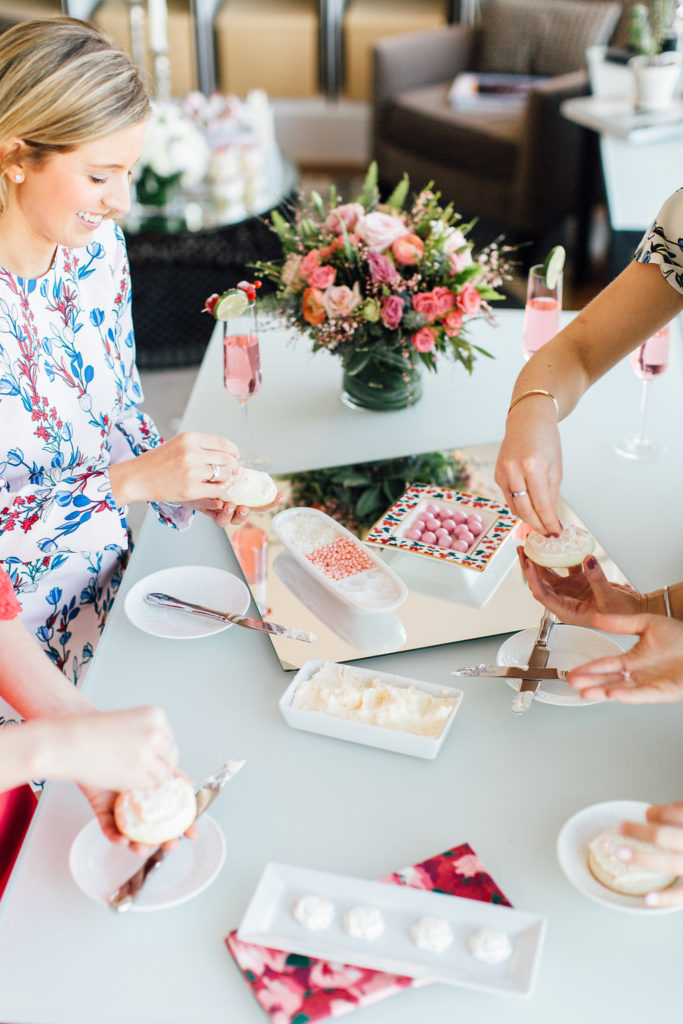 "This is a recipe from Jody Hall—my mama!" says Shelby, whose friends enjoyed decorating these sugar cookies almost as much as they loved eating them. "It's tried-and-true and perfect for all occasions. I chose this recipe because my favorite Galentine of all came up with it! This year I couldn't celebrate with my mom because she was home in Nashville, so I wanted to bring a little of her to the party."
Makes 3 dozen cookies.
Ingredients
1 cup sugar
1 cup shortening
2 eggs, well beaten
½ cup milk
1 teaspoon vanilla
3½ cup flour
½ teaspoon salt
1 teaspoon baking soda
4 teaspoons baking powder
Directions
Combine eggs, sugar and shortening—beat well. Sift dry ingredients and add them to the wet mixture. Stir in milk and vanilla. Mix thoroughly; cover and chill for 1 hour. Roll the dough out thick and cut. Top with sugar and bake on a greased cookie sheet at 400°F for 8-10 minutes.
Strawberry Shortcake Trifles Recipe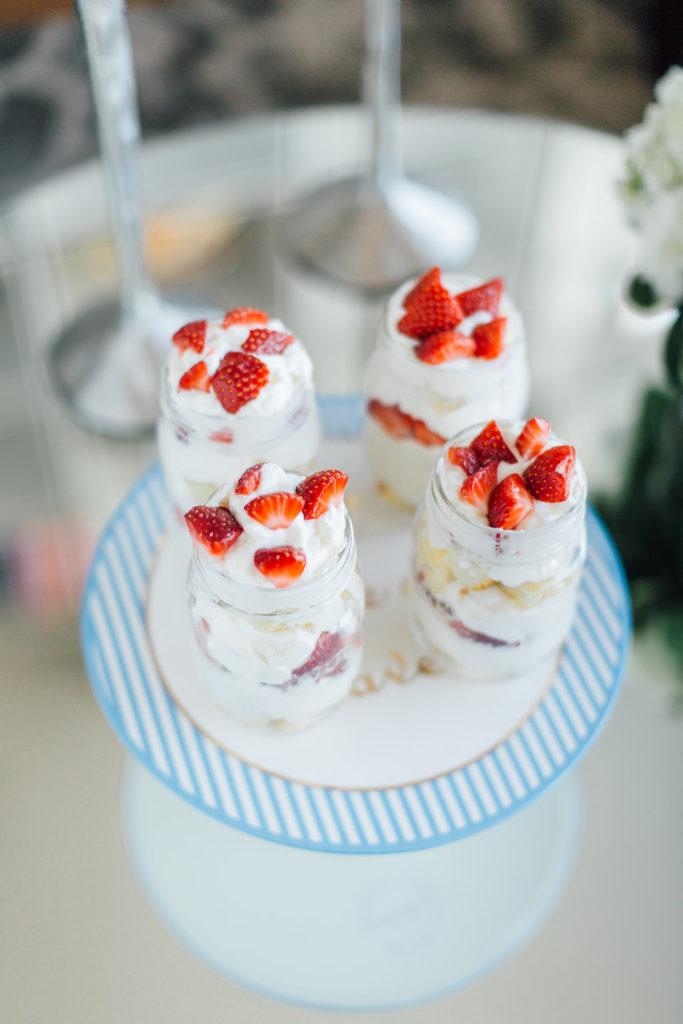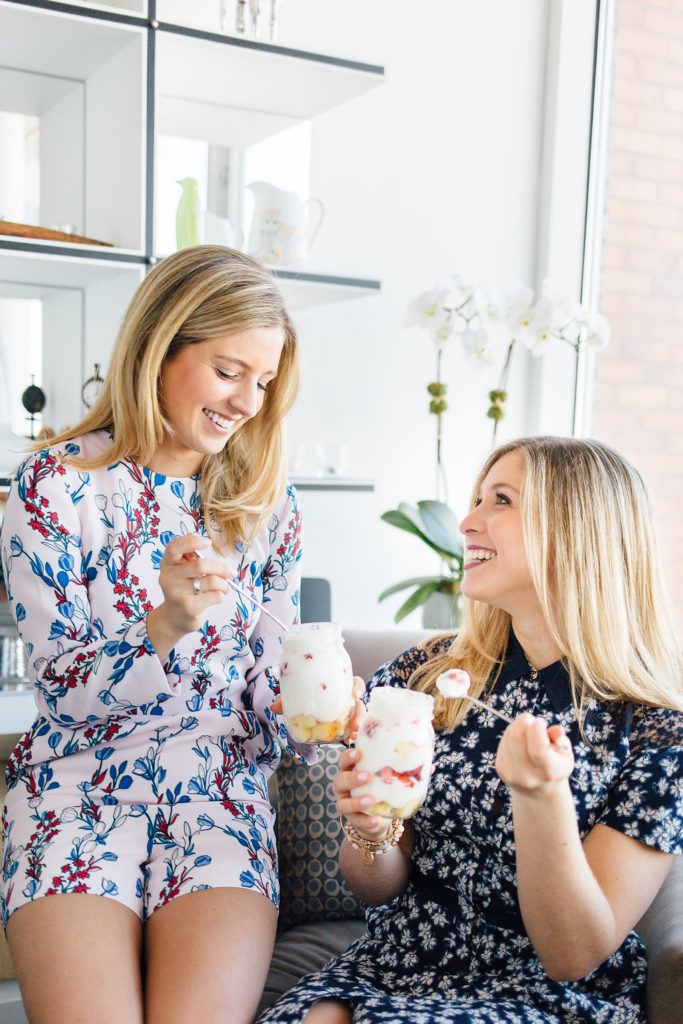 "My mother and I came up with the recipe while I was in college, and it is always a hit!" says Shelby. "I chose to include it because the bright red-and-white layers are perfect for the occasion."
Ingredients
Angel Food Cake (The Kroger Bakery kind is the best if you can get it.)
1 brick of cream cheese (at room temperature)
4 tablespoons milk
1 teaspoon vanilla
10 oz. heavy whipping cream
½ cup powdered sugar
1 basket of strawberries, sliced
Directions
Cut the angel food cake into cubes and set aside. Beat cream cheese in a mixer on high for 1-2 minutes or until smooth. Add the vanilla and milk. You can add more milk to make a thinner cream. In a separate bowl, whip the heavy whipping cream on high for 2-3 minutes until you can create peaks with the beaters. Add powdered sugar and mix well. Fold the whipped cream into the cream cheese mixture. Layer angel food cake cubes, whipped cream, strawberries and then another layer of whipped cream into mason jars. Be sure that you don't layer strawberries and cake together because the cake will get soggy.
Raspberry Mint Limeade Mocktails Recipe
This sweet-meets-tart drinkable treat is the perfect thing for a girls-only celebration.
Ingredients
3 1/2 cups sparkling water (I prefer Perrier)
1 bundle of fresh mint
1/2 cup fresh-squeezed lime juice
1 basket of raspberries
1/4 cup sugar
Directions
Fill each tumbler half-full with sparkling water. Combine lime juice and sugar and 1 sprig of mint in the blender. Put a splash of the lime juice mixture into each tumbler Garnish with a sprig of mint and three raspberries rolled in sugar on a toothpick.
Save
Save
Save
Save