October 25, 2016 • FOOD, RECIPE
Hello, Sugar: Halloween Treats with A Southern Bite [RECIPE]
---
"Halloween is synonymous with candy. It only seems right to add a little more sweetness," says Chef Stacey Little of popular food blog A Southern Bite.
Stacey's favorite way to add even more sugar to the candy-fueled celebrations is according to his philosophy of maximizing time with family and friends by incorporating kitchen shortcuts—such as making the most of pre-packaged ingredients. Case in point: his Nutter Butter Mummies and Halloween Oreo Chewies, both among our favorite Halloween sweets."
"Nutter Butter Mummies are a fun way to dress up a classic cookie and make it something special," says Stacey. "Almond bark and some candy eyes turn these cookies into a simply scary snack! They're great for all those little ghouls and goblins in your life." Find the recipe here.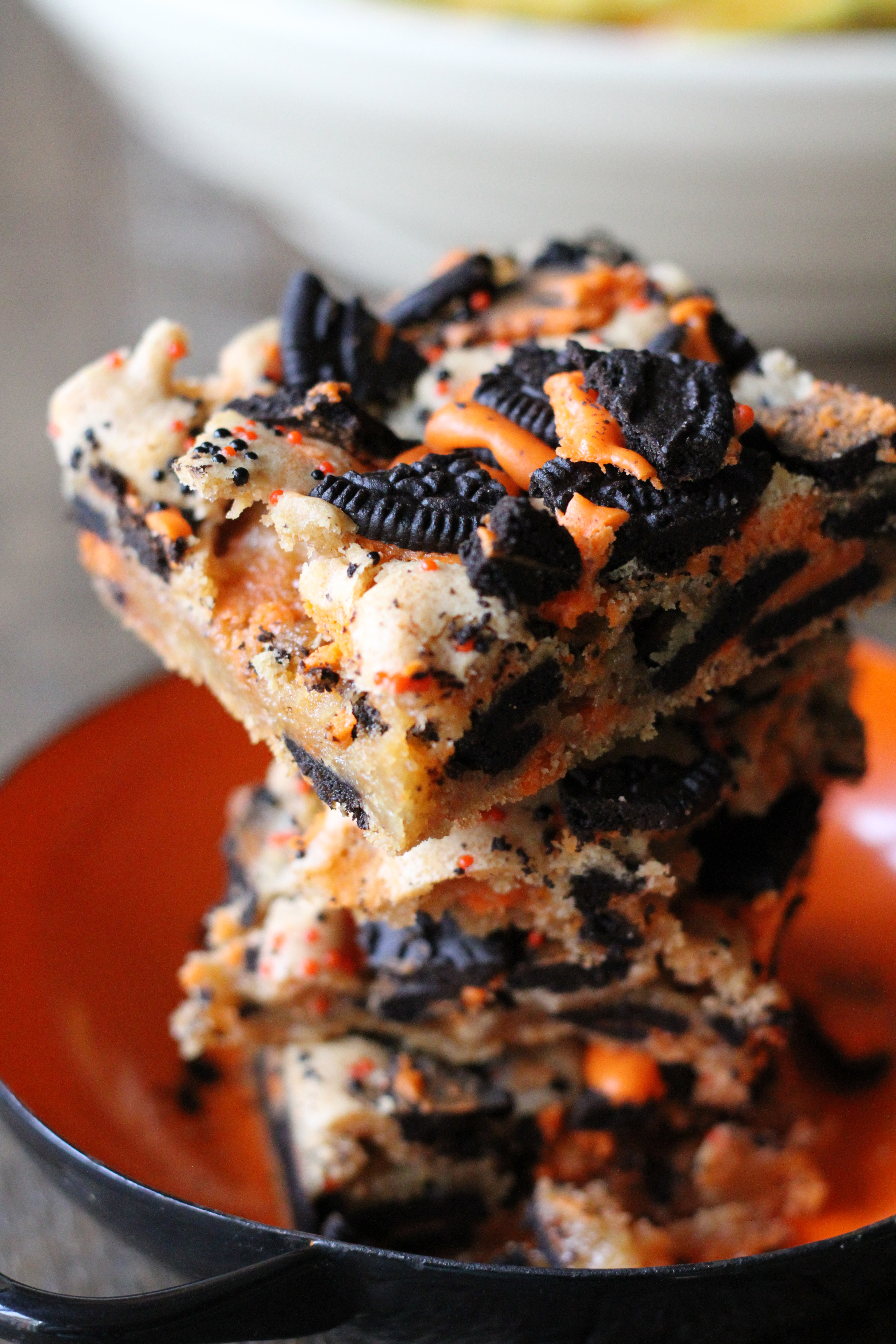 As for his Oreo Chewies: "I'm a hardcore Oreo lover," says Stacey. "So putting my favorite store-bought cookie with my favorite homemade cookie was a must. These Oreo Chewies are like my classic Pecan Chewies, but they're done with Oreos for an unbelievably tasty treat."
And for folks who want to work more than sugar into the Halloween mix? "I think it's great to have some hearty, savory dishes to balance out the sweetness of the holiday," says Stacey, "so I always have a big batch of my Slow Cooker Chili going for Halloween night. I love to serve that alongside some of my Mama's Cornbread. Doing the chili in the slow cooker not only gives it great flavor, but also keeps it warm, so folks can grab a bowl whenever they want."
Recipe for Halloween Oreo Chewies by Stacey Little of Southern Bite
Ingredients
1 cup (2 sticks) butter, melted
1 cup white sugar
1 cup firmly packed light brown sugar
2 large eggs, well beaten
2 cups self-rising flour (or make yourself with 2 cups all purpose flour, 3 teaspoons baking powder, and 1 teaspoon salt)
2 teaspoons vanilla extract
1 (15.35-ounce) package Halloween Oreos, coarsely chopped or broken
Halloween sprinkles (optional)
Directions
Preheat the oven to 300°F. Grease and flour a 13 x 9-inch baking dish. In a large bowl stir the butter and sugars together.
Add the eggs and stir well. Add the flour and stir until all the lumps are gone. Stir in the vanilla. Fold in about ⅔ of the Oreos. Spread the mixture into the baking dish. Sprinkle the remaining Oreos on top and add some Halloween sprinkles if you like. Bake approximately 40-to-50 minutes, being cautious not to overcook. Cool completely before slicing into squares. Store in an airtight container.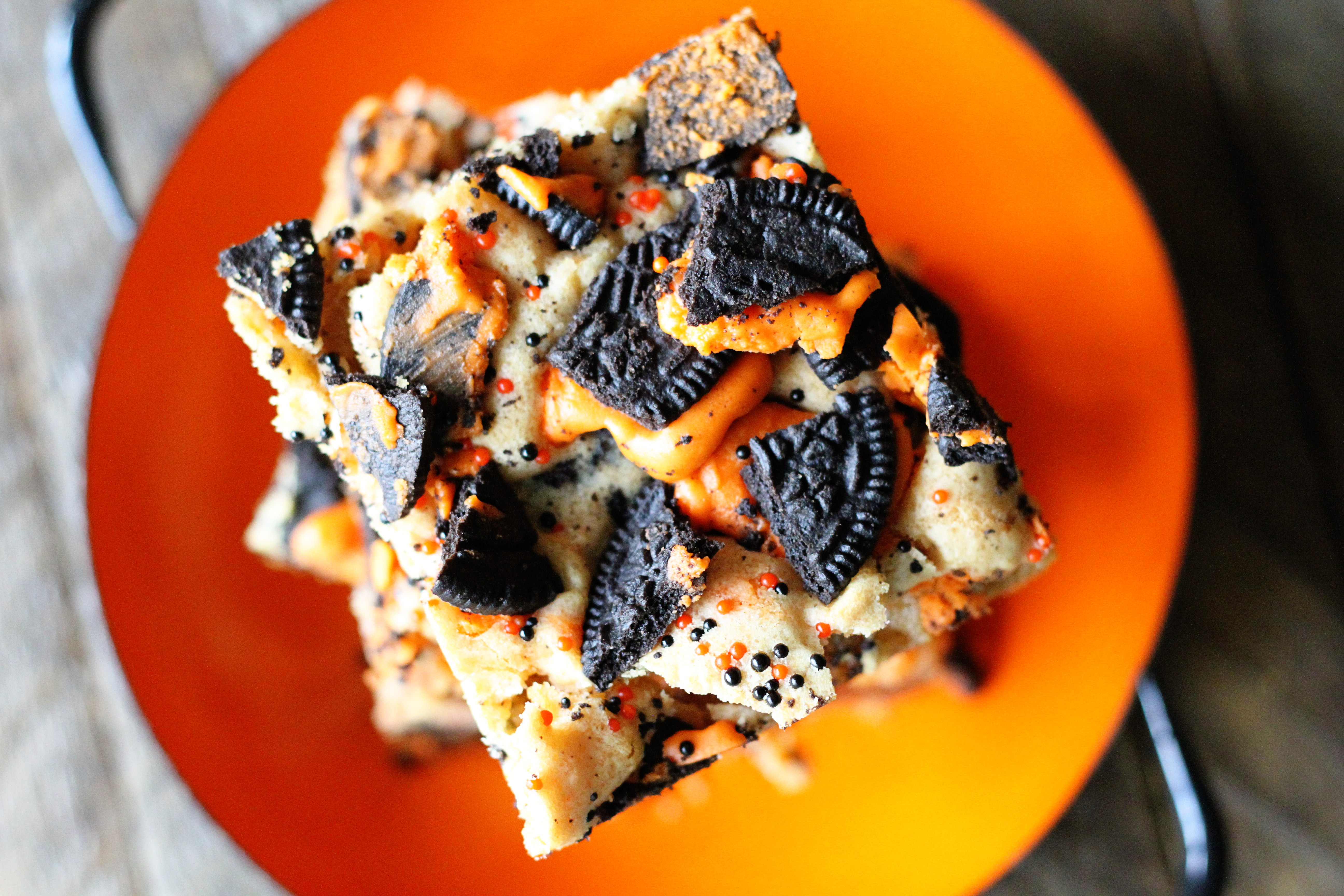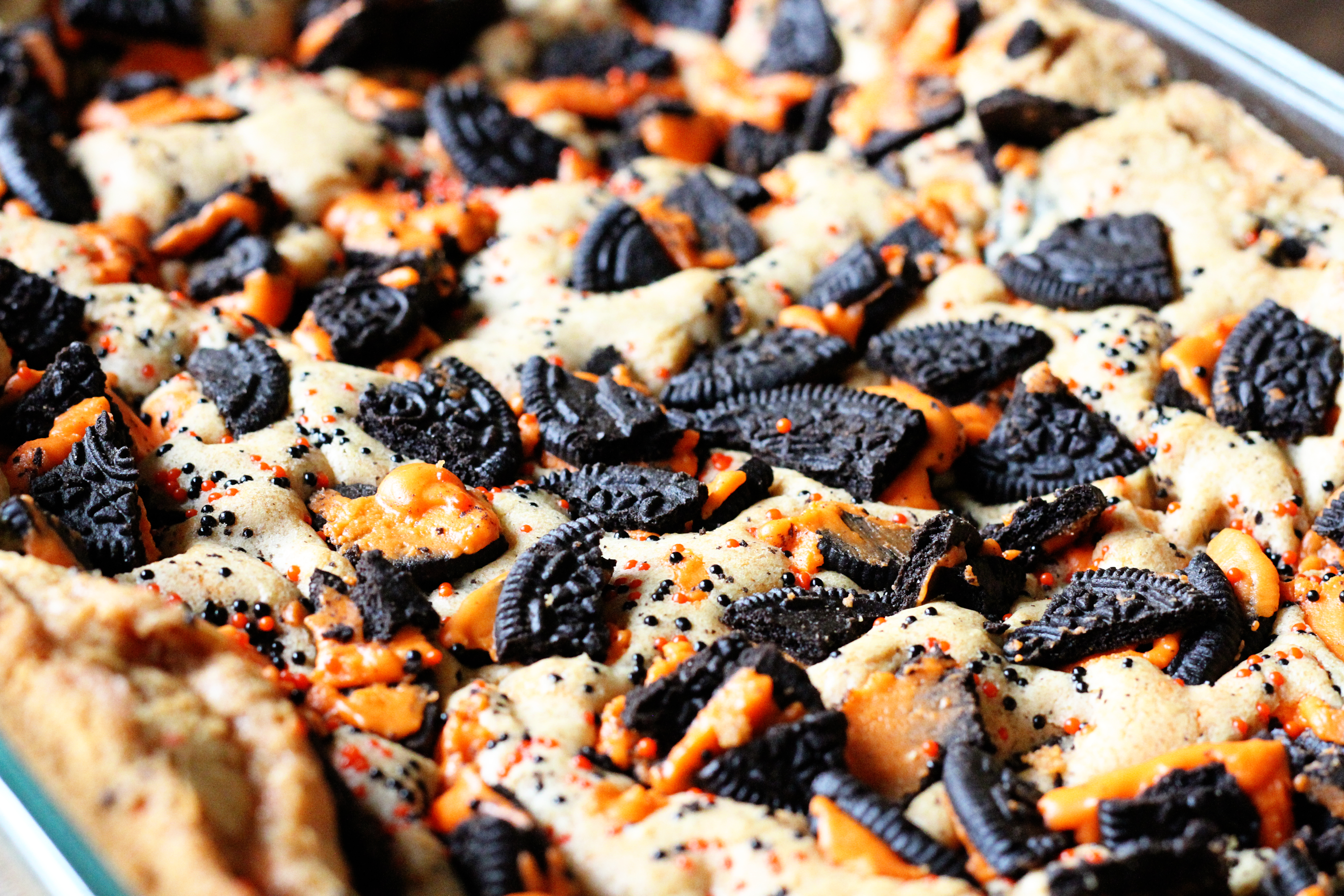 Save
Save
Save
Save
Save