Easy as (Sausage) Pie
Lookin' for a quick and easy dinner for the family? Today Show Contributor and Draper James Brand Editor Elizabeth Mayhew has got you covered. This one-skillet savory pie has sausage, greens, and a Southern-style cornbread topping––the Today Show hosts (Savannah, Matt, Al, and Carson) all loved it, and we're pretty sure you will, too.
One Skillet Sausage Pie
2 tsp olive oil
2 lbs Italian sausage links (hot, sweet or a combination of both)
1 large red onion, peeled and thinly sliced
3 cloves garlic, peeled and minced
1 bunch kale, rib removed and coarsely chopped
Kosher salt and freshly ground black pepper
1 box Jiffy corn muffin mix
½ cup grated Parmesan
1/3 cup milk
1 large egg
Heat oven to 400°F. In a large cast iron skillet heat the oil over medium heat. Add the sausage and cook until brown on all sides, rotating as necessary. Transfer sausages to a cutting board and slice, crosswise on a diagonal into 1-inch think slices. In the same skillet, add the onions and cook, stirring occasionally for about 4 minutes. Add the garlic and the kale, season with salt and pepper. Continue to cook until the kale begins to wilt, about 2 minutes. Remove from heat and add the sausage pieces back into skillet and toss with the vegetables. Prepare the cornbread topping: In a mixing bowl, whisk together the corn muffin mix, Parmesan and season with pepper. Whisk together the milk and the egg then add to the dry ingredients. Stir all to combine. Spread the corn muffin batter over the sausage mixture. Bake until golden brown, about 15 to 20 minutes.
Serves 4-6.
P.S. Wondering where Elizabeth got her adorable gingham top? You guessed it… Draper James!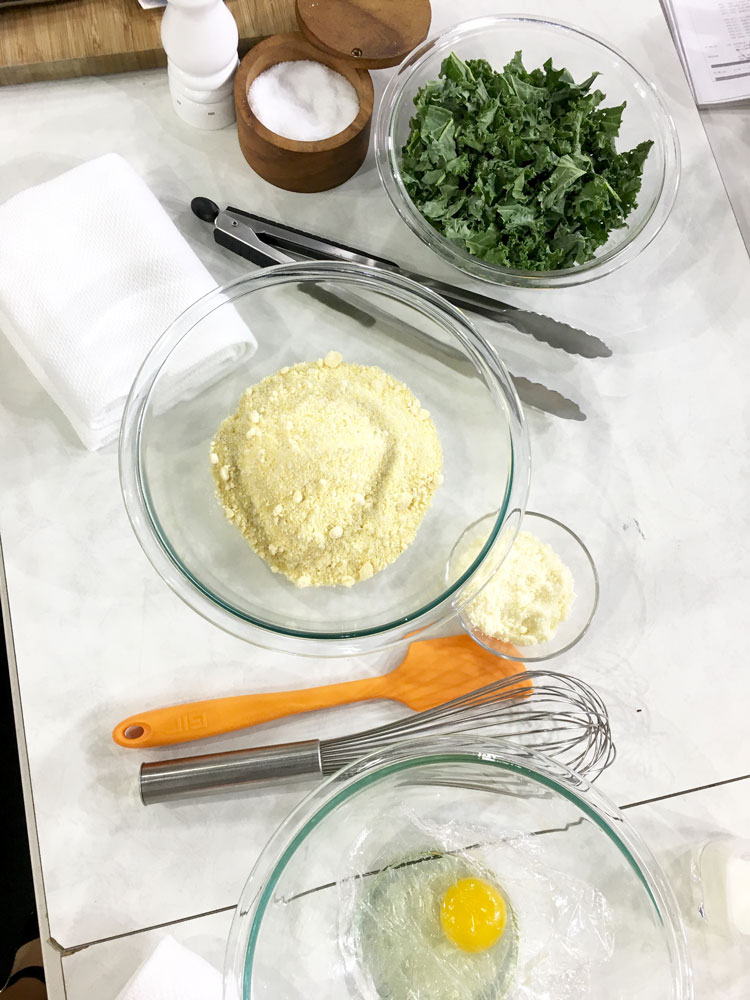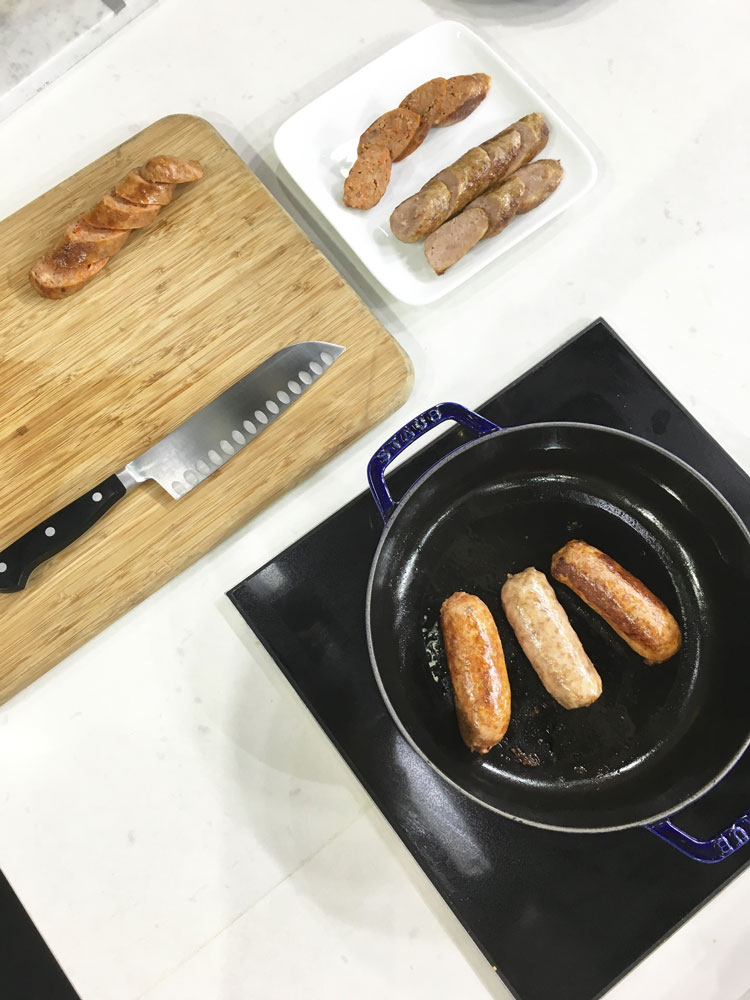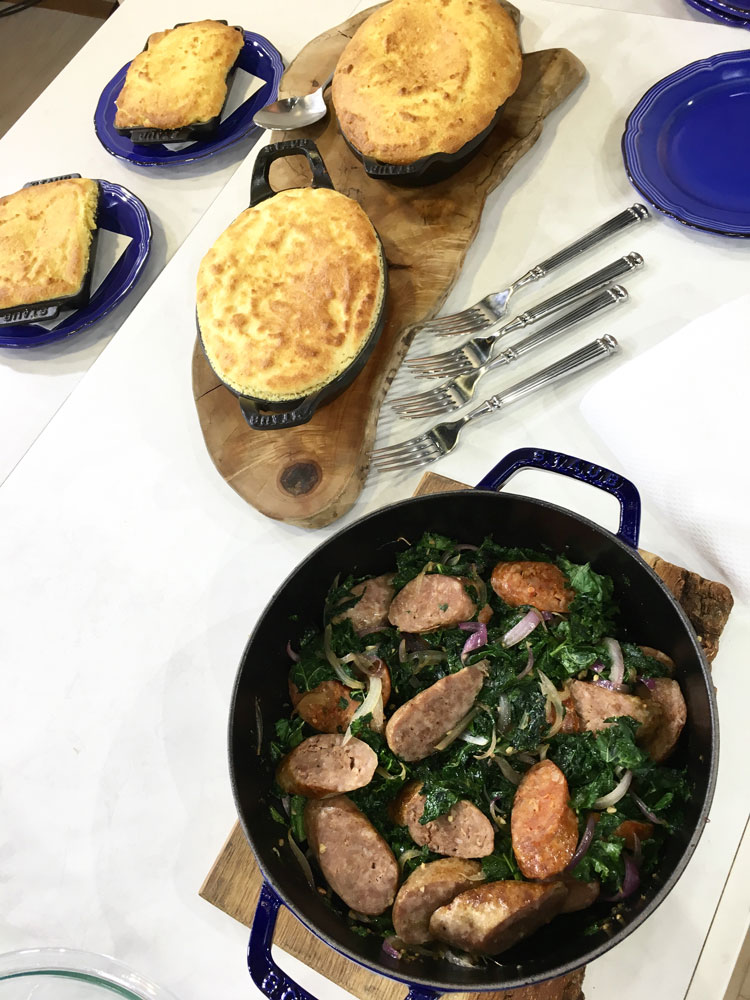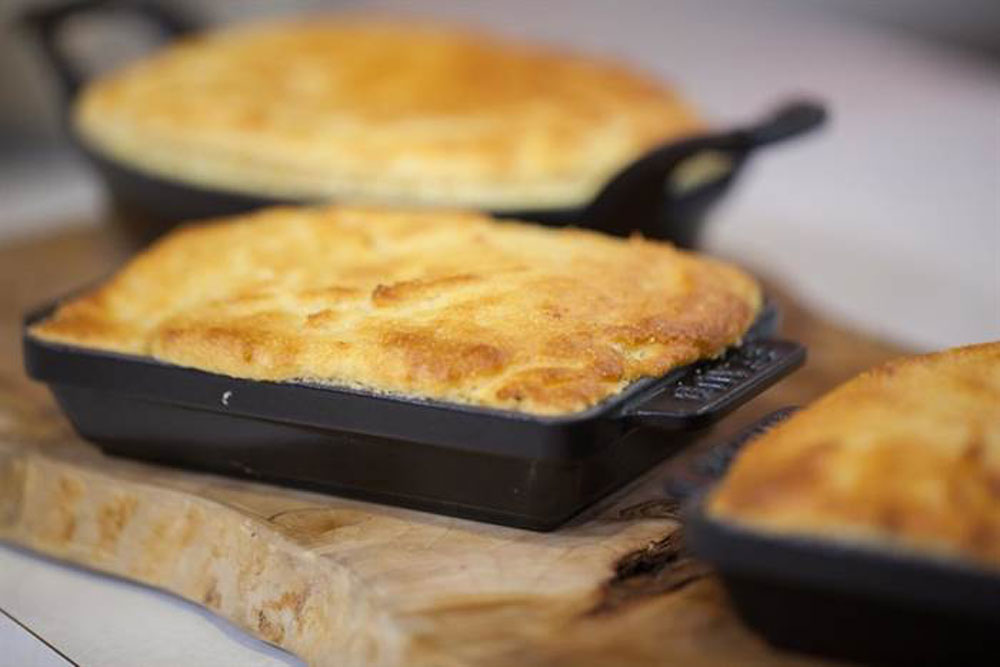 Save