Style School: Ashley Brooke Designs on How to Dress on Valentine's Day
Want to know what to wear on Valentine's Day? Take a cue from Draper James Darling Ashley Brooke, whose romantic looks have garnered her legions of fans on her blog and Instagram.
You styled this look for a Valentine's Day date. What are your plans?

My girlfriends and I joke that Valentine's Day is my husband Ryan's Superbowl. Ryan's grandfather was The Notebook kind of romantic—letters, poems, thoughtful gifts, etc., and Ryan inherited that trait from him, which I do not hate! This look works for a fancy dinner, a walk on the beach, sipping champagne on a picnic blanket, or anything else Ryan has up his sleeve.

Can the dress work for day or night?
Oh, absolutely! Nothing makes me feel more feminine and like myself than a well-fitting dress, anytime. Paired with wedges or flats, the
Fairfax Fringe Sweater Dress
is perfect for brunch. Add a swipe of lipstick and sky-high heels and it easily becomes a cocktail party dress! I also love wearing winter whites, especially at night; it feels bold.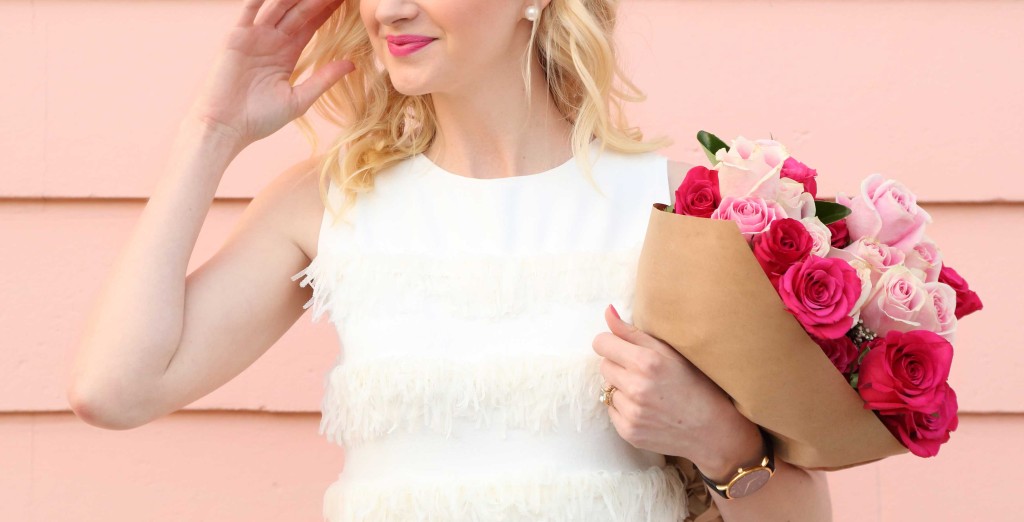 Favorite Valentine's Day  tradition?
My girlfriends and I have this long-standing tradition of getting all dressed up and going out for brunch for Valentine's Day. We exchange gifts, order pancakes (with Nutella), and have lots of girl talk. We started this tradition in college and it's one I look forward to each year.

Most romantic spot in the South?
Oh, hands down a lake dock. There is nothing more romantic that sitting out on a dock on a clear
night stargazing and listening to the water splashing. Admittedly, I am a bit biased, as my husband proposed on our favorite dock!

Best saying printed on a Sweetheart candy?
"Be Mine"—it's a classic.