The Chic Site Makes the Most of Candy Cane Season
On The Chic Site, the lifestyle blog by Rachel Hollis, you'll find a host of content to click on—recipes, parenting tips, beauty and fashion ideas, and a healthy dose of personal musings.
But what will keep you coming back for more is the authenticity and quirky sense of humor that this L.A.-based mother of three brings to every post, whether she's writing about melted cheese (she worships it as much as we do!) or her morning routine.
When we designed our holiday-themed Hannah Heart Graphic Sweatshirt, we could think of no one better to style it than Rachel. Lucky for us, she was game—and she thought it was the perfect companion to the Frozen Candy Cane Cocktail she had just blended up. Read our Q&A with Rachel below.
How will you be spending the holidays?
Every Christmas Eve, we go to church and then come home for "fancy dinner." This was something we came up with a few years back. We put everyone's name into a bowl (my name, my husband's name, and the names of our three boys) and then we draw to see who's in charge of which dinner course.
This can get pretty dicey with little boys (last year my seven-year-old served string cheese as his "appetizer"), but it's so fun to see what they come up with.
When we sit down to dinner, we all wear our fanciest clothes and eat off the china and use real glassware.
The rest of the holiday we spend with extended family, but this private family dinner is so special because it's just the five of us and our own unique theme.
You live in L.A., but you love sweet tea! What's your connection to the South?
Both my parents' families are from Oklahoma and they migrated to California during The Dust Bowl.
It's a really unique thing in that everyone in Bakersfield, my small California hometown, has accents and drives a truck and wears cowboy hats. It's like its own little Southern village in the midst of the Central Valley. Our Okie heritage is inside of everything, from the food to the accents to the hospitality.
You wear our Hannah Heart Graphic Sweatshirt so well! What drew you to it?

I am such a sweatshirt kind of girl. Seriously, I have so many and I can't stop buying them.
I look at a sweatshirt and automatically imagine long cozy weekends, pajamas on Christmas morning, holiday baking with my boys. . . I love that it's cute, but comfy.
How did you style it?
Denim, button-down and booties. . . But you know I'm going to rock this on Christmas morning with my favorite flannel pajama bottoms!
Any other tips you'd like to mention when it comes to dressing for the season?
I'm all about layering! Rather than wear one bulky item, I like to pile three or four, so I've got a mix of interesting textures and prints.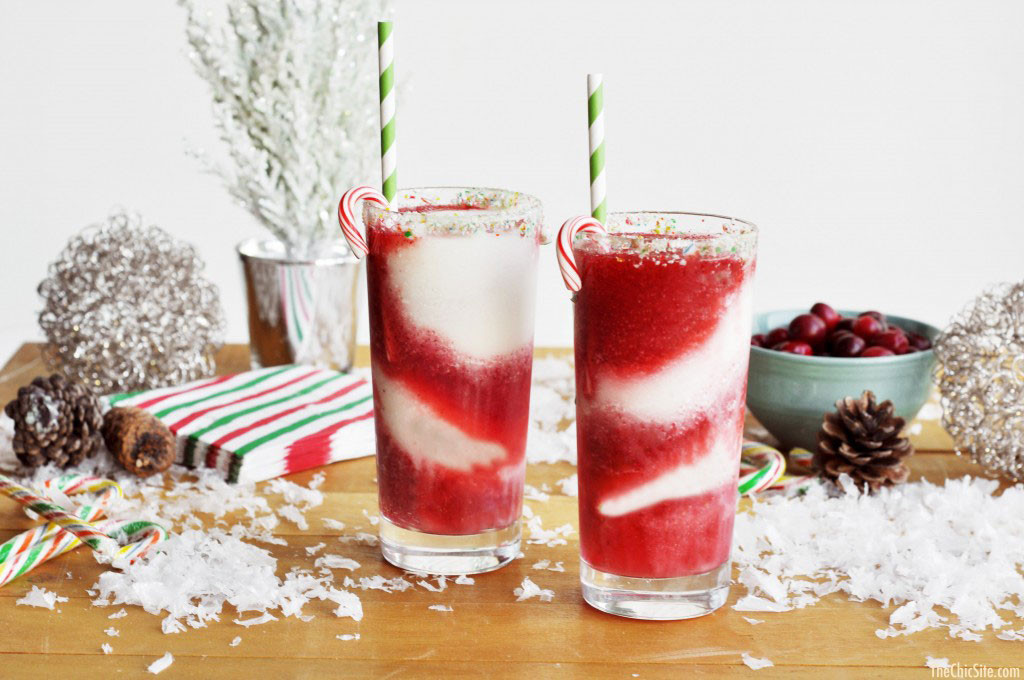 Talk to me about your new Frozen Candy Cane Cocktail. It goes so well with the Hannah Heart sweatshirt!

We love to reinvent recipes. In fact, anytime you can take two food opposites and marry them together, that's my favorite—like French Onion Soup Grilled Cheese or Cornbread Waffles. Both are favorite recipes on The Chic Site! This is a holiday spin on a frozen lemonade—a typically summery cocktail—and your guests are going to love it!
Find the full recipe for Rachel's Frozen Candy Cane Cocktail on The Chic Site and check out this indulgent round-up of delicious peppermint recipes while you're at it. And look out for Rachel's newest novel, which comes out on January 29th. It's her fifth in a fun-loving series with a Southern spin.