I love a luncheon! I will look for any excuse to get my girlfriends together to eat, drink, and have a few laughs. On this occasion, we were not only welcoming the flowers and sunshine of spring, but we were also celebrating the launch of Draper James (a lunch for a launch!). Wish you all could have been there to join in the fun…
A sneak peek at the tablet before the guests arrived…We like to keep things simple, but pretty: a crisp linen tablecloth and a few mason jars filled with cut lilacs— no need to do more.
Everyone showed up to the party wearing smiles on their faces and pretty spring dresses. Four of us wore our Draper James favorites! Above from left:  Marlien Rentmeester, me, Shannon Rotenberg, and Heather Whitney Rosenfield.
On the menu, a mix of southern classics—lettuce and sweet peas in Green Goddess dressing, deviled eggs, and chicken salad on biscuits. And for dessert, my grandmother Dorothea Draper's Coconut Layer Cake (she is the Draper in Draper James!). I am excited to share her recipe here.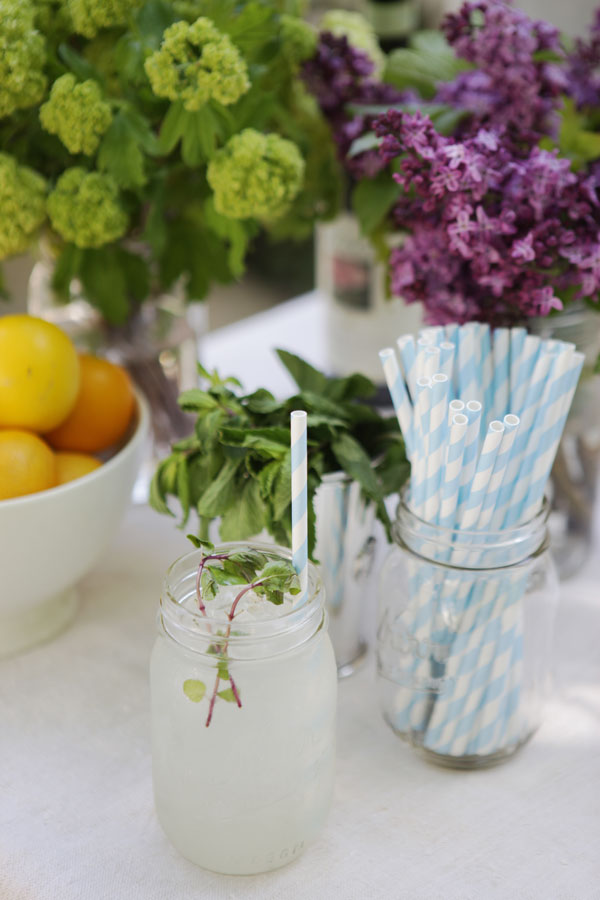 On the drinks menu: Our favorite caterer and party planner, Annie Campbell, whipped up some of her delicious Mint Gimlets (she was gracious enough to share her recipe here). Of course no Southern luncheon is complete without sweet tea (my favorite!) and iced chicory coffee (I love the one from Café Du Monde in New Orleans). Lastly, I couldn't let my friends leave without a little parting gift—my favorite Mint Julep recipe tied around a mint-filled Draper James Mint Julep cup. Cheers, y'all!