May 7, 2015 • PLACES
Draper James Visits: New Orleans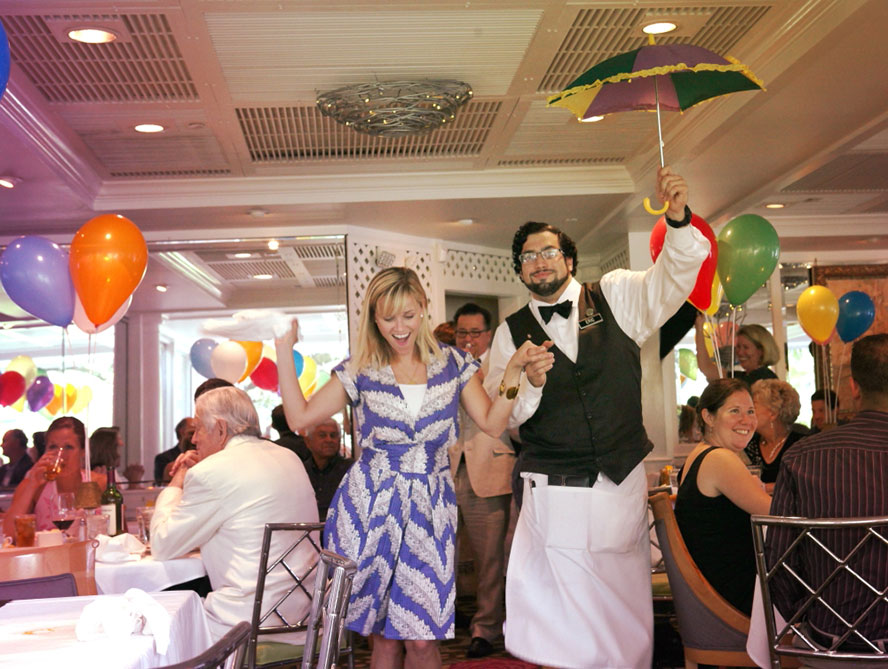 While I was filming Hot Pursuit in New Orleans, the city became my home away from home. I loved every minute I spent there. I've never met a beignet I didn't like, and I can't get enough of that chicory coffee.
I was also swept away by NOLA's romantic mood and architecture. I still daydream about strolling through quiet Audubon Park with my family after the Sunday Jazz Brunch at Commander's Palace. Nothing beats a Sunday like that. (Case in Point: yes, that's me, pictured above, in Commander's second line…that really happened!)
New Orleans is known for its vibrant Mardi Gras and Jazz Fest, but I recommend visiting any time of year.
The French Quarter is perennially colorful and spirited, its paved streets dripping with historic buildings, antique shops, live music, and cultural treasures.
I recently returned to the Garden District in New Orleans for the first Draper James photo shoot. What a location—I could have moved in! Yes, we worked hard, but we found time to revisit my favorites, all of which I've listed here for you.
FAVORITE STREET: Magazine Street
Magazine Street may as well be your first stop when you get off the plane in NOLA. In six miles, Magazine Street packs a variety of shops and restaurants that are perfect for sinking into a NOLA state of mind.
BEST HOME FANTASY: The Garden District
Another must-see in New Orleans? The Garden District. Here you can traipse under the crepe myrtle trees, heavily blooming magnolias, and leafy oaks and dream of which ornately decorated, pillared home you'd pick be yours.
BEST SUNDAY STROLL: Audubon Park
Audubon Park, located in the Uptown section of New Orleans, is the perfect place to take the family. Bring a picnic and spend the whole day there! The park boasts sports fields, tennis courts, playgrounds, and even a lagoon.
Make sure you check out the section that runs along the Mississippi River. It's called Riverview Park, but locals call it The Fly.
FAVORITE RESTAURANTS: Oh, so many!
La Petite Grocery
This quaintly chic grocery-turned-restaurant on Magazine Street has a French bistro feel, with cozy banquette tables and a modern twist on classic Creole cuisine.
Food recommendations: I love the Blue Crab Beignets. I also highly recommend the Turtle Bolognese! Yes, you read that right—Turtle Bolognese. It's very similar to traditional Bolognese (read only subtly turtle-ish), but with a little surprise crunch. And after you eat it, you can take 'turtle' off your dining bucket list!
Galatoire's
Pronounced GAL-a twahz in NOLA-speak, this 100-year-old restaurant on Bourbon Street is where ladies who lunch must lunch. We Draper James Girls love it from floor to ceiling, literally. Its iconic green wallpaper with gold fleur-de-lys is to die for!
As for the seafood-filled menu? I recommend you start with the deep-fried eggplant and follow the tuxedo-clad server's recommendation to dip it in Tabasco and powdered sugar. (Trust me if you don't trust him. It adds a perfect sweet-and-sour zing!)
Keep going until you find yourself tucking into the Sweet Potato Cheesecake or Black Bottom Pie. (Draper James Girls love food as well as fashion. We like a little taste of everything! And a yummy dessert can be a perfect accessory, no?)
Surrounded by seersucker suits, bowties, and ladies in crisp cotton dresses, you will definitely feel the grace and charm of this southern institution.
Commander's Palace
Having made decades of families happy with its festive Jazz Brunch and impeccable food, Commander's Palace is the grandfather of New Orleans dining tradition. Yes, a jacket is required, but it's well worth it.
Walk in under iconic striped turquoise awnings and be swept into one of the many romantic dining halls.
Must-try: Pecan-Crusted Gulf Fish and the restaurant's famous Bread Pudding. The best time to go is on Sunday for the Jazz Brunch. And don't be afraid to join in the second line—it's half the fun!
FAVORITE SNACK: Beignets and Donuts      
For the love of NOLA, we heart beignets—and the ones at Café Du Monde at the French Market are unforgettable. But if you prefer donuts, try District. The folks at this cozy café reveal a new fanciful assortment of flavors each and every day.
BEST WORKOUT (after the beignets and donuts): Romney Pilates Center
Whether you prefer a barre, spin, or Pilates class, Romney Pilates offers effective 50-minute workouts. Located in the heart of Uptown New Orleans, this spot makes it worth the trip from anywhere to feel good!
BEST CUSTOM MONOGRAM: Scriptura
FAVORITE PLACE TO STAY: Soniat House
BEST PLACE TO HAVE A COCKTAIL: Carousel Bar & Lounge
FAVORITE MUSIC VENUE: Preservation Hall
New Orleans would not be New Orleans without Jazz. Preservation Hall in the heart of the French Quarter has been the place to go to hear the authentic New Orleans Jazz since 1961. The venue offers three concerts a night (8 p.m., 9 p.m., and 10 p.m.) and I strongly suggest buying tickets online, as it's a popular place!